Powerful Female Directors in the Global Film Industry
On the occasion of International Women's Day, we at Motivate Val Morgan present you with seven female directors from across the globe who have garnered praise from audiences and critics alike!
It's no secret that the number of female directors in the global film industry remains abysmally low. However, great strides are being taken – 'behind the scenes', to resolve this issue, with females progressively leading the way in this new decade.
In light of International Women's Day, we present you with seven phenomenal female directors who have delivered award winning blockbusters, that not only ruled the BIG screen, but also garnered praise from audiences and critics alike!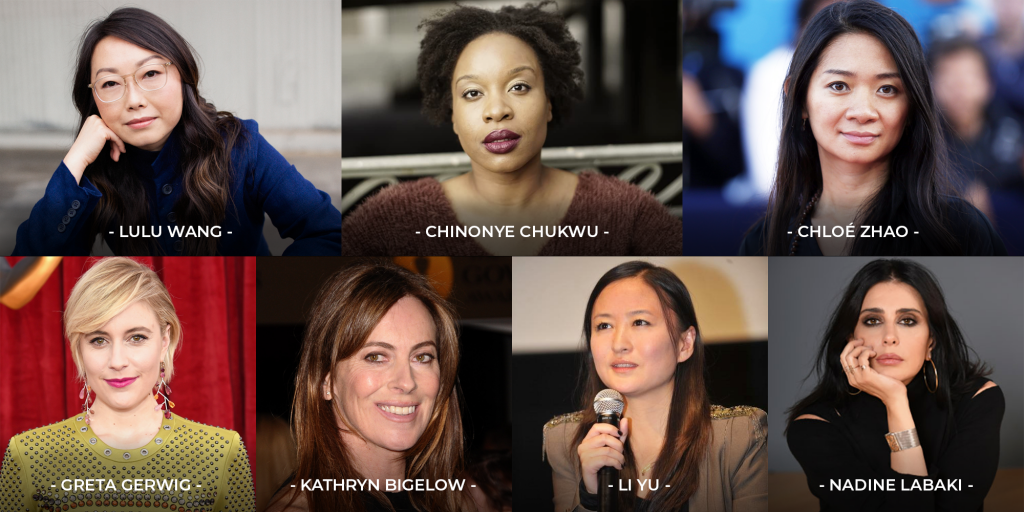 Lulu Wang
Lulu is an American Director who is well known for writing and directing the comedy-drama films Posthumous (2014) and The Farewell (2019). The Farewell, especially, is about a Chinese family who discover their grandmother is in her last days and decide to keep her in the dark, scheduling a wedding to gather before she dies. The movie went on to win Golden Globe and BAFTA Awards.
Chinonye Chukwu
A Nigerian-American by nationality, Chinonye Chukwu is the first woman of color to win the U.S. Dramatic Grand Jury Prize at the Sundance Film Festival for her movie Clemency – a story that revolves around a prison warden who strikes up an unique bond with a death-row inmate.
Chloé Zhao
Chloé is a Chinese filmmaker popularly known for her directorial masterpiece, Nomadland. The movie is about a woman who loses everything in the great Recession and embarks on a journey through the American West, living as a van-dwelling, modern-day nomad. Chloé worked magic with Frances McDormand and a cast of real-life nomads to deliver a highly acclaimed film that was nominated across various award categories at the Golden Globes, Screen Actors Guild Awards and the Venice Film Festival amongst many others.
Greta Gerwig
Greta is an American actress, playwright, screenwriter, and director. She earned a Golden Globe award nomination for her role in Frances Ha (2012). Greta made her solo directorial debut with the critically acclaimed comedy-drama film Lady Bird (2017), however, it was Little Women (2019) that secured her nominations at the Academy Awards, Golden Globes and BAFTA Awards to name a few.
Kathryn Bigelow
Kathryn – an American film director, producer, and screenwriter, is known for covering a wide range of genres. She is well known for the movie Zero Dark Thirty, which is based on the decade-long hunt for al-Qaeda terrorist leader Osama bin Laden after the September 2001 attacks. Run-and-gun filmmaking has a precision only Bigelow can bring to life, as that feeling of endless pursuit is captured so beautifully through action and characters-in-motion. Zero Dark Thirty was nominated for an array of awards namely the Academy Awards, Screen Actors Guild, Golden Globes and the BAFTA Awards.
Li Yu
Li, a Chinese film director and screenwriter began her career in entertainment at a young age, serving as a presenter at a local TV station. Her first film, Fish and Elephant, billed as the first mainland Chinese feature scooped up awards at the Venice and Berlin Film Festivals, while Buddha Mountain (2010) took on the subject of China's one-child policy and earned a respectable $11.7 million at the Chinese box office.
Nadine Labaki
Nadine is a Lebanese actress, director and activist who first came to the spotlight as an actress in the early 2000s. With her universally acclaimed drama Capernaum (2018), she became the first Arab woman to ever be nominated for an Academy Award in the Best Foreign Language Film category. Her directorial debut, Caramel (2007), premiered at the Cannes International Film Festival and became an essential feminist film. Undoubtedly one of the most accomplished filmmakers to ever emerge from the Middle East and North Africa, Nadine has paved the way for many Arab women in film.
As the theme for International Women's Day 2021 is #ChooseToChallenge, we commend these female directors of diverse backgrounds for going above and beyond, within the typically male dominated field of filmmaking, to deliver some of the most exceptional movies the BIG screen has ever witnessed!
Sources: IndieWire, Wikipedia, IMDB, BBC, LA Times, Egyptian Streets and SCMP.