VOX Cinemas Partner with Red Sea International Film Festival
VOX Cinemas will be the RSIFF's exclusive cinema partner for the second consecutive year. 
The Red Sea International Film Festival announces VOX Cinemas as the festival's exclusive cinema partner for the second consecutive year. The strategic partnership underpins VOX Cinemas' commitment to contribute to the prosperous future of the Kingdom and develop a sustainable film industry across the region.
VOX Cinemas will operate seven theaters at Red Sea Mall in Jeddah, which will screen a diverse slate of more than 120 films comprising international and local features during the ten-day festival. The state-of-the-art cinema boasts cutting-edge audio-visual technology, ensuring that festivalgoers will enjoy a truly immersive experience.
Mohammed Al Turki, CEO of the Red Sea International Film Festival added, "We are proud to partner with VOX Cinemas again this year in our efforts to bring the best the Saudi and Arab film industry has to offer to the big screen. The Red Sea International Film Festival provides an important platform for budding film creatives to showcase their potential and achievements in front of their peers, industry professionals, and the global audience. With VOX Cinemas as our Festival partner, we strive to inspire young Saudis and Arabs to pursue their passion in film to contribute to elevating the Kingdom's cinematic offering to new heights, and we thank VOX Cinemas for furthering our vision through this collaboration".
Commenting on the partnership, Ignace Lahoud, Chief Executive Officer, Majid Al Futtaim Leisure, Entertainment & Cinemas said, "Storytelling is rooted in Arabic culture, and VOX Cinemas is dedicated to cultivating a new wave of talent and empowering them to use the language of film to tell their stories. As the region's largest exhibitor, we have a great opportunity to leverage our scale and showcase the depth and breadth of local creativity on the big screen. We have been a proud Festival partner of the Red Sea International Film Festival since its inception, and we look forward to joining forces once again, given our shared commitment to expand the reach of Arabic culture and heritage to global audiences."
The partnership between The Red Sea International Film Festival and VOX Cinemas, a pioneering cinema exhibitor in the MENA region, brings together two cinematic trailblazers to take festival attendees on a show-stopping journey. The film-going experience has become an established part of Saudi Arabia's entertainment offerings, as a result of the rapid expansion of VOX Cinemas across the Kingdom in recent years.
The Red Sea IFF celebrates excellence in film, a sentiment shared by VOX Cinemas in their commitment to realize the objectives of Vision 2030 by making cinema easily accessible to communities of film enthusiasts across the Kingdom. During the ten-day Festival starting 1st December 2022, VOX Cinemas will be the exclusive cinema exhibitor for the screenings of the festival at Red Sea Mall, bringing the best in cinema to film lovers.
For more information click here
For festival passes click here
Source: Red Sea International Film Festival press release
VOX Cinemas Announces Collaboration with Celebrity Saudi Chef Mona Mosly
A specially curated menu by Saudi chef Mona Mosly was launched by VOX cinemas on Saudi National Day.
VOX Cinemas has announced a culinary collaboration with Chef Mona Mosly which will see the female Saudi Chef elevate the in-cinema dining experience with a specially curated menu.
Moviegoers in Saudi Arabia can now enjoy more than 20 signature dishes at GOLD, VOX Cinemas' luxury cinema concept, and Candy Bar.
Chef Mona Mosly is one of the region's most recognisable celebrity chefs due to her role as host and judge on five series of the TV phenomenon Top Chef Middle East. She has extensive experience in culinary art, having trained professionally in Switzerland before attending the world-renowned Le Cordon Bleu in London and subsequently honing her craft at esteemed restaurants across the Middle East.
Known for her catchphrase, 'From My Heart to Yours', Chef Mona injects passion into every dish and her exclusive menu for VOX Cinemas aims to evoke memories through flavour while featuring her creative take on classic dishes. Highlights on the menu, which has been specially tailored for the cinematic experience, include Saudi Fish & Chips, Mona Shawarma, Khubz Mhalla and Rose Kakadeh.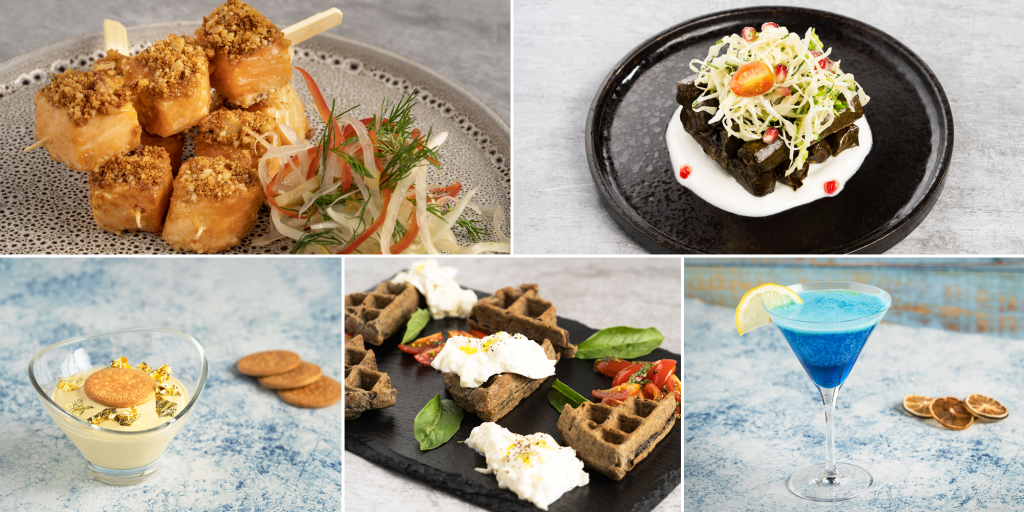 Mohamed Al Hashemi, Country Head at Majid Al Futtaim Leisure, Entertainment, Cinemas and Lifestyle in Saudi Arabia said: "The Saudi labour market has made unprecedented progress in recent years, with more Saudi women entering the workforce and establishing a strong footprint across various industries. In line with Vision 2030 and the Kingdom's National Transformation Programme, Majid Al Futtaim is committed to hiring inclusively to ensure exceptional employment opportunities."
"Given her culinary prowess and unique talent, VOX Cinemas is excited to collaborate with Chef Mona Mosly and unveil her as the new face of our in-cinema dining experience. We believe that F&B is an integral part of going to the movies and this collaboration demonstrates our customer-centricity and dedication to providing an unrivalled cinematic experience. This is just the first step in what we believe will be a long and successful partnership and our ultimate goal is to expand this offering to our cinemas across the region" he added.
Chef Mona Mosly said, "VOX Cinemas has set the standard in cinema dining in the GCC and I'm extremely proud to partner with them given our shared dedication to innovation and excellence as well as the outreach to the Arab world that VOX has to offer. I am confident that this collaboration is a recipe for success and look forward to bringing dishes from my heart to yours at VOX Cinemas in Saudi."
VOX Cinemas' signature concept GOLD caters to movie lovers who want to indulge in gourmet food. Guests have the option of dining in an exclusive private lounge area or having their food delivered straight to their seats through the in-theatre waiter service. Redefining the luxury cinema experience, the GOLD auditorium features reclining leather seats, plush blankets, and pillows as well as cutting-edge audiovisual technology in a stylish and intimate setting.
Chef Mona is the latest high-profile chef to collaborate with VOX Cinemas. Most recently Michelin-starred chef Akira Back curated a menu for VOX Cinemas' THEATRE across UAE, Kuwait, and Qatar.
Chef Mona Mosly's menu will be available exclusively at VOX Cinemas The Kingdom Centre, and The Esplanade in Riyadh before being rolled out to additional locations including Sahara Mall, Riyadh, and Red Sea Mall, Jeddah.
For more information visit VOX Cinemas
Source: VOX Cinemas (Press Release)