MESH Experience | SAWA | Cinema – A Superhero Medium
How would you describe advertising of this day and age in one word? Overwhelming?
Over a hundred years ago, marketeers could choose to communicate messages through two main mediums – newspaper and radio (the first mass media form of communication that offered near real-time delivery).
Today, there is an arsenal of channels available for marketeers to convey their message – newspaper, radio, magazine, television, digital and SMS, which has led to audiences becoming immune to relentless brand messaging.
In April 2017, Procter and Gamble, one of the world's largest advertisers, blasted the ad industry for overwhelming consumers with advertising. "There's too much crap," said P&G's chief brand officer Marc Pritchard, in a speech to the American Association of Advertising Agencies – in a transcript seen by CNBC.
"We bombard consumers with thousands of ads a day, subject them to endless load times, interrupt them with pop-ups and overpopulate their screens and feeds," he said.
With audiences tuning out as a result of advertising overload, how can brands effectively reach their target audience in this day and age?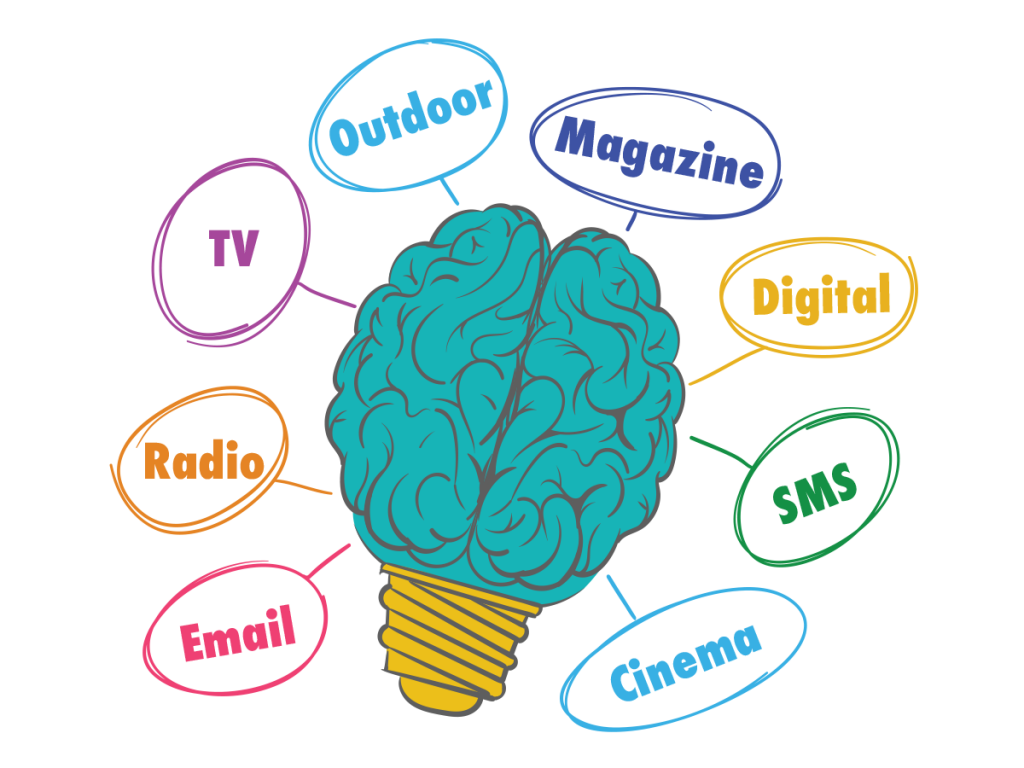 New research by MESH Experience – commissioned by SAWA, suggests that cinema is a powerful marketing platform, ideal for boosting brand influence.
The study captured and analyzed over 4,500 brand experiences from more than 1200 people across 3 countries using MESH's proprietary 'Real-time Experience Tracking' approach. The categories covered in the study comprise Automotive, Finance, Services, FMCG and Electronics.  Participating organizations included National CineMedia (USA), Screenvision Media (USA), Cineplex Media (Canada), and Weischer Media (Germany).
Below are key insights that analyses the role of cinema vs. other media:
As context for this study, and pointed out by a recent Deloitte study, it is no longer enough for brands to simply communicate features and benefits because people want to understand more about the brand's social purpose, particularly younger people. We also know that people are overloaded with information and this probably explains why in this MESH study we saw that more than a third of paid media messages are self-reported as making people feel "neutral" towards the brand.
Consumer information overload is creating a challenge for brands wanting to convey more complex concepts to customers who are time-poor with less attention to give.
The study conducted by MESH Experience discovered that the cinema environment delivers the greatest proportion of positive brand experiences vs. any other media with 2 out of 3 experiences being positive and virtually no negative experiences.
And this emotional engagement, where people spontaneously tell us their experience is positive, is leading to much deeper advertising comprehension:
Spontaneous descriptions for cinema brand experiences generated a word count that was 20% longer than those for online experiences and 12% longer than for TV.
These comments conveyed detailed product descriptions as well as depth of emotion.
Cinema is generally perceived to be an awareness building medium, however, this study saw how brand experiences in cinema generate action:
Study participants who experienced brand messages in Cinema were 43% more likely to feel inspired to find out more about the brand vs. brand experiences with other media.
And the depth of a cinema brand experience makes people feel 50% more connected to others which can lead to conversation, and we see is a key driver of brand consideration.
There is a direct relationship between building emotional connections and establishing brand recall value, and cinema advertising allows brands to craft concrete and solid brand images in the minds of their consumers. Creating brand recall is the crucial element required in pushing sales and driving revenue.
Cinema advertising allows brands to paint a picture on a larger canvas, deliver a story with a louder voice, and communicate a message with more focused attention – all of which combine to make it the only Superhero among all advertising mediums.
Fiona Blades, President and Chief Experience Officer, MESH Experience commented "What we have discovered is that cinema has the power to penetrate deeper to connect brands to people.  Even if the same creative is shown repeatedly in another medium, it may never hit the high notes of one cinema viewing.  This shows the vital role that cinema can play in a brand's media mix.  And is why, when you add cinema to other media, such as TV and online, it turbocharges the impact on brand consideration."
Cheryl Wannell, CEO, SAWA, continued "As an industry we believe in creating trustworthy environments for advertisers to communicate in.  What better place to help customers understand a brand's purpose than Cinema. This research once again validates the strength of the Cinema medium as viable choice in any campaign especially when trying to engage the hard to reach demographics of Millennials and Generation Z."
As a result of these initial findings, a second phase is already in the works for 2019.
Motivate Val Morgan is a full member of SAWA (Global Cinema Advertising Association)
Sources: SAWA, MESH Experience, CNBC, Research News Live and On Digital Marketing