Motivate Val Morgan | Yearly Wrap-Up | 2022
The cinema industry successfully ushered global audiences back into theatre in 2022 largely owing to the steadier flow of blockbusters in comparison to 2021, with Top Gun: Maverick, Black Panther: Wakanda Forever, and Avatar: The Way of Water leading the long list of successful titles this year.
While 2021 was a dress rehearsal for the future of cinemas, 2022 has proved that cinema is back for real. This was especially evident in Saudi Arabia, when the country overtook Italy in annual box office revenue (in US$ terms), highlighting the prominence of cinema in the region.
Box office in 2022 had its first test with Scream which grossed nearly US$1M in the UAE alone and marked the successful return of the horror genre in the region since the pandemic. This was followed by the chartbuster performance of Matt Reeve's The Batman, which earned a combined US$12M in the UAE and Saudi Arabia, and Marvel's Doctor Strange in the Multiverse of Madness, which earned US$6.7M in the UAE.
Summer blockbusters highly contributed to the recovery of the global box office in 2022, with Tom Cruise's Top Gun: Maverick grossing a combined US$21.2M in the UAE and Saudi Arabia and over US$1.5 billion globally. Jurassic World: Dominion and Minions: The Rise of Gru also performed well, grossing over US$1.7M and US$1.64M in UAE and Saudi Arabia, respectively.
August to October was a challenging phase for cinemas in the region due to a weaker movie release schedule owing to pandemic-related delays. The year however ended on a high note with the release of James Cameron's Avatar: The Way of Water, which earned close to US$10M in the UAE in its opening weeks. Arabic titles such as Bahebek, 3amohom, and Men Agl Zeko also topped the 2022 charts across GCC.
Here's our 2022 wrap-up featuring the top movie releases in the eight countries we cover, the most watched genres across the region, the top 15 cinema ads booked through us that lit up the big screen, and last but not least, the new cinema locations added to our circuit and our milestones:
Top Five Movies – By Country
UAE
Top Gun: Maverick
Doctor Strange: in the Multiverse of Madness
Avatar: The Way of Water
Minions 2: The Rise of Gru
Thor: Love and Thunder
Saudi Arabia
Top Gun: Maverick
Bahebek (Egyptian)
3amohom (Egyptian)
Men Agl Zeko (Arabic)
The Batman
Egypt
Kera We El Gin (Egyptian)
Wahed Tany (Arabic)
3amohom (Egyptian)
Bahebek (Egyptian)
Al Gareema (Arabic)
Oman
Top Gun: Maverick
Bahebek (Egyptian)
Minions 2: The Rise of Gru
Avatar: The Way of Water
Jurassic World Dominion
Kuwait
Top Gun: Maverick
Minions 2: The Rise of Gru
Bahebek (Egyptian)
Sonic the Hedgehog 2
3amohom (Egyptian)
Bahrain
Top Gun: Maverick
Bahebek (Egyptian)
Minions 2: The Rise of Gru
Black Adam
The Batman
Qatar
Top Gun: Maverick
Minions 2: The Rise of Gru
Jurassic World Dominion
Bahebek (Egyptian)
Black Adam
Lebanon 
Bahebek (Egyptian)
Al Hayba (Arabic)
Taraf Talet (Lebanese)
Top Gun: Maverick
Doctor Strange: in the Multiverse of Madness
Most Watched Genres – Regional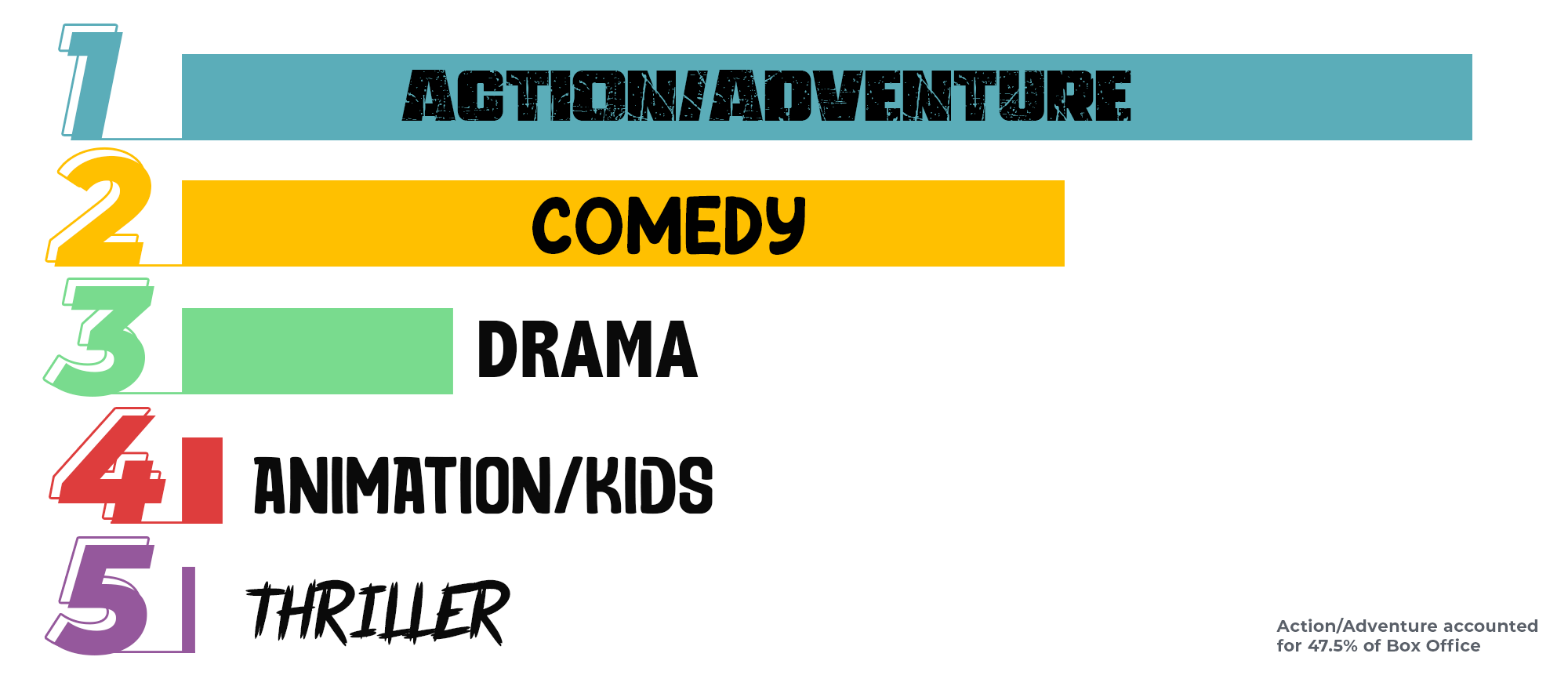 Top 15 Cinema Ads
The 15 blockbuster ads (in no particular order) – booked through Motivate Val Morgan, that lit up the big screen in 2022 (also featured in Campaign Middle East):
Brand: Mercedes-Benz Burmester
Title: Innovations by Mercedes-Benz: Dolby Atmos
Media Agency: OMD
Brand: NEOM
Title: Trojena – Journey To New Heights
Media Agency: Starcom
Brand: Emirates
Title: Gerry the Goose Flies Better
Media Agency: UM MENA
Brand: Rolex
Title: Rolex & Cinema – The Path
Media Agency: Mindshare
Brand: Sephora
Title: Amna Al Qubaisi – Emirati F3 Driver – Redefining Beauty with Sephora
Media Agency: Spark Foundry – Publicis Media
Brand: Malabar Gold
Title: Brides of India
Brand: Hermès
Title: Terre d'Hermès
Media Agency: Havas Media
Brand: Thailand Tourism
Title: Amazing Thailand
Media Agency: Media Republic
Brand: Hayatna
Title: Grow Your World With Hayatna
Media Agency: Hearts & Science
Brand: Riyadh Book Fair
Media Agency: Blue Horizon
Brand: Infiniti QX60
Title: Take the Wheel
Media Agency: OMD
Brand: Jindal Shadeed
Media Agency: United Media Services
Brand: Theeb
Brand: Yas Island
Title: Yas Yas Baby
Media Agency: Initiative Media
Brand: Al Nahdi Pharmacies
Cinema Circuit Growth
2022 saw our cinema circuit expand with several new locations: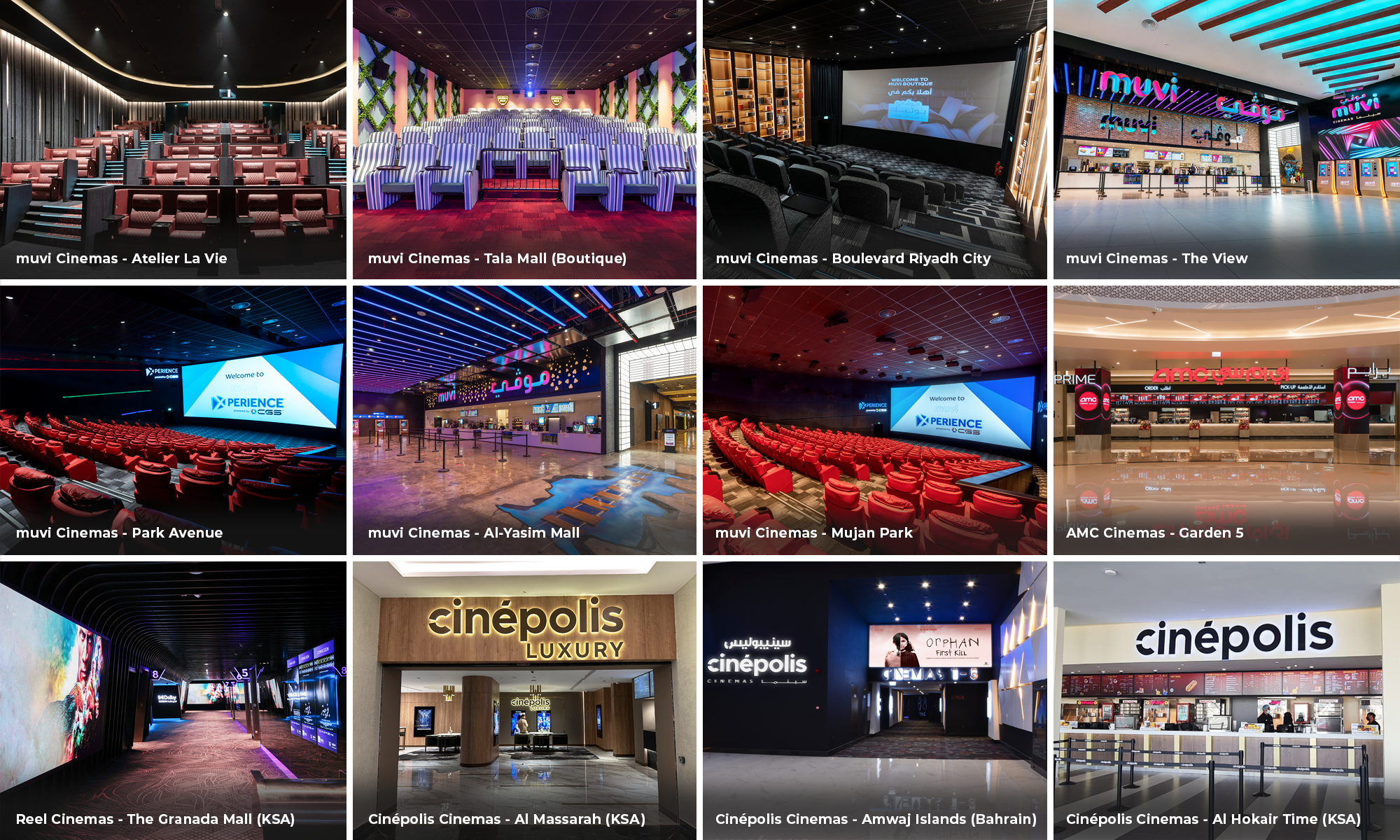 Muvi Cinemas (KSA): The View, Atelier La Vie, Mujan Park, Al-Yasmin Mall, Tala Mall (Boutique), Boulevard Riyadh and Park Avenue
AMC Cinemas (KSA) – Garden, Tabuk Boulevard and The Walk
Cinépolis Cinemas (KSA) – Al Hokair Time, Al Massarah
Cinépolis Cinemas (Bahrain) – Amwaj Islands
Reel Cinemas (KSA) – The Granada Mall
Milestone
Our dedicated cinema buying platform – CinePlan and CineMeasure, was launched, which enables data-driven, audience-based buying across our network of cinemas in the Middle East. The platform was also recognized as one of Campaign Middle East's Top 10 Media Milestones of 2022.
Blockbusters to Look Forward to in 2023
Get ready for an exciting year at the movies in 2023! Here are the top 20 movies to look forward to over the year ahead:
Ant-Man and The Wasp: Quantumania – February
Creed III – March
65 – March
Shazam! Fury of the Gods – March
John Wick: Chapter 4 – March
Dungeons & Dragons: Honor Among Thieves – March
Guardians of the Galaxy Vol. 3 – May
Fast X – May
Spider-Man: Across the Spider-Verse – June
Transformers: Rise of the Beasts – June
The Flash – June
Indiana Jones and the Dial of Destiny – June
Mission: Impossible – Dead Reckoning, Part One – July
Oppenheimer – July
The Marvels – July
Barbie – July
Dune: Part Two – November
The Hunger Games: The Ballad of Songbirds & Snakes – November
Wonka – December
Aquaman and the Lost Kingdom – December
For more on the movies coming out in 2023, be sure to check out our sizzle reel
CinemaCon 2022 – Round Up
CinemaCon 2022 took place between 25 – 28 April 2022 at Caesars Palace in Las Vegas.
CinemaCon, the annual convention organized by the National Association of Theatre Owners, is back after a cancelled 2020 edition and a muted 2021 affair.
Only eight months ago, the movie theater industry congregated at Caesars Palace in Las Vegas. The previous edition took place at a time when the cinema industry was in constant flux, with fewer overseas delegates, pre-recorded studio presentations, and a low turnout on the trade show floor.
The industry has made great strides since CinemaCon 2021, after a string of box office successes – Spider-Man: No Way Home, The Batman, Venom: Let There Be Carnage, Shang-Chi and the Legend of the Ten Rings, and a far more stabilized movie release calendar, which have given cinema owners the foundation to pursue a serious recovery. The worst looks to be behind movie owners around the world, with theatrically exclusive films returning to big screen and recent box office figures suggesting that viewers are returning to the medium.
Here's a look at the biggest studio announcements from the largest annual gathering of the motion picture industry:
Sony Pictures:

Sony opened the studio presentations at CinemaCon 2022 with a victory lap. Tom Rothman, chairman and CEO of Sony Pictures Entertainment, who energized the studio's 2021 showcase to exhibitors by expressing a strong commitment to theatrical exclusivity.
Sony Pictures Entertainment has earned a whopping $3.3 billion in global box office since their last appearance in CinemaCon, only eight months back.
The studio's 2022 presentation began with an extended look at the upcoming comedy-action caper Bullet Train (July 29) and continued its presentation further with the new looks of Where the Crawdads Sing (July 15) and The Woman King (September 16), original titles the studio believes will help balance the tentpole-heavy release schedule of the coming months.
Warner Bros.:
Warner Bros. started the presentation at CinemaCon 2022 by unveiling an early first look at footage from The Flash.
The major announcement of the evening was confirmation from studio chairman Toby Emmerich that director Matt Reeves and star Robert Pattinson would be coming back for another installment of The Batman.
Fans also caught the first glimpse of Margot Robbie in the starring role for Barbie, now scheduled for a July 21, 2023 release.
Director Baz Luhrman gave an enthusiastic introduction to footage from his upcoming Elvis, scheduled for a June 24 release, the film will confront the challenge of re-engaging older moviegoers.
Other non-franchise Warner Bros. titles featured in the presentation include the Timothy Chalamet musical Wonka (Christmas 2023), Olivia Wilde's Don't Worry, Darling starring Florence Pugh (September 23), and the Stephen King adaptation Salem's Lot (September 9).
Warner Bros.' focus on original titles didn't overshadow the other DC Comics properties on its schedule. Their CinemaCon presentation included advance looks at Shazam! Fury of the Gods (December 16), Aquaman: The Lost Kingdom (March 17, 2023), DC League of Super-Pets (July 29), and Black Adam (October 21).
Disney:
Marvel Studios president Kevin Feige opened the ceremony introducing a 20-minute clip of Doctor Strange in the Multiverse of Madness. Marvel titles have been a financial lifeline for the industry since cinemas reopened with titles like Black Widow, Shan-Chi and the Legend of the Ten Rings, The Eternals, and Spider-Man: No Way Home.
The CinemaCon 2022 audience also enjoyed a 30-minute look at Lightyear, the first Pixar title to hit theaters since Onward.
Disney turned the rest of the presentation over to its 20th Century Studios division, where audiences got a first look at footage of David O. Russell's Amsterdam (November 4). The title promises to be a star-studded big screen experience driven by leads Christian Bale, Margot Robbie, and John David Washington.
Six minutes of The Bob's Burgers Movie (May 27) also screened for the audience, emerging as a promising counter-programming option set to open alongside Top Gun: Maverick over Memorial Day weekend.
Producer Jon Landau came on stage to share Disney's biggest announcement of the morning. Avatar 2, now titled Avatar: The Way of Water, will stick to its December 16 release date.
Universal Studios:
Universal Studios' presentation represented with footage from Jordan Peele's Nope (July 22), David Gordon Green's Halloween Ends (October 14), and the Blumhouse evil robot thriller M3gan (January 13, 2023).
Highlights from the showcase also included enthusiastic responses from exhibitors for comedies Easter Sunday (August 5), Minions: The Rise of Gru (July 1), and Bros (September 30). Universal's presentation closed with legacy cast members of Jurassic World: Dominion introducing a trailer for the film ahead of its June 10 release.
Focus Features:
Focus Features president Lisa Bunnell introduced footage from several upcoming titles. Focus will bring a diverse slate to theaters in 2022 that includes movies like Downton Abbey: A New Era (May 18) and Mrs. Harris Goes to Paris (July 15), genre plays like action-comedy flick Violent Night (December 2), and dramas like James Gray's Armageddon Time.
Neon:
Neon showcased footage from a trio of its own titles to complement the week's tentpole-driven presentations. David Cronenberg's Crimes of the Future (June 3) is sure to make audiences squirm as the legendary director returns to his roots in body horror.
Lionsgate:
Lionsgate showcased upcoming comedy About My Father. The Studio also revealed never before seen footage of a slate that balances original films like coming-of-age comedy Are You There God? It's Me, Margaret and horror flick The Devil's Light with established action franchises like John Wick Chapter 4 and The Expendables 4.
The studio is also building spin-off series based on successful films. The drama White Bird will act as a sort of spiritual prequel to Lionsgate's 2017 hit Wonder, while Ballerina will give star Anna de Armas her own series in the John Wick universe.
The CinemaCon 2022 audience caught their first glimpse of the video game adaptation Borderlands and a new Dirty Dancing movie heralding the return of original star Jeniffer Grey.
The big news from the Lionsgate showcase came in the final moments of the presentation with the announcement of a new Hunger Games prequel dated for November 17, 2023. The Hunger Games: The Ballad of Songbirds and Snakes could provide a return to major global grosses for Lionsgate, which has played a larger role with mid-range titles since the Hunger Games series concluded in 2015.
Paramount Pictures:
Paramount Pictures kept most of the focus of its CinemaCon 2022 presentation on Top Gun: Maverick, which got its first public screening at the Las Vegas gathering Thursday.
The studio still had a few other big announcements to make. Among them were two title announcements for Paramount's biggest franchises: Mission: Impossible and A Quiet Place. The seventh M:I film will be titled Mission: Impossible — Dead Reckoning: Part One while the upcoming "Quiet Place" spinoff from director Michael Sarnoski will be called A Quiet Place: Day One. Both films are set for release in 2023.
Source: Boxoffice Pro