Muvi Cinemas Opens at Atelier La Vie in Jeddah
Muvi Cinemas – Atelier La Vie is the latest cinema to open as part of the exhibitor's roll out plan to expand across the Kingdom of Saudi Arabia.
Saudi Arabia's first homegrown cinema brand Muvi Cinemas has announced the launch of its first standalone VIP Suites multiplex at Atelier La Vie. Located at the Al Shati District of Jeddah, the new cinema – which opened to the public on 15 December 2021, is part of a mixed-use leisure venue developed by Al-Anwa Holding Company for Investments.
The multiplex situated among exclusive retail stores, cafes and restaurants in an urban garden environment boasts 4 Muvi SUITES theaters with a total of 200 VIP seats, offering exceptional audiovisual experience and a luxurious lounge atmosphere unmatched in the kingdom.
The cinema also offers a distinguished and diverse à la carte menu that includes everything from light bites to a full meal, which can be enjoyed in both the lounge and the comfort of a cinema seat.
Similar to other locations operated by the exhibitor, Muvi Cinemas – Atelier La Vie was designed by UK's Chapman and Taylor, with a theme of urban downtown. The cutting-edge cinema venue aims to create a dynamic, modern and innovative cinema experience. Internal spaces are characterised by an industrial, yet luxurious, material palette, which includes timber, exposed steelwork, brickwork and a concrete floor. Digital LED screens and dramatic lighting installations complement the city warehouse feel, providing a strong visual identity for the developments.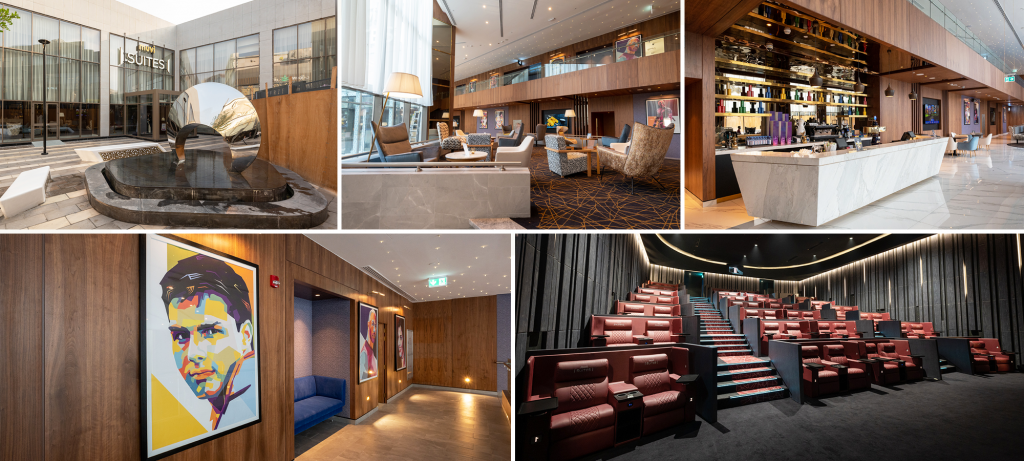 "As MUVI expands rapidly across the kingdom, the VIP-focused location at Atelier LaVie will exemplify our brand's ability to provide the most immersive and luxurious movie-viewing experience in the country," said Adon Quinn, Chief Operating Officer at MUVI Cinemas. "It will be the first to feature MUVI Suites theatres exclusively—a natural decision borne of Al-Anwa's commitment to providing the finest in retail, wellness, and dining at Atelier La Vie," he added.
Together with the openings of muvi Boutique – Tala Mall and Boulevard Riyadh (which opened in December 2021) and Al-Yasmin Mall and Mujan Park (which opened in January 2022), Muvi Cinemas presently operates 174 screens across 20 locations in 9 cities across Saudi Arabia.
*More information on muvi Boutique – Tala Mall (Riyadh), Boulevard Riyadh (Riyadh), Al-Yasmin Mall (Jeddah) and Mujan Park (Khamis) to follow soon.
Contact a member of our sales team for cinema advertising opportunities at this standalone premium Muvi cinema location.
Sources: Muvi Cinemas