The Latest News from the World of Movies – May 2020
Attention movie-lovers! Cinemas may still remain closed in response to COVID-19, but that doesn't mean you shouldn't stay up-to-date with what's happening in the world of movies!
Here are some of the big announcements made in May 2020:
While the word eagerly awaits the release of Wonder Woman 1984, and even though there is no official on the big screen, Patty Jenkins has story ideas for Wonder Woman 3 and the planned Amazonian spin-off.
But of course, Wonder Woman 1984 needs to release first.
"I'm not going to nail down a fresh thought about it until [Wonder Woman 1984] comes out, because I kind of want to give myself a palette cleanser, and be fresh of mind. But yeah, there's an arc that I have in mind for the first movie, and then the second movie, and then the Amazon movie, and then the third movie," said Patty Jenkins.
Read more on this at ScreenRant and CinemaBlend
Warner Bros. has unveiled a new image from the Dune adaptation from director Denis Villeneuve – due to hit cinemas in December this year, which also features the sandy landscape of Abu Dhabi in the background.
Scenes for this highly anticipated sci-fi movie were filmed in Jordan and the UAE, as well as Budapest.
Read more on this at The National and Empire
One small step for Tom Cruise, one giant leap for moviemaking?
Cruise is partnering with NASA to shoot a movie, at least in part, aboard the Intl. Space Station – the first narrative feature to be shot in space.
It's unclear how Cruise will pull off this feat, but one thing's for sure, knowing him, even at 57 he'll probably insist on doing his own stunts (remember the freefall at 200 mph in 2018's Mission: Impossible — Fallout?)
Read more on this at Variety an ScreenRant
Yes, it's highly unlikely that anyone will ever win an Oscar for playing the caped crusader – Batman, but this does not mean that the pressure is off when portraying the character.
Robert Pattinson – the new Caped Crusader, says he has found a 'gap' to make Batman his own – in contrast to the likes of Val Kilmer's cheeseball effort.
"I kind of like the fact that not only are there very, very, very well-done versions of the character which seem pretty definitive, but I was thinking that there are multiple definitive playings of the character," said Pattinson.
You've seen this sort of lighter version, you've seen a kind of jaded version, a kind of more animalistic version. And the puzzle of it becomes quite satisfying, to think: Where's my opening? And also, do I have anything inside me which would work if I could do it? And then also, it's a legacy part, right? I like that," he added.
Read more on this at: The Guardian
You know who's great at spicing things up and adding much-needed levity to franchises that have become somewhat bogged down in their own mythology? Taika Waititi!
Disney has announced that Taika Waititi will direct and co-write a new Star Wars movie for theatrical release.
Rumors of a Waititi-helmed Star Wars movie first surfaced in January, though it's unclear if this movie is the one that Marvel Studios president Kevin Feige is reportedly developing.
Read more on this at The Verge and Wired
Paramount Pictures has dated a new, untitled live-action Transformers film to be released in theaters on June 24, 2022.
As Paramount and Hasbro press forward to revamp the franchise, two new Transformers projects are being developed simultaneously, with Joby Harold (Army of the Dead) and James Vanderbilt (Zodiac) each penning a script. Plot details are being kept under wraps and no directors are currently attached to either.
Also, An untitled animated prequel to the Transformers franchise is in the works at Paramount Pictures and Hasbro's eOne with Toy Story 4 director Josh Cooley.
Read more on this at TheWrap and Variety
Wonder Woman 1984 Gets A New Release Date
Wonder Woman 1984 to release on August 14, 2020 (worldwide)
The coronavirus crisis has hit the entertainment industry hard, with many film and TV projects forced to make some drastic decisions in recent weeks.
If you're anything like us, having witnessed Diana Prince's epic sprint through the bleak and hellish emptiness of no man's land, you are even more desperate for more from the DC's iconic goddess. But, it seems like all of us will have to wait a little longer to see Wonder Woman in action again!
Wonder Woman 1984 was initially set to release in early June, but has now been postponed until August 2020, and despite the rumours you might have heard, both Warner Bros. and director Patty Jenkins assures fans the now-delayed DC film will be released in cinema and not via VOD/streaming platforms.
In a tweet posted following news of the film's delay, Jenkins declared, "We made Wonder Woman 1984 for the big screen and I believe in the power of cinema." She then reiterated that Wonder Woman 1984's new release date is August 14, and that she prays for "better times for all by then."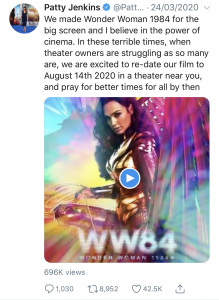 Most delayed movies currently plan to arrive in cinema at some point, though Universal decided to forgo its theatrical run of Emma, The Invisible Man, The Hunt and Trolls World Tour – releasing then directly on VOD. Some fans have called for other films to do the same as Universal in order for them to have access to more entertainment while in lockdown and quarantine at home, but no other movies have taken that route.
Jenkins also stressed that many cinemas are struggling to cope with their shutdowns, something that has been echoed by other directors. Christopher Nolan and Edgar Wright are among those who have encouraged support for cinemas during this time, either by buying memberships or through governmental assistance. In recent days, directors have championed the theatrical experience as more and more people rely on streaming services to keep them occupied.
Sources: Screenrant, World of Reel, Twitter and Techradar
Women Take Charge of Hollywood in 2020
Women – directors and actors, are set to take charge of Hollywood in 2020!
According to World Economic Forum, the number of women behind the camera on Hollywood movies jumped to record levels in 2019, with 12 directing top-grossing films including Frozen II, Captain Marvel and Hustlers.
Additionally, a study by the Annenberg Inclusion Initiative at the University of Southern California found that women made up 10.6% of directors of the top movies last year, more than double the percentage in 2018 and the highest percentage of female directors in the past decade.
2020 is already off to a good start with five of the year's most anticipated blockbusters – Bird of Prey, Mulan, Black Widow, Wonder Woman 1984 and Eternals – all directed by women.
Birds Of Prey
Director: Cathy Yan
Release Date: February 6, 2020
Birds of Prey, will be DC's first venture in 2020 and the first movie from the studio to come after Todd Phillips' acclaimed Joker movie. The movie stars Margot Robbie – reprising her famous role of Harley Quinn, and will feature a few other leading ladies such as Mary Elizabeth Winstead, Jurnee Smollett-Bell and Rosie Perez (to name a few).
Mulan
Director: Niki Caro
Release Date: March 26, 2020
Disney's next live action remake will not be a musical and is missing the indestructible Mushu in its first trailer. However, audiences need not fret, as this version of Mulan from Niki Caro is paving its own path and staying clear of mimicking the 1998 animated classic.
Black Widow
Director: Cate Shortland
Release Date: April 30, 2020
One of Marvel's big releases this year will be by a female director – Cate Shortland, and follows a leading superhero – Natasha Romanoff  (also known as Black Widow) played by Scarlett Johansson. Black Widow's solo movie has been a long time coming as a result of Scarlett Johansson's character being a popular in the Avengers series. The story of Natasha Romanova should give audiences a real chance to see her in action and outside the realm of an ensemble movie.
Wonder Woman 1984
Director: Patty Jenkins
Release Date: June 4, 2020
As a sequel starring a popular DC comics character, it's no real surprise that Wonder Woman 1984 – directed by yet another leading female director Patty Jenkins, is topping the list of most anticipated  movies in 2020. Gal Gadot will also be back to reprise her role of Diana Prince, with Kristen Wiig taking on the role of Barbara Minerva (better known as Cheetah) – the archenemy of Wonder Woman.
Eternals
Director: Chloé Zhao
Release Date: October 29, 2020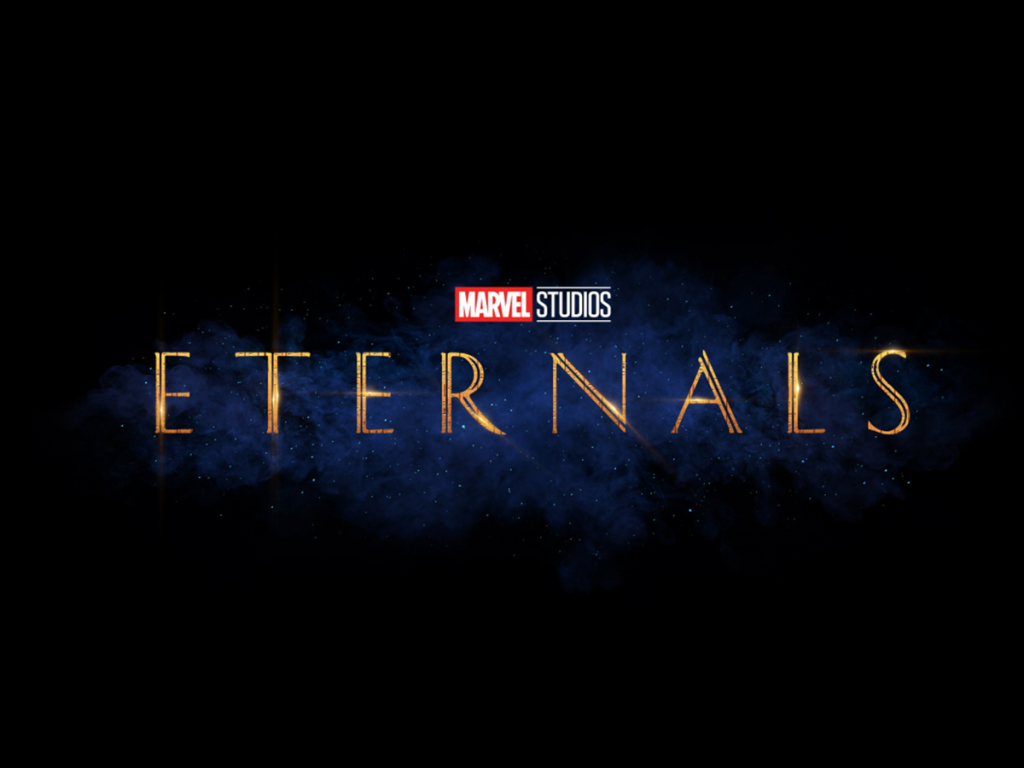 In April 2018, Marvel Studios announced that they will be developing a film based on the Comic book series Eternals. Directed by Chinese film director Chloé Zhao – known for The Rider, the film will star leading female actresses such as Angelina Jolie, Salma Hayek and Gemma Chan, alongside Game of Thrones' Kit Harington and Richard Madden. The Eternals are immortal aliens who should possibly offer much to the cosmic side of Marvel's Phase Four.
According to a list of the most anticipated movies of 2020 by Fandango, around half will be led by women. It's also worth pointing out that from this list, the top four movies are female-directed.
Visit the Movie Planner section of our website to watch trailers of other upcoming movies in 2020.
Sources: Variety, World Economic Forum and Fandango.