The Latest News from the World of Movies – May 2020
Attention movie-lovers! Cinemas may still remain closed in response to COVID-19, but that doesn't mean you shouldn't stay up-to-date with what's happening in the world of movies!
Here are some of the big announcements made in May 2020:
While the word eagerly awaits the release of Wonder Woman 1984, and even though there is no official on the big screen, Patty Jenkins has story ideas for Wonder Woman 3 and the planned Amazonian spin-off.
But of course, Wonder Woman 1984 needs to release first.
"I'm not going to nail down a fresh thought about it until [Wonder Woman 1984] comes out, because I kind of want to give myself a palette cleanser, and be fresh of mind. But yeah, there's an arc that I have in mind for the first movie, and then the second movie, and then the Amazon movie, and then the third movie," said Patty Jenkins.
Read more on this at ScreenRant and CinemaBlend
Warner Bros. has unveiled a new image from the Dune adaptation from director Denis Villeneuve – due to hit cinemas in December this year, which also features the sandy landscape of Abu Dhabi in the background.
Scenes for this highly anticipated sci-fi movie were filmed in Jordan and the UAE, as well as Budapest.
Read more on this at The National and Empire
One small step for Tom Cruise, one giant leap for moviemaking?
Cruise is partnering with NASA to shoot a movie, at least in part, aboard the Intl. Space Station – the first narrative feature to be shot in space.
It's unclear how Cruise will pull off this feat, but one thing's for sure, knowing him, even at 57 he'll probably insist on doing his own stunts (remember the freefall at 200 mph in 2018's Mission: Impossible — Fallout?)
Read more on this at Variety an ScreenRant
Yes, it's highly unlikely that anyone will ever win an Oscar for playing the caped crusader – Batman, but this does not mean that the pressure is off when portraying the character.
Robert Pattinson – the new Caped Crusader, says he has found a 'gap' to make Batman his own – in contrast to the likes of Val Kilmer's cheeseball effort.
"I kind of like the fact that not only are there very, very, very well-done versions of the character which seem pretty definitive, but I was thinking that there are multiple definitive playings of the character," said Pattinson.
You've seen this sort of lighter version, you've seen a kind of jaded version, a kind of more animalistic version. And the puzzle of it becomes quite satisfying, to think: Where's my opening? And also, do I have anything inside me which would work if I could do it? And then also, it's a legacy part, right? I like that," he added.
Read more on this at: The Guardian
You know who's great at spicing things up and adding much-needed levity to franchises that have become somewhat bogged down in their own mythology? Taika Waititi!
Disney has announced that Taika Waititi will direct and co-write a new Star Wars movie for theatrical release.
Rumors of a Waititi-helmed Star Wars movie first surfaced in January, though it's unclear if this movie is the one that Marvel Studios president Kevin Feige is reportedly developing.
Read more on this at The Verge and Wired
Paramount Pictures has dated a new, untitled live-action Transformers film to be released in theaters on June 24, 2022.
As Paramount and Hasbro press forward to revamp the franchise, two new Transformers projects are being developed simultaneously, with Joby Harold (Army of the Dead) and James Vanderbilt (Zodiac) each penning a script. Plot details are being kept under wraps and no directors are currently attached to either.
Also, An untitled animated prequel to the Transformers franchise is in the works at Paramount Pictures and Hasbro's eOne with Toy Story 4 director Josh Cooley.
Read more on this at TheWrap and Variety
The Oscars 2020 Round-Up
From red carpet fashion statements, Eminem performing a song from 2002, to entertaining speeches, triumphant wins, Idina Menzel's performance of Frozen 2's 'Into the Unknown' and much more, Hollywood's biggest night (The Academy Awards – also known as The Oscars), is finally done and dusted.
Parasite made history becoming the first foreign language film to win best picture and best director. The film also nabbed prizes for original screenplay and international feature film. The victory caps off an improbable awards season run for the South Korean thriller.
Joaquin Phoenix won the lead actor award for his work as the deranged failed-standup comic of Gotham (Arthur Fleck) in Joker, while Renée Zellweger won best actress for her portrayal of the legendary performer Judy Garland in Judy.
Meanwhile, Brad Pitt and Laura Dern picked up supporting actor and actress honors for their performance in Once Upon a Time…in Hollywood and Marriage Story respectively
Here's the full list of winners:
Best Motion Picture – "Parasite"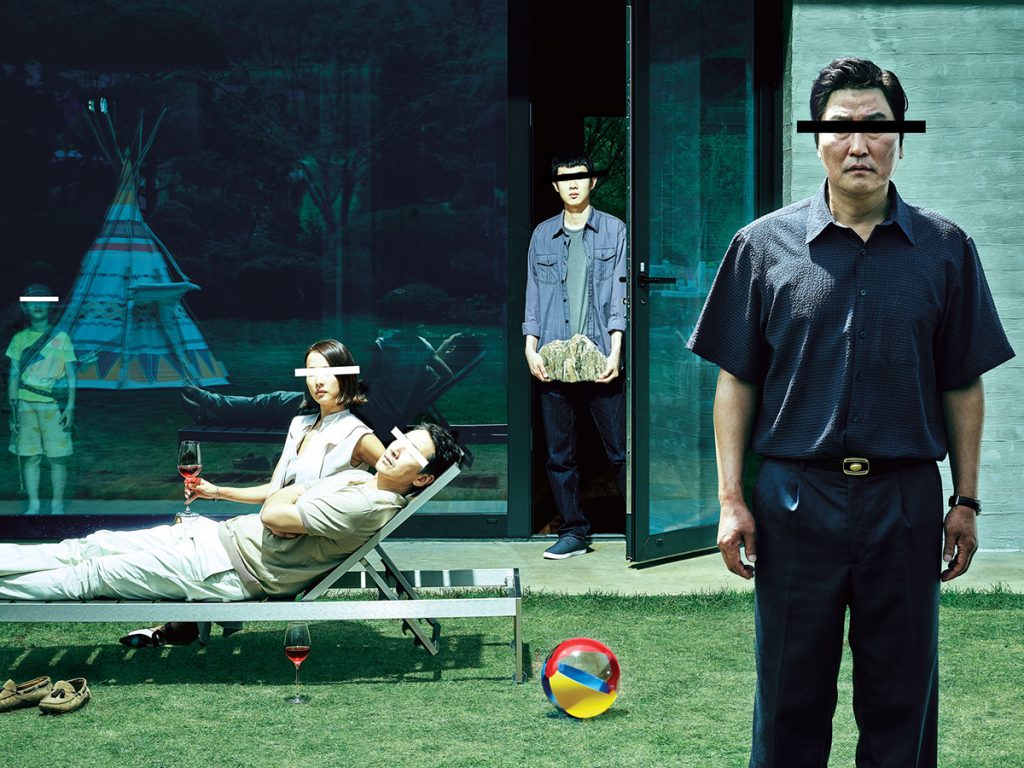 Directing – Bong Joon Ho for "Parasite"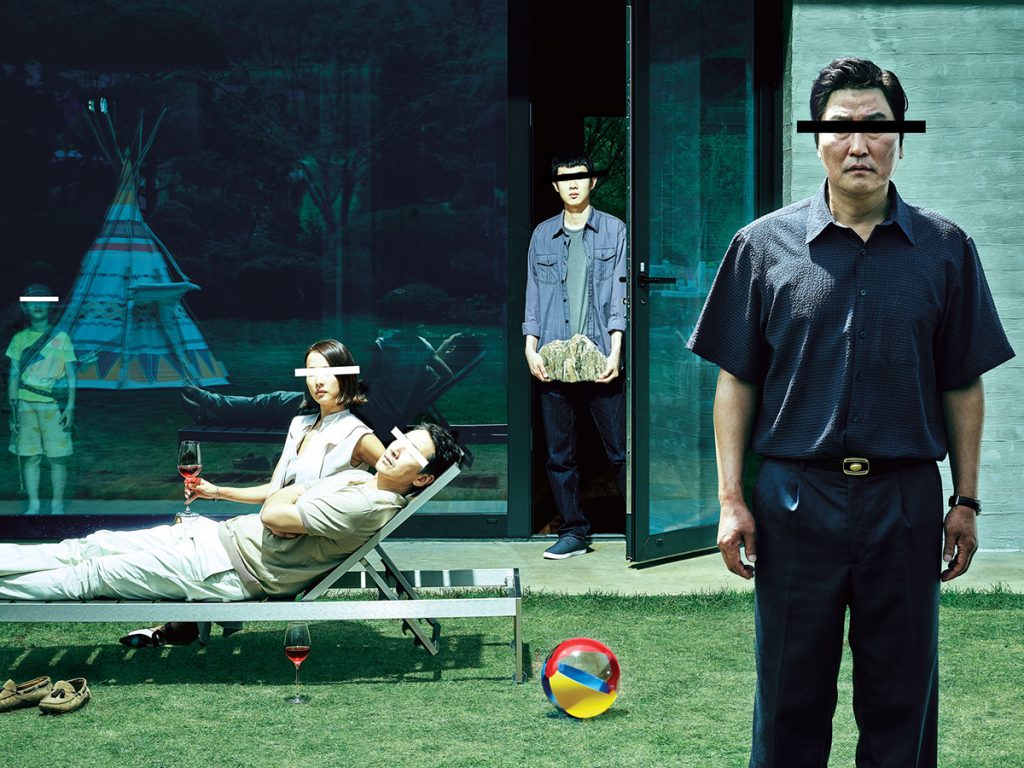 Actor in a Leading Role – Joaquin Phoenix in "Joker"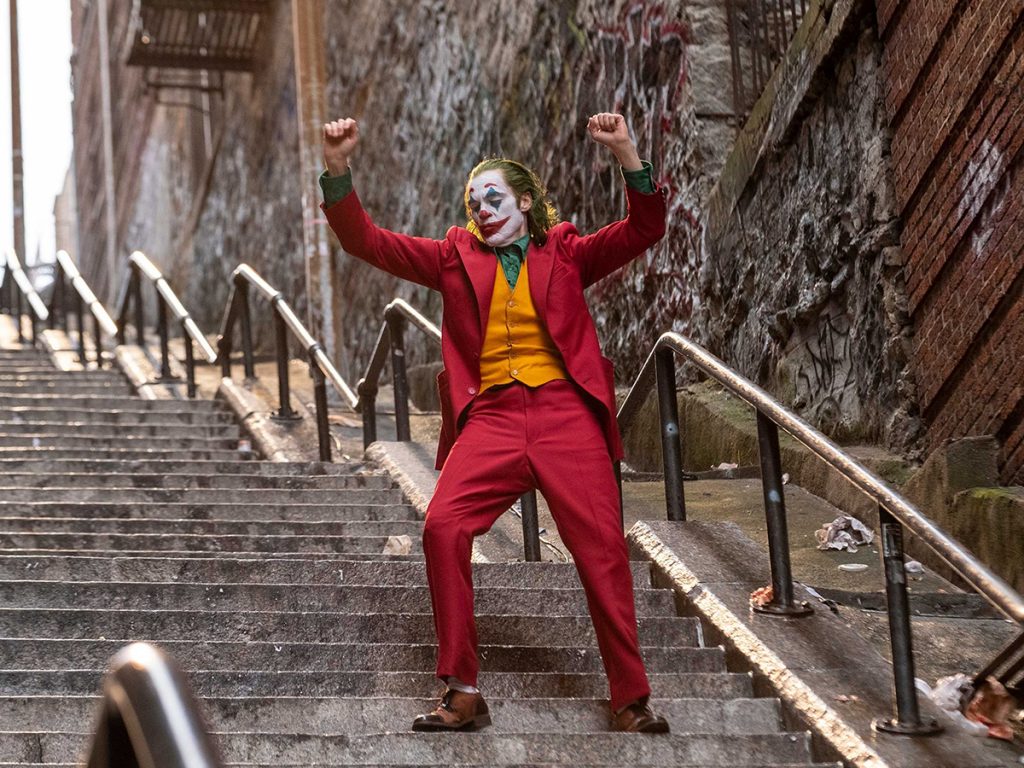 Actress in a Leading Role – Renée Zellweger in "Judy"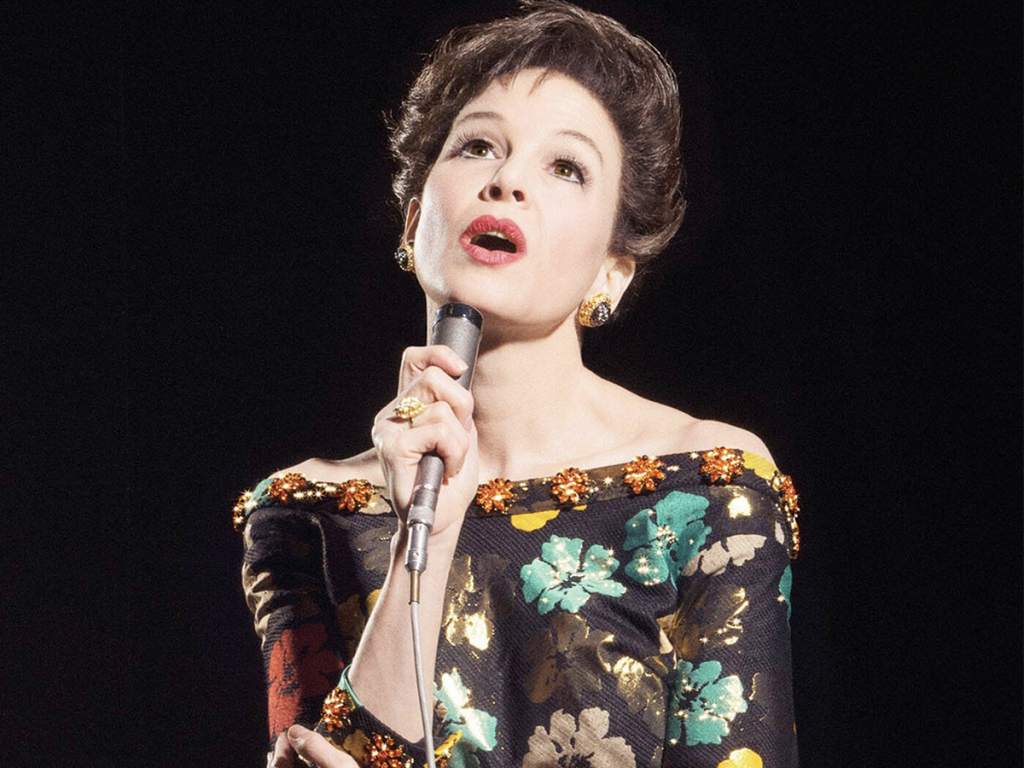 Actor in a Supporting Role – Brad Pitt in "Once Upon a Time…in Hollywood"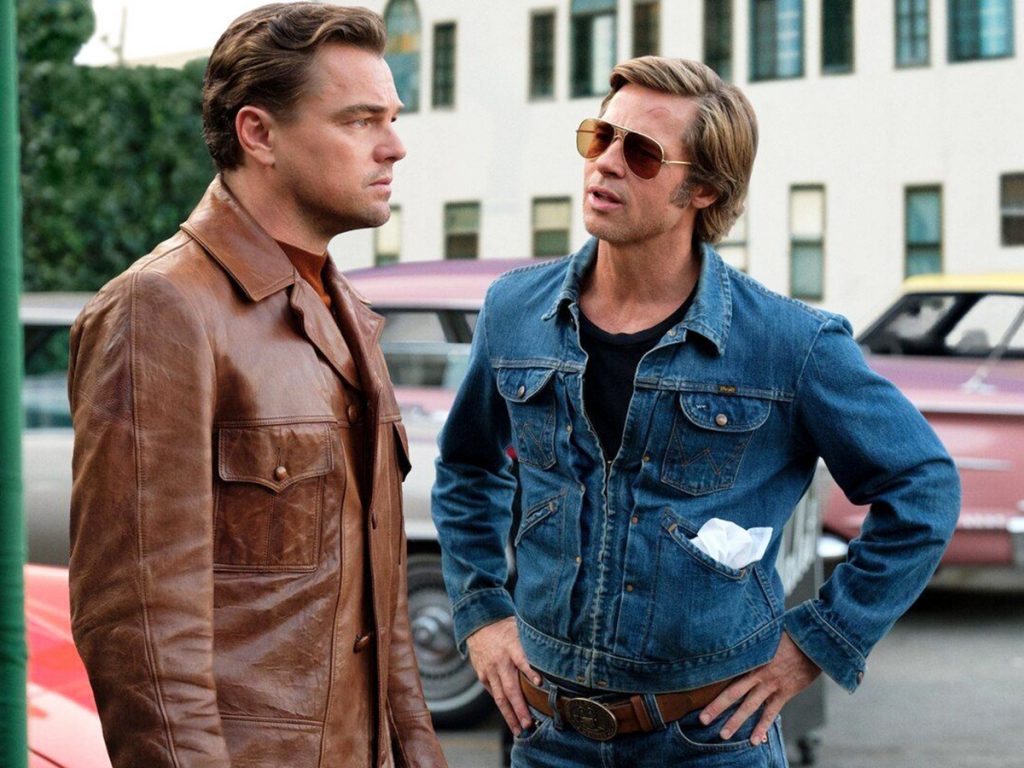 Actress in a Supporting Role – Laura Dern in "Marriage Story"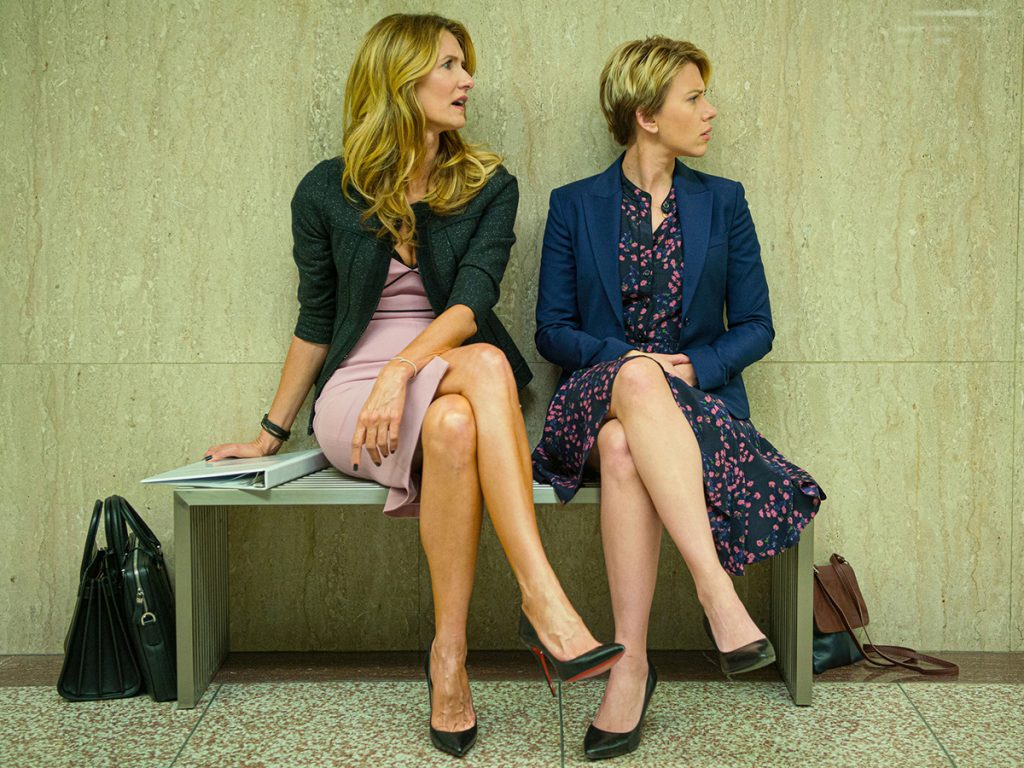 Animated Feature Film – Josh Cooley, Mark Nielsen and Jonas Rivera for "Toy Story 4"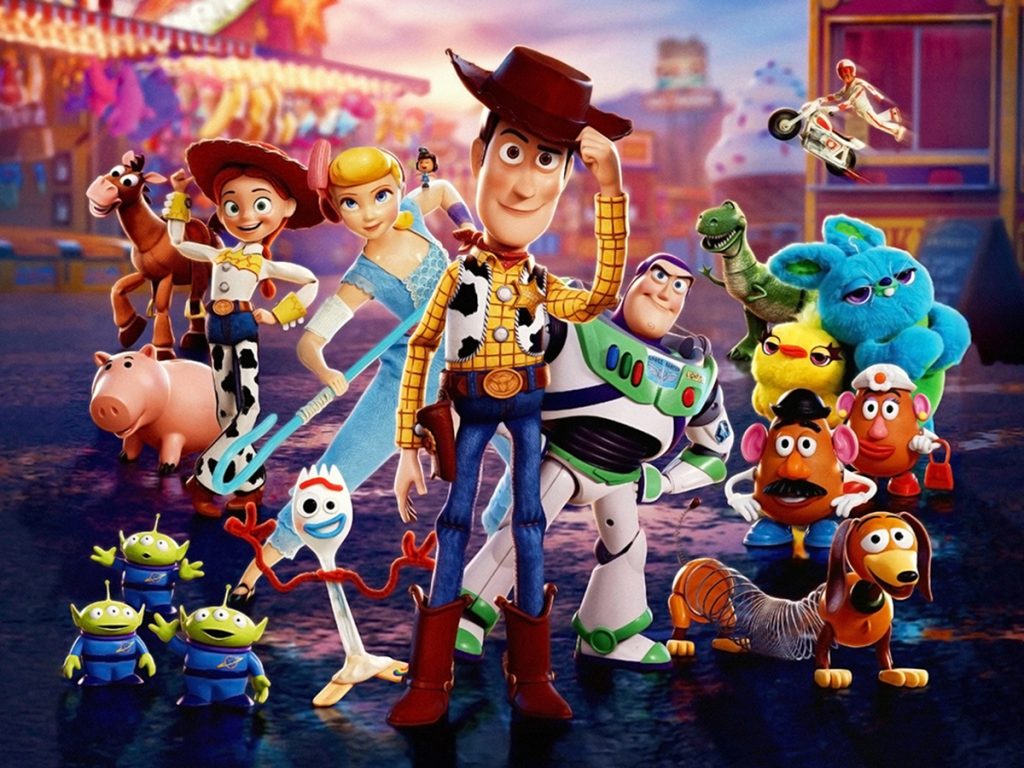 Cinematography – Roger Deakins for "1917"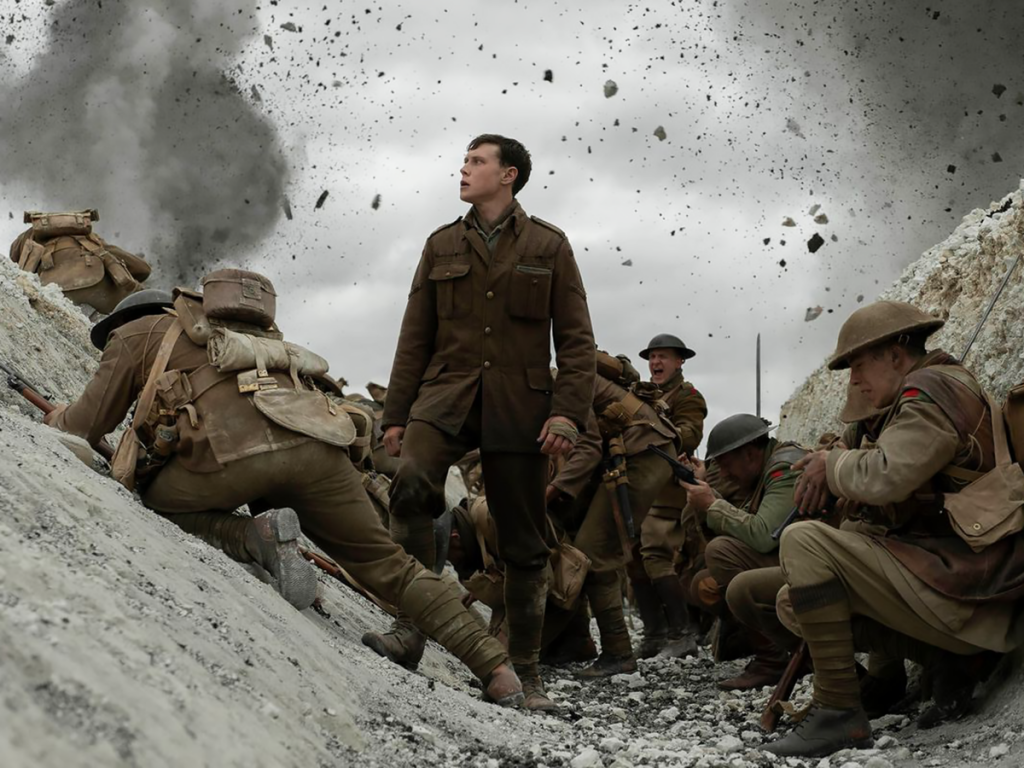 Original Song – Elton John and Bernie Taupin for "(I'm Gonna) Love Me Again" from "Rocketman"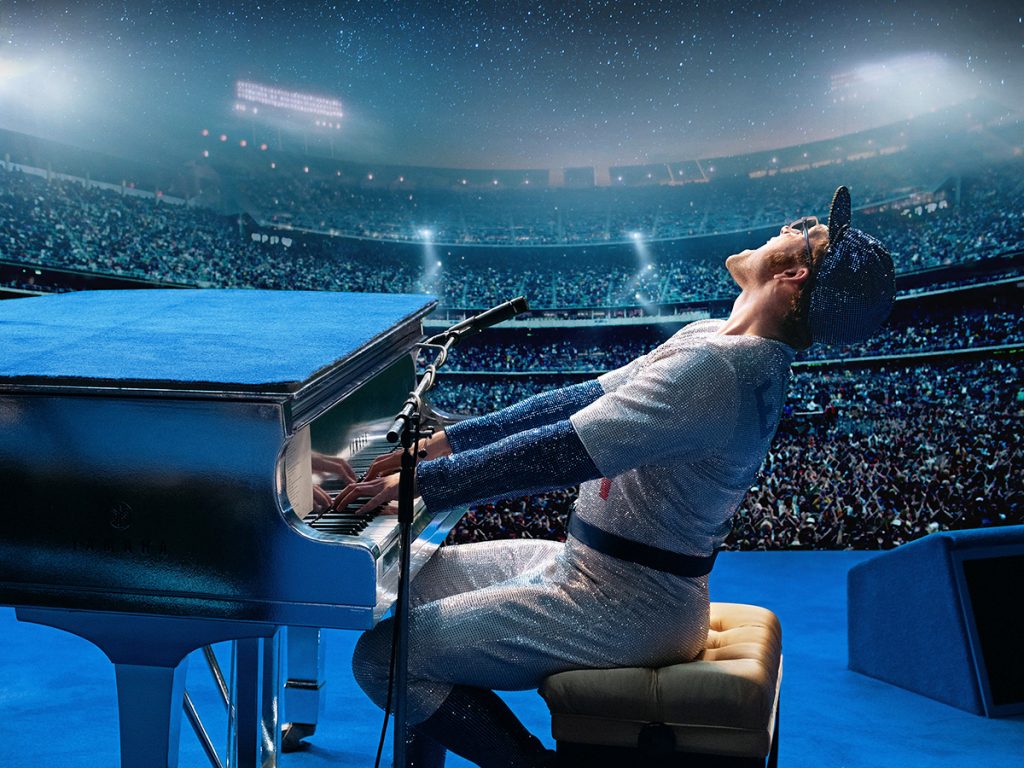 Original Score – Hildur Guðnadóttir for "Joker"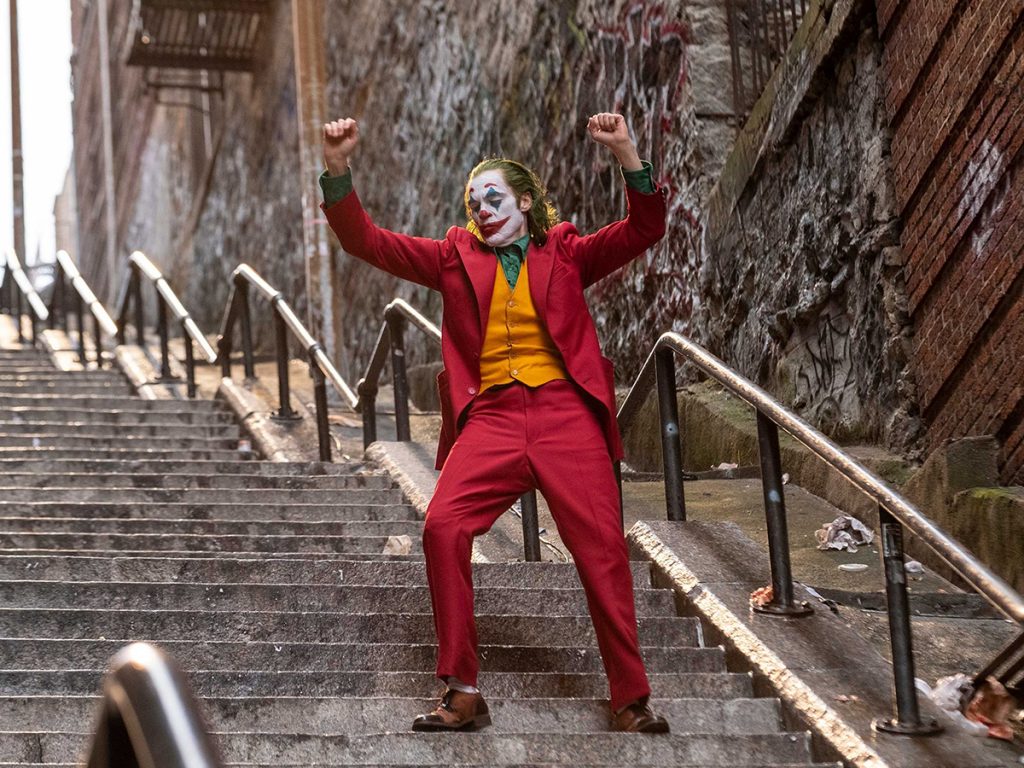 International Feature Film – "Parasite" from South Korea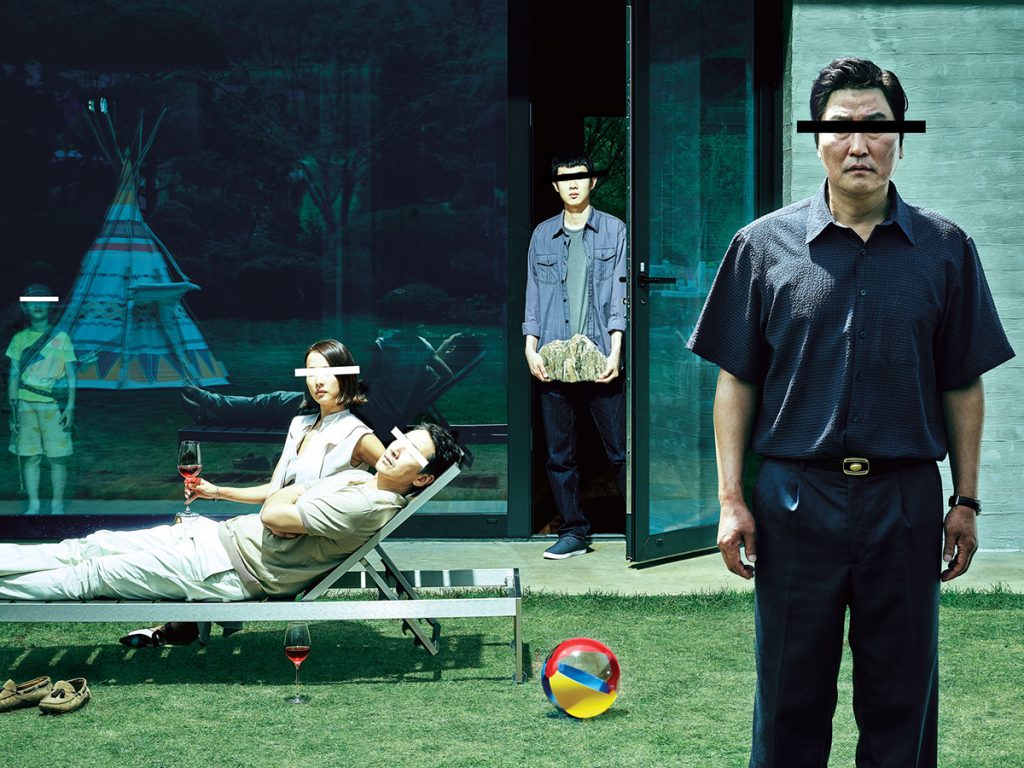 Makeup and Hairstyling – Kazu Hiro, Anne Morgan and Vivian Baker for "Bombshell"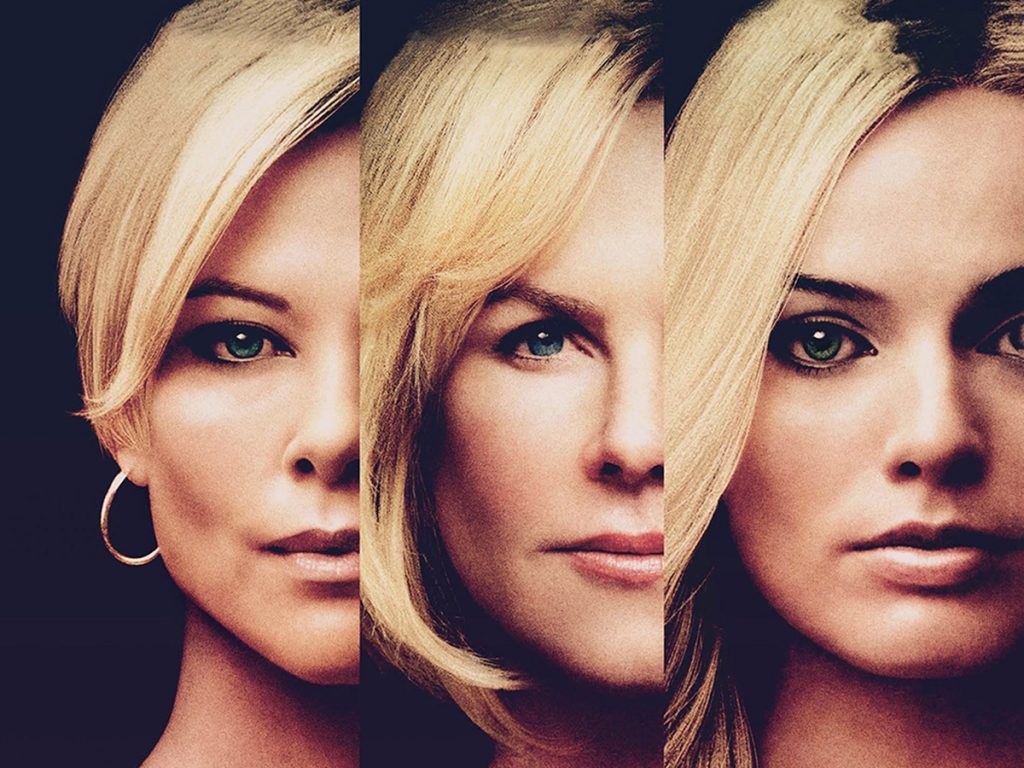 Visual Effects – Guillaume Rocheron, Greg Butler and Dominic Tuohy for "1917"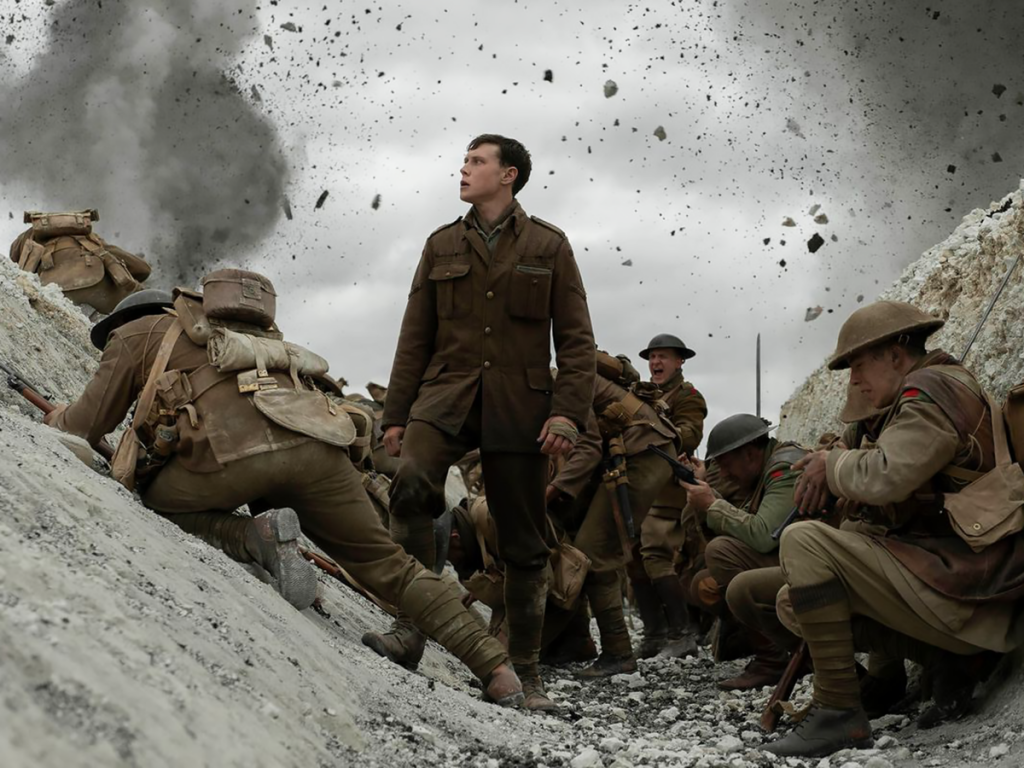 Film Editing – Michael McCusker and Andrew Buckland for "Ford v Ferrari"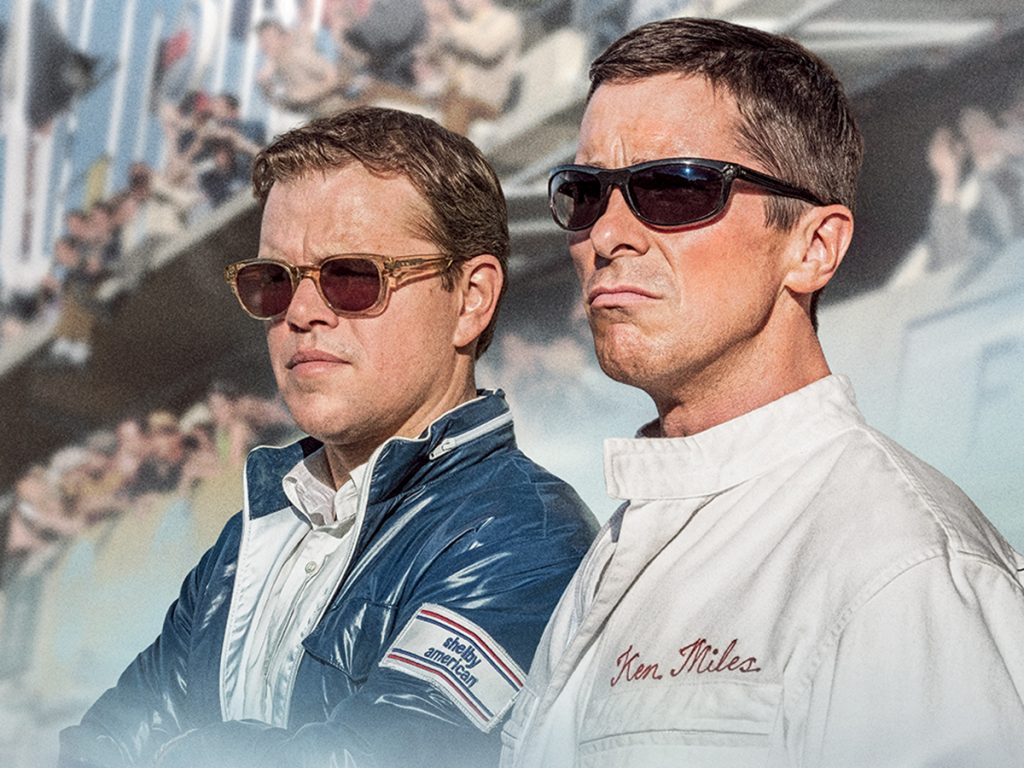 Sound Mixing – Mark Taylor and Stuart Wilson for "1917"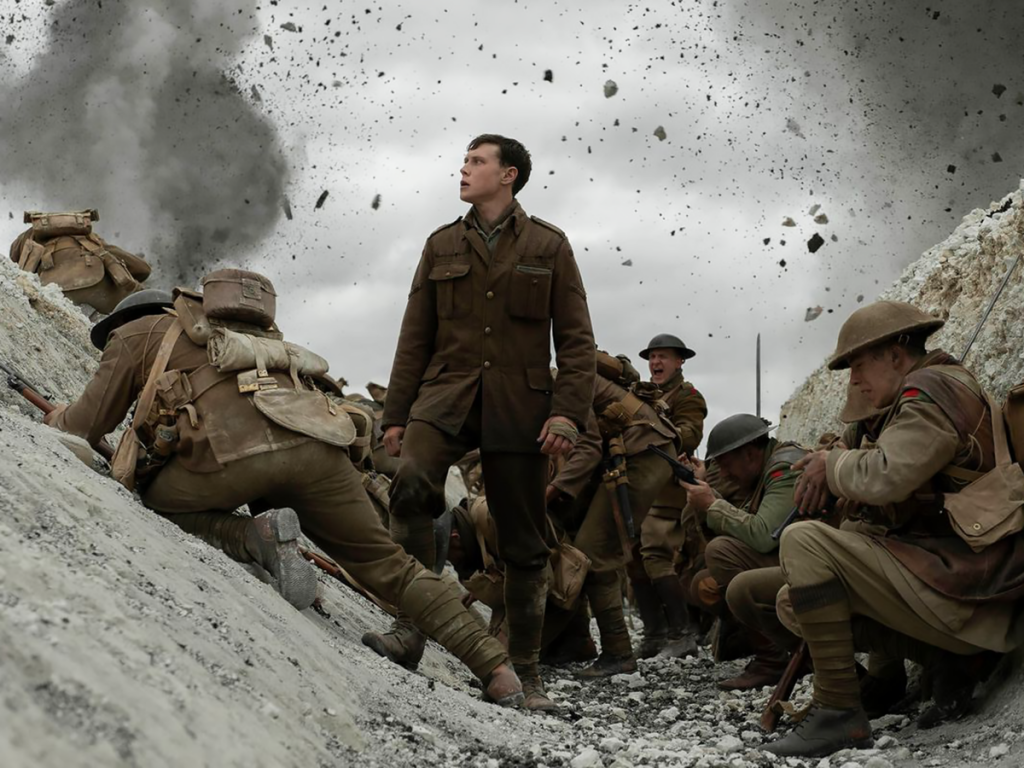 Sound Editing – Donald Sylvester for "Ford v Ferrari"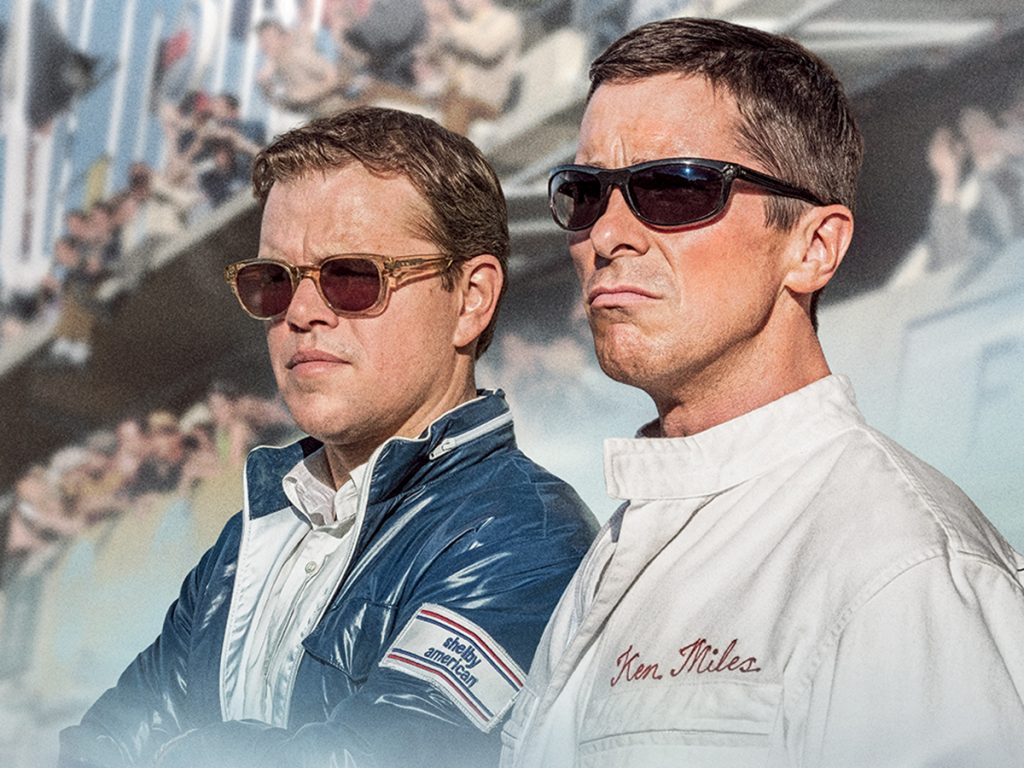 Documentary Short Subject – Carol Dysinger and Elena Andreicheva for "Learning to Skateboard in a Warzone (If You're a Girl)"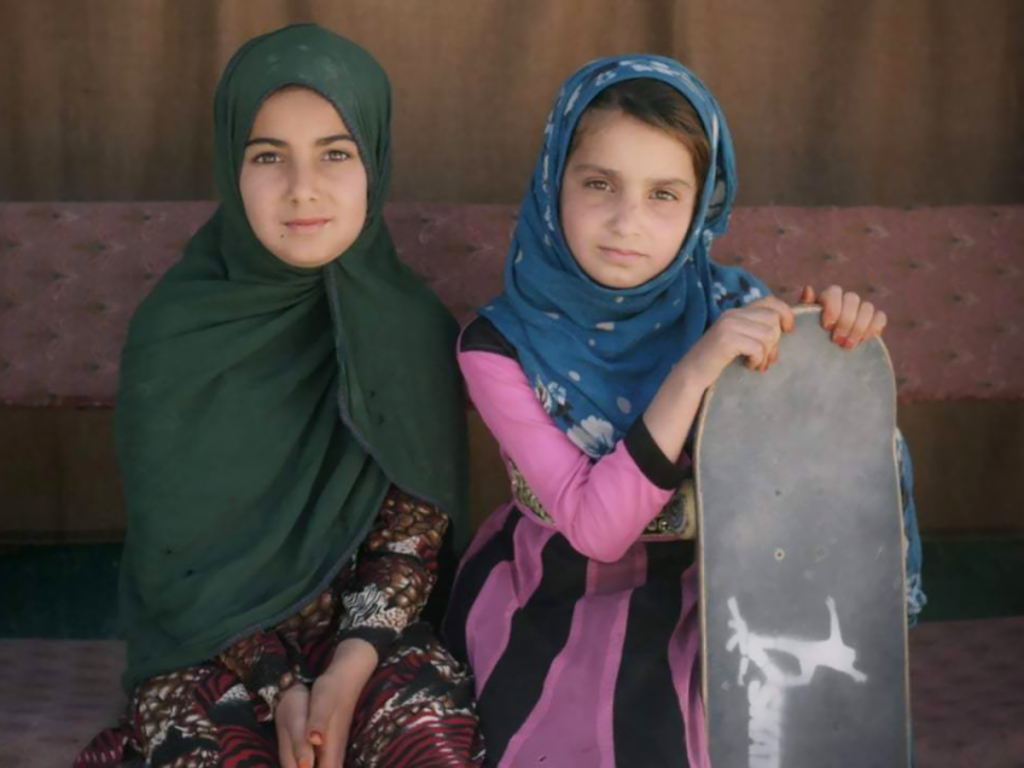 Documentary Feature – Steven Bognar, Julia Reichert and Jeff Reichert for "American Factory"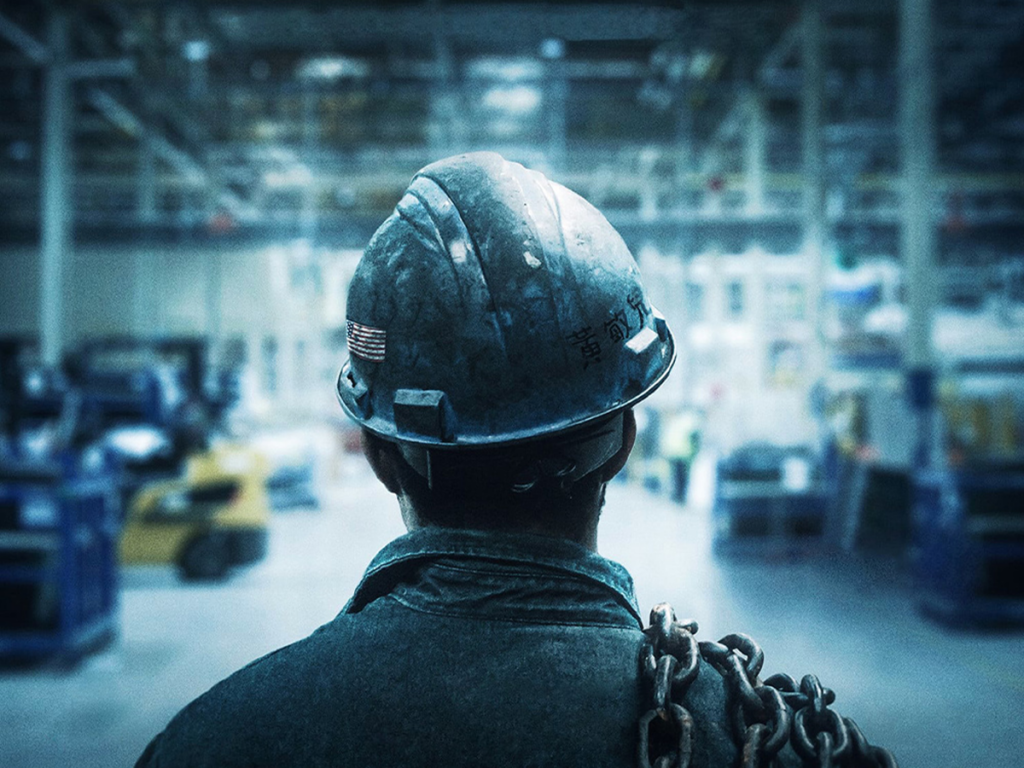 Costume Design – Jacqueline Durran for "Little Women"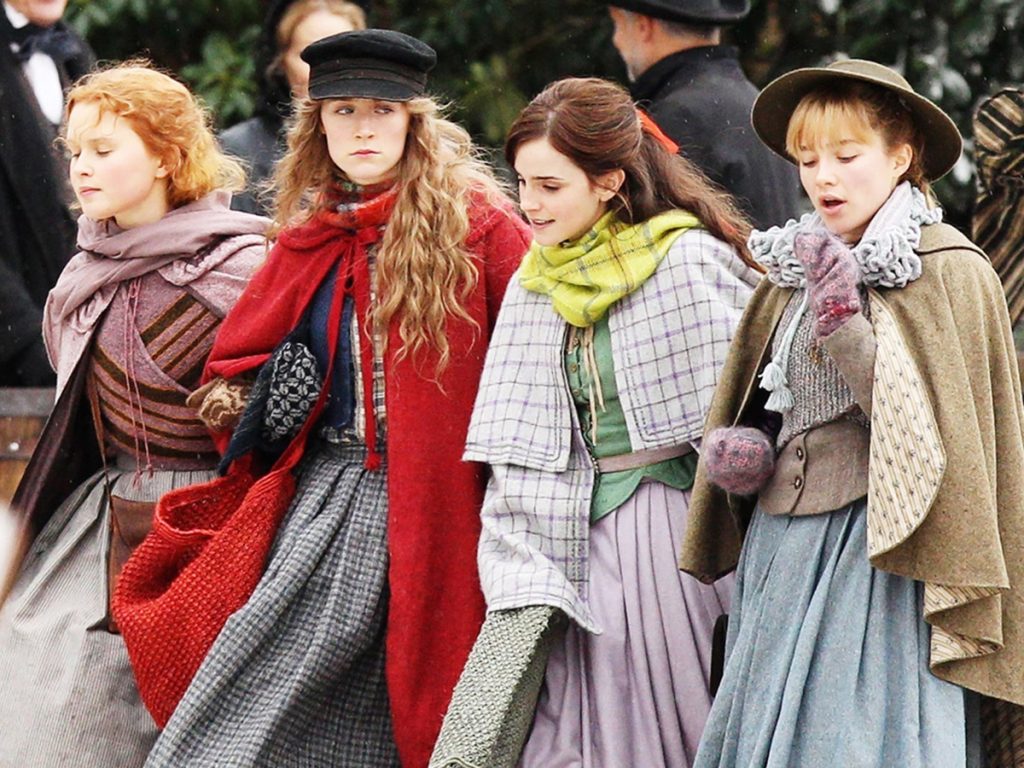 Production Design – Barbara Ling and Nancy Haigh for "Once Upon a Time…in Hollywood"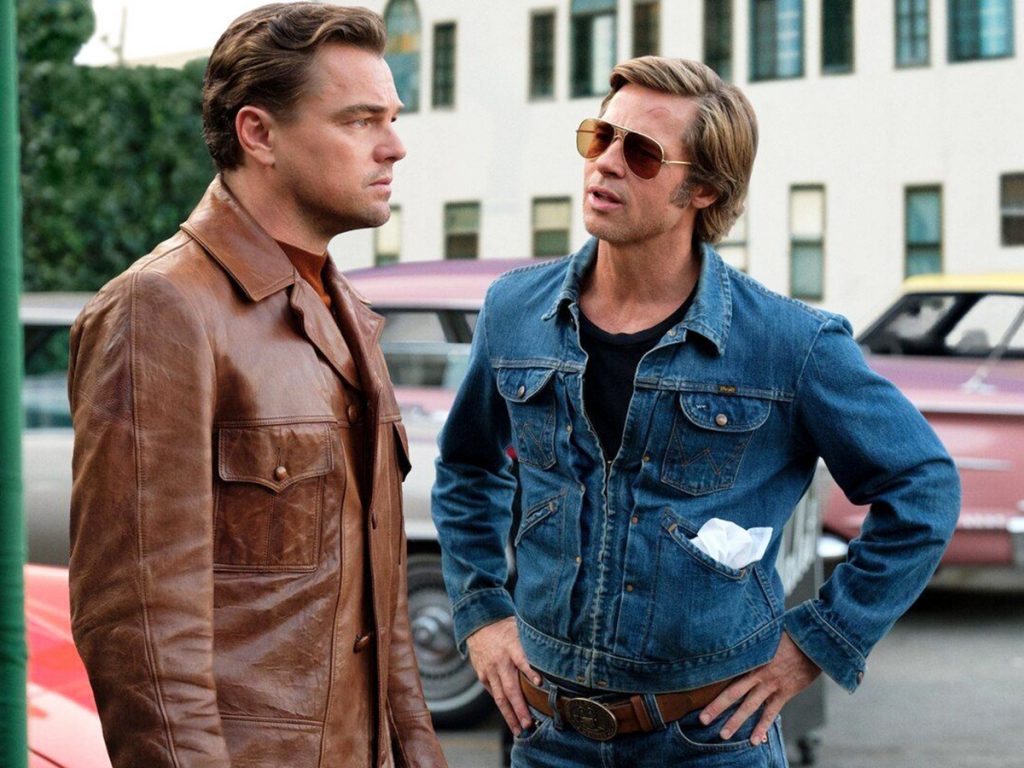 Live Action Short Film – Marshall Curry for "The Neighbors' Window"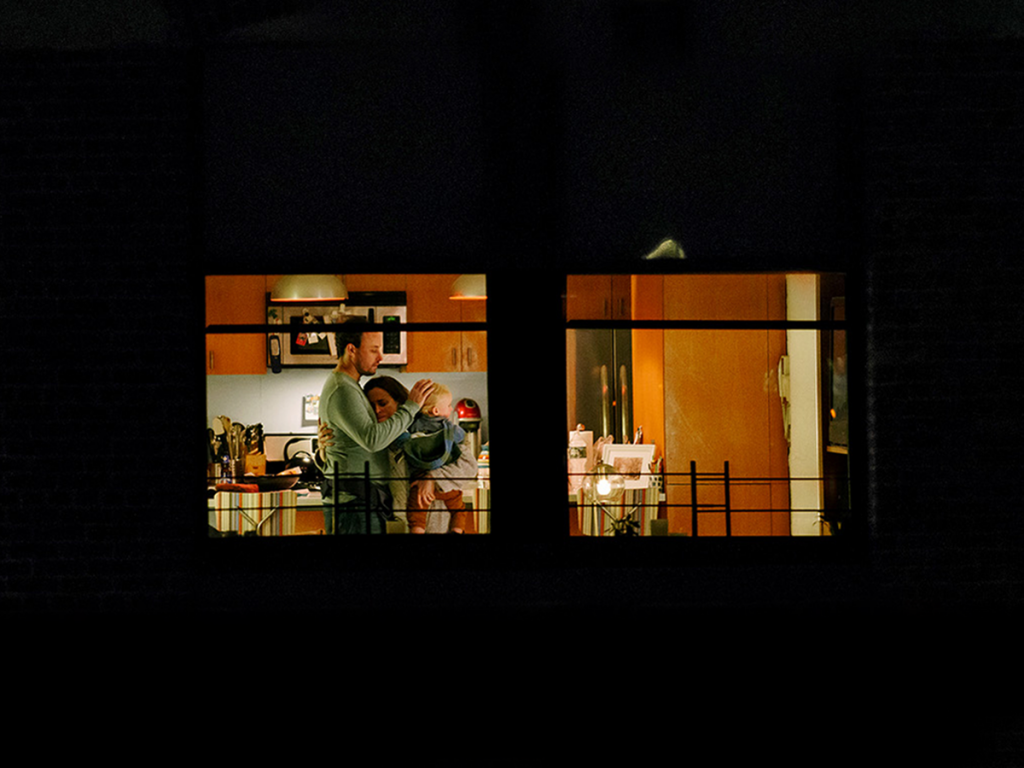 Adapted Screenplay – Taika Waititi for "Jojo Rabbit"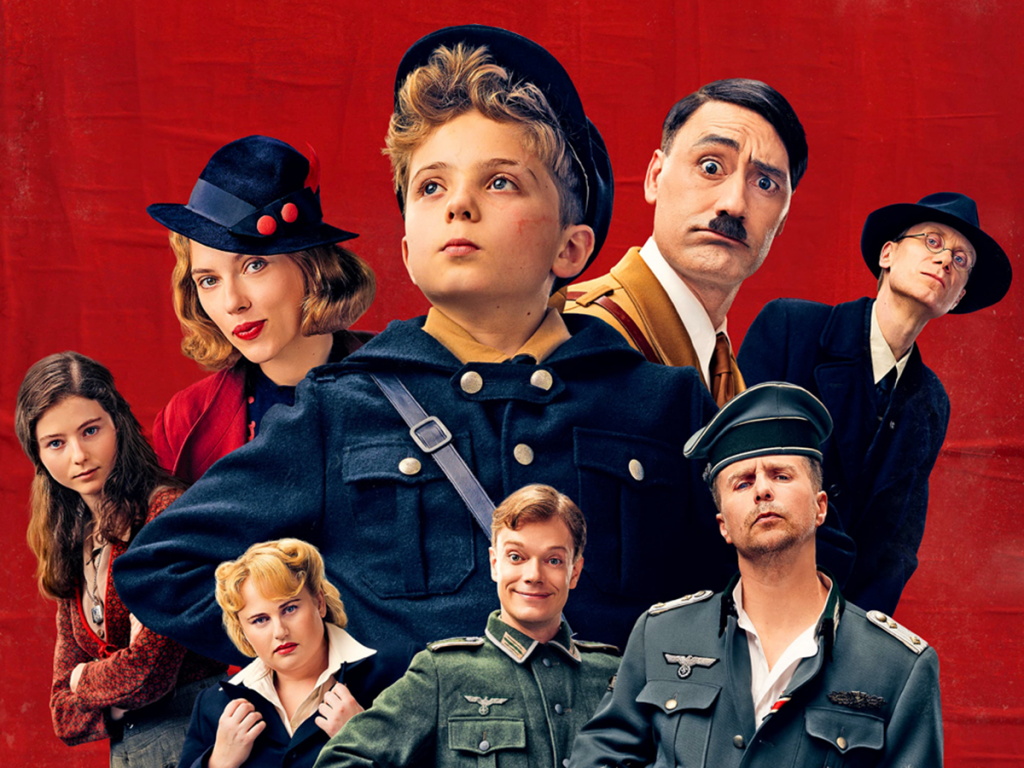 Original Screenplay – Bong Joon Ho for "Parasite"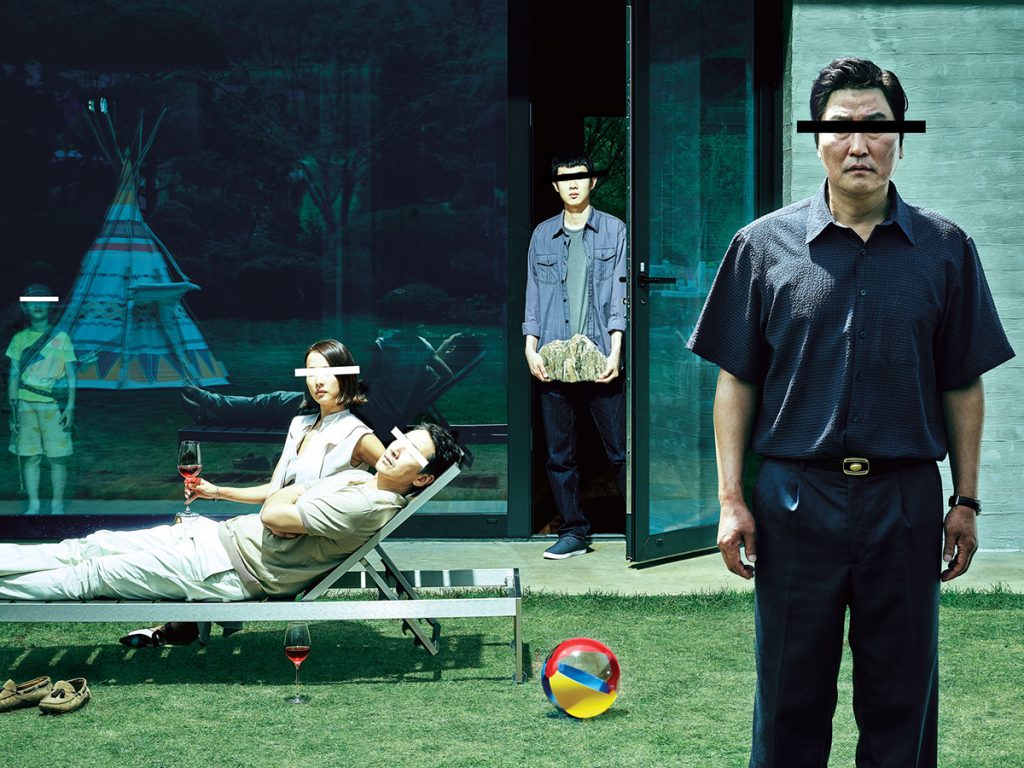 Animated Short Film – Matthew A. Cherry and Karen Rupert Toliver for "Hair Love"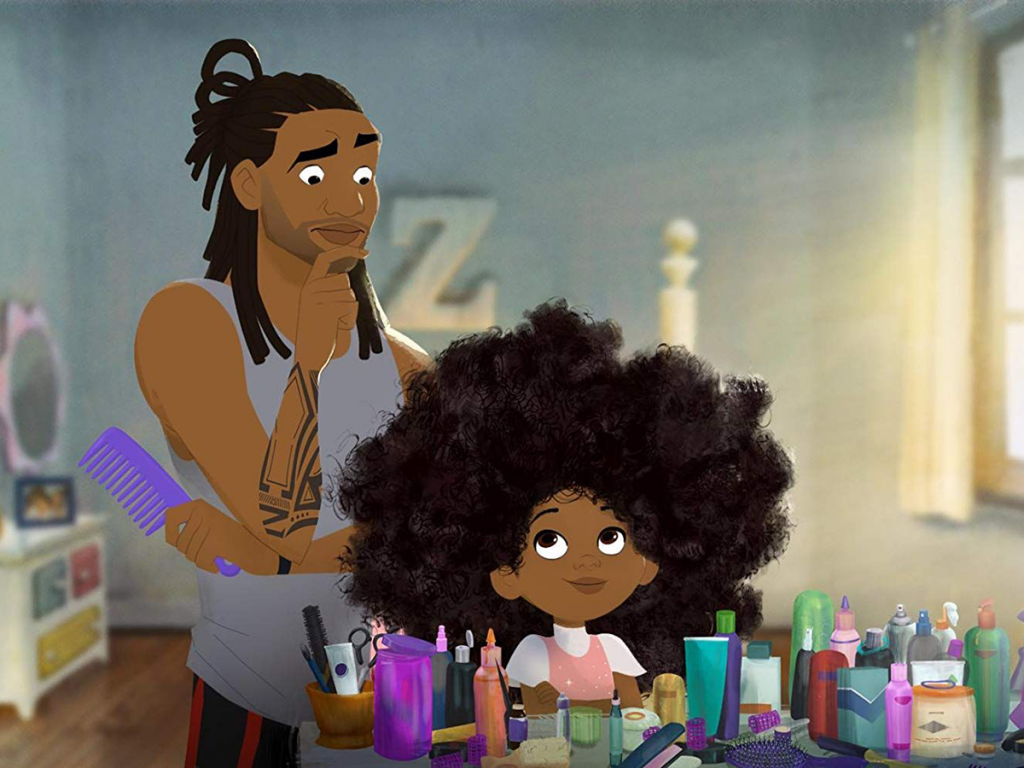 Source: Oscars
Disney Dominates Worldwide Box Office in 2019
Disney's record-setting year at the box office simply won't quit until the calendar rolls over. As the year comes to a close, Disney has remained king of the 2019 worldwide box office, producing eight out of the year's 10 highest-grossing films.
Star Wars: The Rise of Skywalker hit cinema screens the past weekend and had a strong opening at $175.5 million in the United States. While that's not as large as The Force Awakens (2015) or The Last Jedi (2017), it's still going to make the movie a huge hit for Disney, giving them another spot in the top ten highest-grossing US releases of 2019 – edging out Jordan Peele's acclaimed Us, which grossed $175.05 million at the box office in the United States earlier this year. As such, Disney has produced eight of this year's top ten, which is a truly unprecedented level of success.
With the success of numerous films including Avengers: Endgame, Aladdin and Toy Story 4 earlier this year, Disney has been growing at an astonishing rate and has earned a record-setting $10 billion at worldwide box office. The recent growth in success of Disney shouldn't come as a surprise, given that the studio has always been a prominent player in the entertainment industry and has also begun to buy and consume its competition over the last couple of years.
The following 2019 movies also sit in the top ten, all of which were produced by Disney:
Avengers: Endgame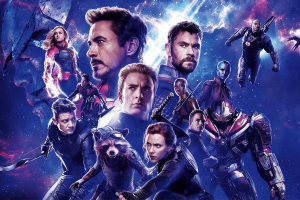 Worldwide Box Office: $2,797,800,564
The Lion King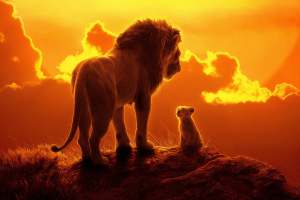 Worldwide Box Office: $1,656,313,097
Toy Story 4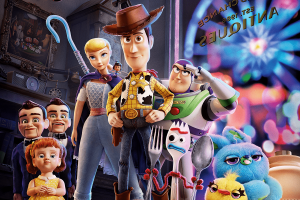 Worldwide Box Office: $1,073,394,813
Captain Marvel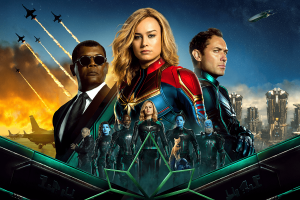 Worldwide Box Office: $1,128,274,794
Spider-Man: Far From Home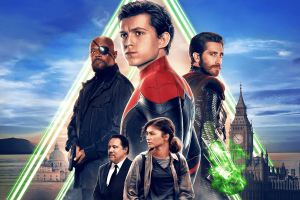 Worldwide Box Office: $1,131,927,996
*Disney's Marvel Studios produced Spider-Man: Far From Home while Sony handled distribution. Therefore, the film's box office earnings doesn't technically count towards Disney's total for the year.
Frozen II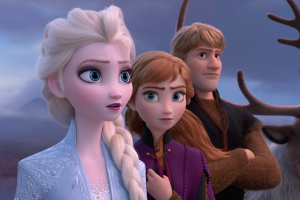 Worldwide Box Office: $1,165,209,889 (to date as the film is still screening in cinema)
Aladdin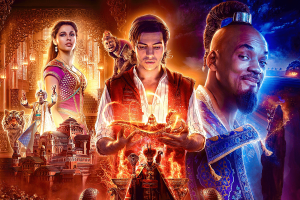 Worldwide Box Office: $1,050,693,953
The only non-Disney movies to crack the top 10 in North America this year were Joker ($333.3 million) and IT Chapter Two ($211.5 million) – both titles produced by Warner Bros.
Disney has officially become the first studio in history to bring in $10 billion at the box office in a single year, and that total doesn't count Spider-Man: Far From Home, nor does it account for the Fox titles the studio distributed following the $71.3 billion merger of the two companies earlier this year. Thus, Disney has han alarmingly good year and the competition is, without doubt, struggling to accomplish even a fraction of that success financially.
Disney's 2020 release schedule is far less packed with anticipated movies. However, there are a few major titles including a live-action adaptation of Mulan and Black Widow and The Eternals from Marvel.
Watch trailers:
Mulan:
Black Widow:
Disney's box office dominance is poised to continue in the new decade, as they will now be in full control of Fox content moving forward, with X-Men and Fantastic Four being two example franchises that can be used for further financial wins.
Contact a member of our sales team for cinema advertising opportunities alongside Disney Blockbusters in the upcoming year!
Sources: The Verge, CinemaBlend and The Numbers.
Cinema – The Only Place to Advertise this Summer
Summer is officially upon us!
As the temperature reaches fever pitch over the months ahead and outdoor activities become close to impossible, cinema offers an ideal escape from the heat. Cool down by sipping a cold soda or an icy slush, indulge in deliciously flavoured popcorn and watch some of the best content the industry has to offer.
Q1 2019 witnessed the release of a number of blockbusters – from M. Night Shyamalan's psychological thriller Glass, Bollywood's first rap-based movie Gully Boy and a record-breaking comedy-adventure movie Total Dhamaal, to sci-fi blockbuster Alita: Battle Angel and Oscar winner Jordan Peele's US.
No doubt those movies were big, but what lies ahead is even bigger!
At the start of Q2, we watched Marvel's Avengers: Endgame sink the Titanic (1997) to gain the spot of being the second highest grossing movie of all-time. With the remaining months of Q2 and Q3 set to deliver an array of blockbusters – rom-coms, animation, horror, thriller, superhero sagas and much more, get ready to be blown away!
Here's our compilation of must watch movies over Summer 2019:
Aladdin – Releasing on May 23rd 2019
Godzilla: King of the Monsters – Releasing on May 30th 2019
Ma – Releasing on May 30th 2019
The Hustle – Releasing on June 6th 2019
John Wick: Chapter 3 – Parabellum – Releasing on June 6th 2019
Dark Phoenix – Releasing on June 6th 2019
Bharat (Hindi) – Releasing on June 6th 2019
Rocketman – Releasing on June 13th 2019
Shaft – Releasing on June 13 2019
The Zoya Factor– Releasing on June 13th 2019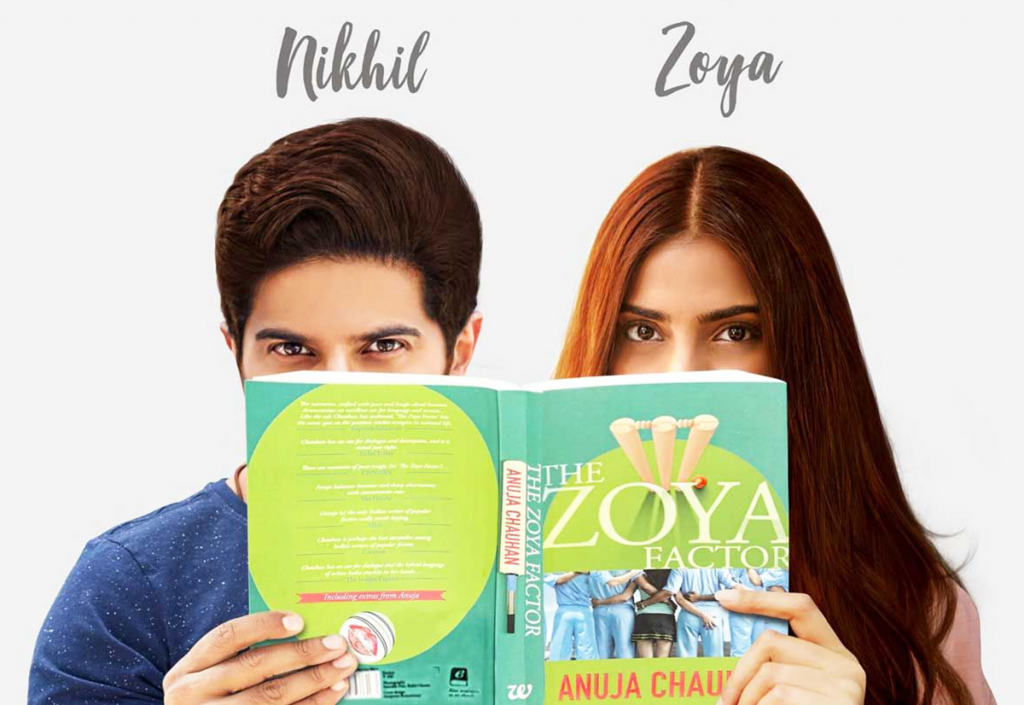 *Awaiting the release of the trailer
Toy Story 4 – Releasing on June 20 2019
Men in Black: International – Releasing on June 20th 2019
Yesterday – Releasing on June 27th 2019
Annabelle Comes Home – Releasing on June 27th 2019
Spider-Man: Far From Home – Releasing on July 4th 2019
The Lion King – Releasing on July 18th 2019
Fast & Furious Presents: Hobbs & Shaw – Releasing on August 1st 2019
Artemis Fowl – Releasing on August 8th 2019
Where'd You Go, Bernadette – Releasing on August 8th 2019
Once Upon a Time in Hollywood – Releasing on August 15th 2019
It: Chapter Two – Releasing on September 5th 2019
Please Note: Movie release dates are subject to change.
What does this mean for brands/advertisers?
Reach out to a larger and more captive audience – who rather be cooling down indoors over a movie.
Capitalize on re-targeting audiences as they re-visit cinemas to watch not one but multiple movies over summer – which also leads to greater brand recall.
Don't miss out on giving your brand the best screen treatment it deserves this summer. Contact a member of the sales team for more information on cinema advertising opportunities.
GCC Cinema Industry Continues to Grow
Globally there are more than 150,000 operational cinema screens and the GCC accounts for 1,300 of them. Research by PwC estimates that more than 1,000 cinema screens are expected to launch over the next three to five years, and the total number of cinema screens are expected to increase by 38.4 percent in the MENA region.
Another study by PwC indicated that the box office revenue in the MENA region exceeded $500 million, which accounted for approximately 1.25 percent of the global box office revenue (US$39.92 billion) in 2017 – up three percent from 2016. With a growing population across the GCC and an increasing level of investment by both regional and international cinema exhibitors, the cinema industry is set to thrive over the years ahead.
The deregulation of Saudi Arabia's film industry in 2018 has opened up a billion-dollar market for cinema exhibitors and film distributors. The undoing of this law will also present movie distributors with a tremendous opportunity – to exhibit in an additional market which happens to be the largest of all GCC countries, and allow brands to add cinema – a new, effective and unrivalled platform, to its media mix for greater reach.
According to Cameron Mitchell, CEO of Majid Al Futtaim Cinemas, VOX Cinemas – which presently operates 355 cinema screens, will invest Dh2 billion and add 600 cinema screens in Saudi Arabia.
"All eyes in the industry are on Saudi Arabia right now," he said. "We will invest $100 million in a year to open 100 cinema screens – part of the Dh2 billion plan to open 600 cinema screens in Saudi Arabia in the next three to five years. Overall, we will operate around 1,200 cinema screens across the region in five years' time. With the Saudi market opening, we see a lot of opportunities in the region's cinema and entertainment industry."
With Arabic being the predominant language amongst Saudi nationals, local filmmakers and content writers – with the help of other creative talent across the region, will also be encouraged to produce more Arabic movies.
Not only is cinema an ideal environment – distraction and disruption free, to watch new movie releases, but it's also a place where movie-lovers frequent when wanting to experience unique concepts and technology on offer – 3D, 4DX and Dolby Atmos to name a few. Cinemas across the region also offer luxury experiences – which include a selection of fine food and drinks, for movie lovers with higher spending power.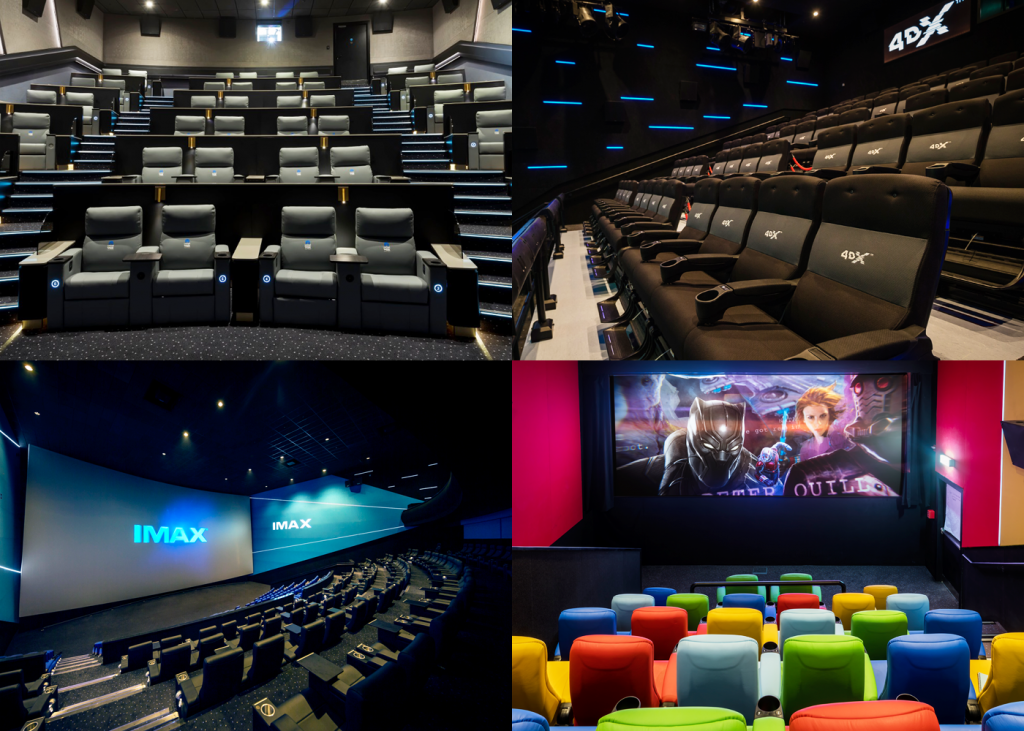 Going to the cinema has now become a popular pastime across the GCC, with cinemagoers also watching more than one movie per week, which can be attributed to the promotions by both banks and telecom providers across the region – similar to that of 'Buy one, get one free' with HSBC, '50% off on Saturdays' by Visa in Bahrain and 'du Tuesday' in the UAE. With audiences now being able to watch the latest movie releases in an affordable, comfortable, luxurious and memorable way, cinema admissions across the region can expect to witness steady growth over the years ahead.
Despite the proliferation of movie streaming platforms and the abandonment of cable, population trends indicate that cinema is still the preferred platform to watch new movie releases – premium first run content. Aside from being one of the fastest growing regions in the world, it is also one of the youngest, with over 50% of the region's population under the age of 25 years. The younger generation tends to spend more on watching movies at the cinema, and in years to come, it will be this segment of GCC 's population that will drive the region's cinema industry to new heights, allowing it to capture a larger share of the global box office.
With a mega line-up of blockbuster releases – such as Captain Marvel, Avengers: Endgame, Lion King, X-Men, Fast and the Furious, Toy Story 4 andStar Wars (to name a few), 2019 is predicted to be another record-breaking year – most likely attracting larger audiences between the ages of 16-34 years.
Motivate Val Morgan offers advertisers a regional cinema circuit – spanning across UAE, Lebanon, Oman, Egypt, Qatar, Bahrain, Saudi Arabia and Kuwait, and has the expertise to strategically plan a marketing campaign to engage cinemagoers at every stage of the cinema experience.
Find out more on our offerings – onscreen, offscreen and cinevations, and contact us to bring your brand to life on the big screen.
Source:Arab Health  and Khaleej Times
Must Watch Movie Trailers from Super Bowl 2019
All the movie trailers from Super Bowl 2019 including Guillermo del Toro's Scary Stories and Avengers: Endgame
The 53rd staging of Super Bowl – one of the most-watched events on TV, took place on Sunday 3rd February 2019, and even though there weren't as many big blockbusters teases this year, we still got looks at Avengers: Endgame, Captain Marvel, Wonder Park, Jordan Peele's Us, and more.
Here are the trailers that aired during the big game and its pre-show:
Alita: Battle Angel (February 14, 2019)
Captain Marvel (March 7, 2019)
Wonder Park (March 14, 2019)
US (March, 2019)
Avengers: Endgame (April 25, 2019)
Toy Story 4 (June 20, 2019)
Fast & Furious Presents: Hobbs & Shaw (August, 2019)
Scary Stories to Tell in the Dark (August, 2019)
Don't miss out advertising your brand alongside these blockbusters – guaranteed to usher in large cinema audiences across the Middle East.
Contact your respective Account Manager for a detailed list of movies releasing over the year ahead, or check out our 2019 Sizzle Reel.
Source: Vox
2019 Set to be Disney's Biggest Year Ever!
In 2019, Walt Disney Studios may break box office records for having the highest-grossing year of all-time for a Hollywood studio.
Since the start of Hollywood's golden age, Disney has been at the forefront, pushing forward creativity – mainly animation movies.
While Disney experimented in live-action films over the years, it wasn't until the 2000s that they really took the medium seriously – with their very first Pirates of the Caribbean movie, The Curse of the Black Pearl.
Gore Verbinski's 2003 Pirates of the Caribbean movie was the studio's first PG-13 film ever, and its overwhelming success ultimately convinced Disney to pursue more movies in that vein.
Eventually, that meant acquiring Marvel Entertainment in 2009 and Lucasfilm in 2012. Thanks to a steady stream of Marvel, Pixar, and Star Wars releases, as well as a new trend in live-action remakes from the company's flagship studio, Disney has managed to dominate the worldwide box office, and 2019 seems to be the year where the studio will take things to the next level.
Walt Disney Studios is set to release nine blockbusters in 2019, and while nine releases are a lot for one year, it's actually the size of them that's truly overwhelming:
Captain Marvel (March)
Dumbo (March)
Avengers: Endgame (April)
Aladdin (May)
Toy Story 4 (June)
The Lion King (July)
Artemis Fowl (August)
Frozen 2 (November)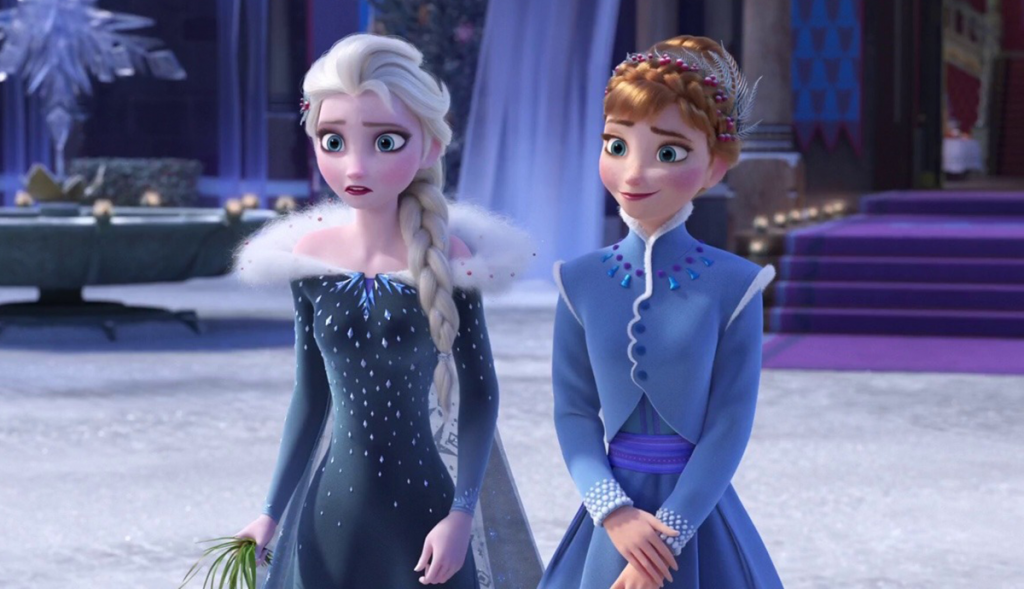 *Awaiting the release of the trailer
Star Wars: Episode IX (December)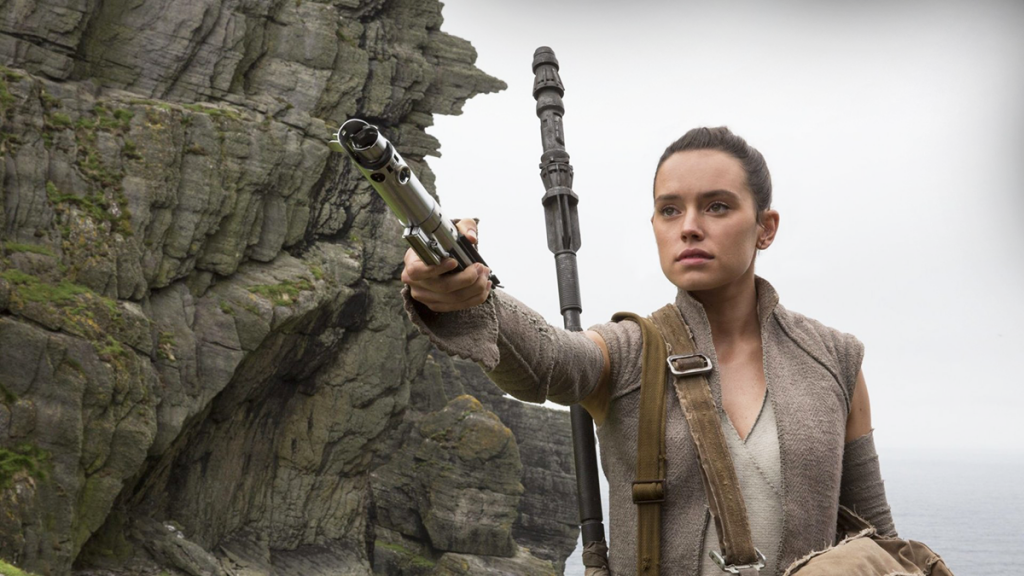 *Awaiting the release of the trailer
Taking all of these movies into account – two saga endings, two massive live-action remakes, and several other highly-anticipated films, Disney is on track to top their record of being the only studio in history to earn US$6 billion at the worldwide box office twice. In fact, they just might be the first studio to hit US$7 billion (if not higher) in 2019. With Avengers and Star Wars releasing in the same year, not to mention another Frozen film, it's VERY possible.
Disney Movie Success – UAE

Don't miss out on advertising your brand alongside these highly anticipated Disney Blockbusters of 2019.
Contact us for more information on cinema advertising opportunities across the Motivate Val Morgan circuit.
Sources: ScreenRant, YouTube and MVM Analysis
Animation Movies Appeal to Audiences of All Ages
Animation has come a long way since the early days of hand-drawn cartoons, and over the years, Hollywood has delivered a number of animation movies that have performed consistently well at worldwide box office.
Disney films have enjoyed lucrative re-releases prior to the home video era, and also enjoyed later success following the acquisition of Pixar in 2006, of which the Toy Story films, Finding Nemo films, and Inside Out have been the best performers. Beyond Pixar animation, the Shrek, Ice Age, Madagascar and Despicable Me series have met with the most success.
Animation Movies Success – Worldwide: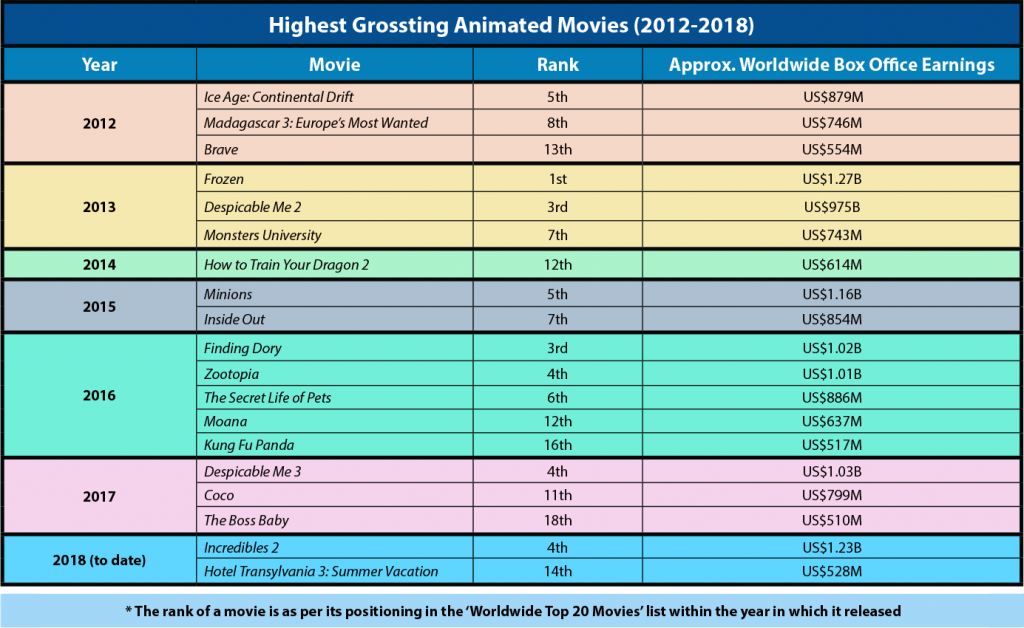 Animation Movies Success – Middle East: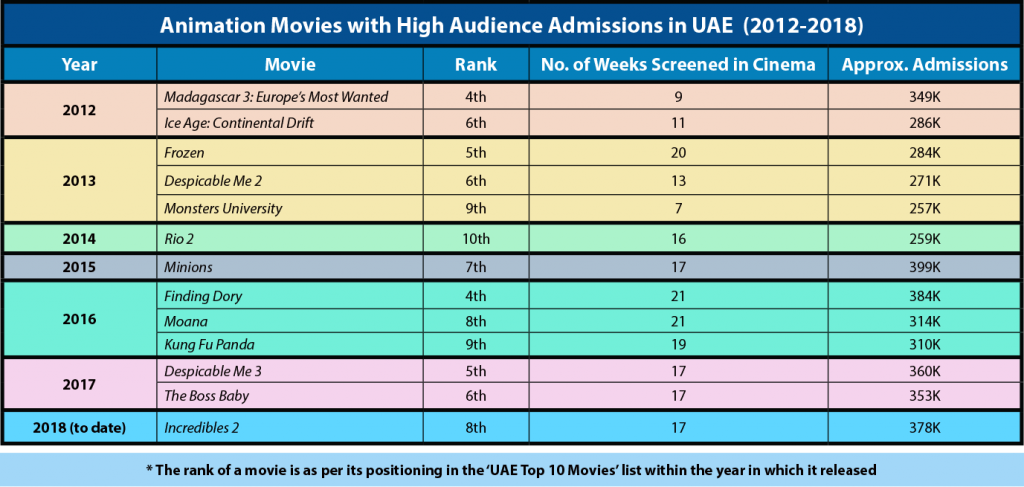 So, what's the draw to animated movies? It can't just be the kids' attraction – is it the parents' attraction too? Or is it because with a fair amount of violence and nefarious activity in our modern world, it's nice to occasionally escape with a family-friendly movie that warms our adult hearts and gives us hope?

Animation movies are clever at weaving parts of the adult and children's' worlds together. They are cute and funny – which is why they appeal to kids, but also depict deeper meaning and complex visual stories – appreciated and enjoyed by older audiences as well.
It's a genre similar to that of fine wine – it gets better with age!
Here are 4 reasons why adults enjoy animated films as much as kids:
1. They remind us of our childhood
Remember the good old days when 'nap time' was a requirement, rent and bills were non-existent, and a trip to the cinema meant watching a movie on a giant screen, with lots of giggles and plenty of popcorn. Who doesn't like reminiscing on the glory days of being a child?
Animation movies give us adults a taste of our youth while simultaneously warming our cold and bitter grown-up hearts. As the saying goes, age is nothing but a number, and childlike wonder is attractive at any age.
2.They universally speak to all generations
Animated movie characters speak to the importance of close relationships found in family and friends and encourage bravery, open-mindedness, kindness and loyalty. Then there is the appeal of happy endings – whilst most of characters experience some challenges and make mistakes along the way, they always end up where they belong and alongside the people they belong with. They are movies about overcoming obstacles, forming friendships and growing up, and they offer valuable life lessons to all audiences regardless of age or experience.
3.We finally get all of the jokes
While the jokes never fail to enrapture children in laughter, there is also a layer of more discreet, mature humor that you only understand once you watch the film as an older viewer. In fact, mature audiences take away a whole different message from many of the films than do young viewers.
For instance, Disney/Pixar's most popular and profitable properties Toy Story featured more than just a few adult jokes – which possibly flew above our heads as kids:
When Buster needs to get out of the room, Jessie hops on a toy car and rides it like a skateboard, launching herself on the door handle to help Buster escape. A wide-eyed Buzz is clearly awestruck and his wings shoot up – fully 'perpendicular'.
When the Barbies at Al's Toy Barn draw a lot of attention from the other toys, who are obviously attracted to them. When Mr. Potato Head later finds himself next to Tour Guide Barbie, he repeats to himself, "I'm a married spud, I'm a married spud…"
And If you've seen the original Madagascar, remember Marty the zebra who occasionally exclaimed 'Sugar Honey Iced Tea!'. As kids, this meant nothing to us, but as adults we can distinguish that the first letter of each word spells out a somewhat frequently used 'not-so-kid-friendly' term – and that knowledge alone is simply remarkable!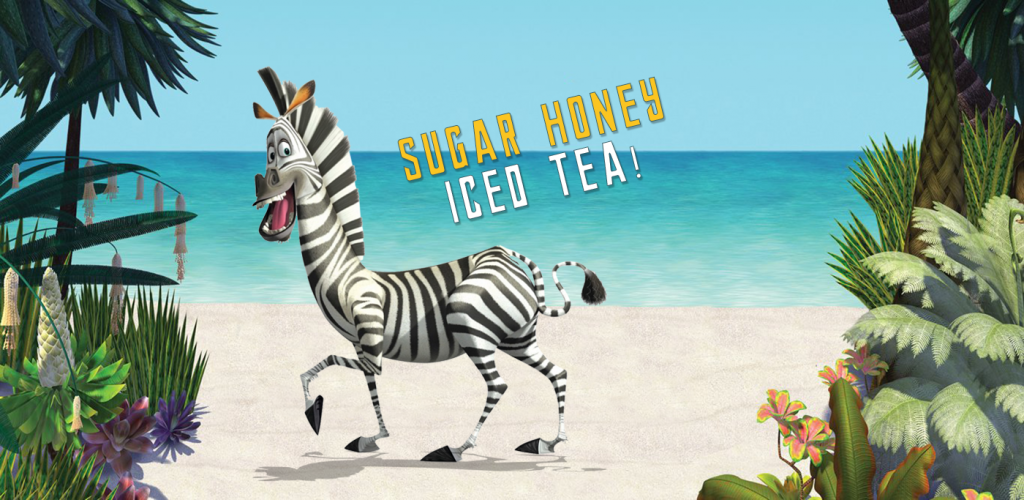 4.The morals hit far closer to home now than they did when we were kids 
Remember that time that Andy from Toy Story had to move away to college and decided to give away his beloved toys?
Or being able to identify with Nemo's need for independence as he grows and understanding Marlin's difficultly with accepting his son's growth, as our own parents have had to learn to accept?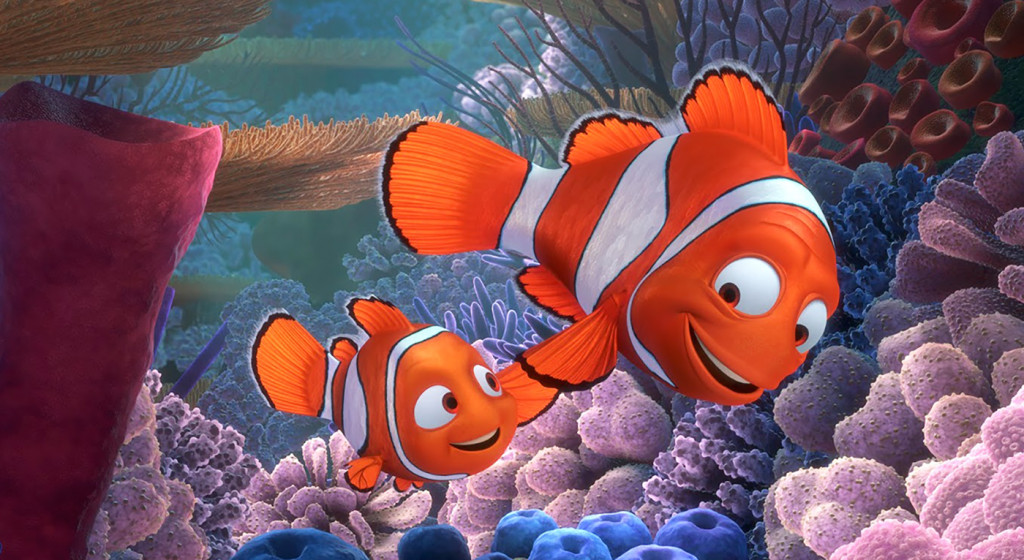 There's no denying that animated movies are awesome!
As per research conducted by IPSOS in the UAE, 68.5% of cinemagoers enjoy watching animation movies – of which 71.6% are aged between 25-34 and 67.2% are aged 35+.
With appeal across multiple age groups and having continued to deliver extraordinary results (in terms of box office earning and admissions) over the last couple of years, animation movies provide advertisers with a platform to target larger audiences.
Upcoming blockbuster animation movies in 2019 include: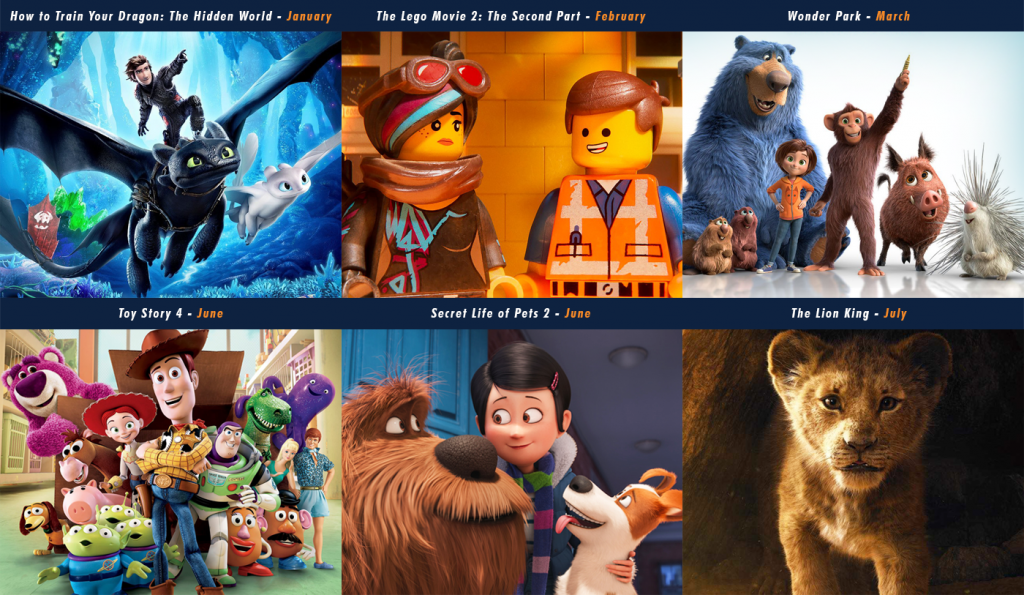 *Movie release dates are subject to change.
Contact a member of our sales team for cinema advertising opportunities alongside upcoming animation movies.
Sources: Cult Critic, The Bottom Line, The Artifice, The Odyssey Online, Ranker, BBC Magazine, Mic Network Inc, The Numbers, Wikipedia, MVM-IPSOS Report and MVM Analysis.