42courses | Online Learning | Cannes Lions
May 6, 2019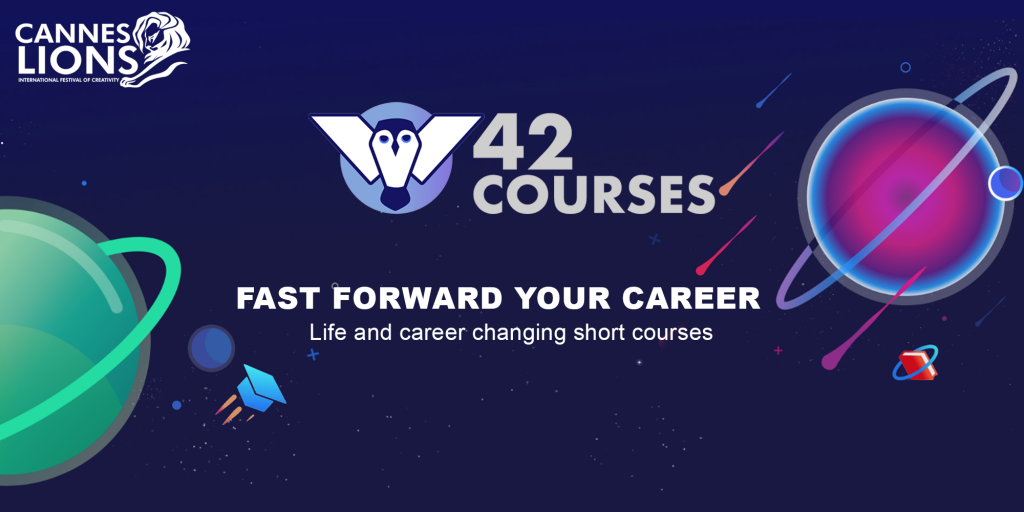 As part of the Festival's plan to extend its learning opportunities throughout the year, Cannes Lions has announced a new series of online courses, produced in conjunction with digital learning provider 42courses.
The new suite of learning products – designed to teach creative marketers from around the world the key skills needed to excel in the world of marketing, will extend the reach of Lions training content, far beyond the Festival's previous reach.
Each course features practical, step-by-step masterclasses from high profile creative leaders from around the world, as well as insights from the festival itself and Lion-winning work to provide tangible skills.
Among the industry experts contributing to the course are:
Keith Reinhard (Chairman Emeritus, DDB)
Debbi Vandeven (Global Chief Creative Officer at VMLY&R)
Rory Sutherland (Ogilvy UK Vice-Chairman)
Gabriela Lungu (Founder, WINGS Creative Leadership Lab)
The courses take less than a day to pass, can be taken on any device any time and available on demand with lifetime 24/7 access and support.
Each course costs $100 and is split into a number of short bite sized enjoyable lessons that are made up of a mixture of videos, case studies, text and questions.
Earn points, climb leaderboards and learn from others from around the world as they progress. The person topping the leaderboard as of 17th May will win a free pass to Cannes Lions 2019.
The first course to be made available is a course on storytelling:
This new offer adds to the Cannes Lions School, which takes place during the festival in June. It is designed to bring an extensive list of training courses to young festival attendees and has been a core part of the Young Lions experience since 1995.
Learn more about upcoming courses and available company packages. Download the information sheet on 42courses for more information.
Sources: Cannes Lions and WARC