Highlights from MENA Cinema Forum 2019
November 4, 2019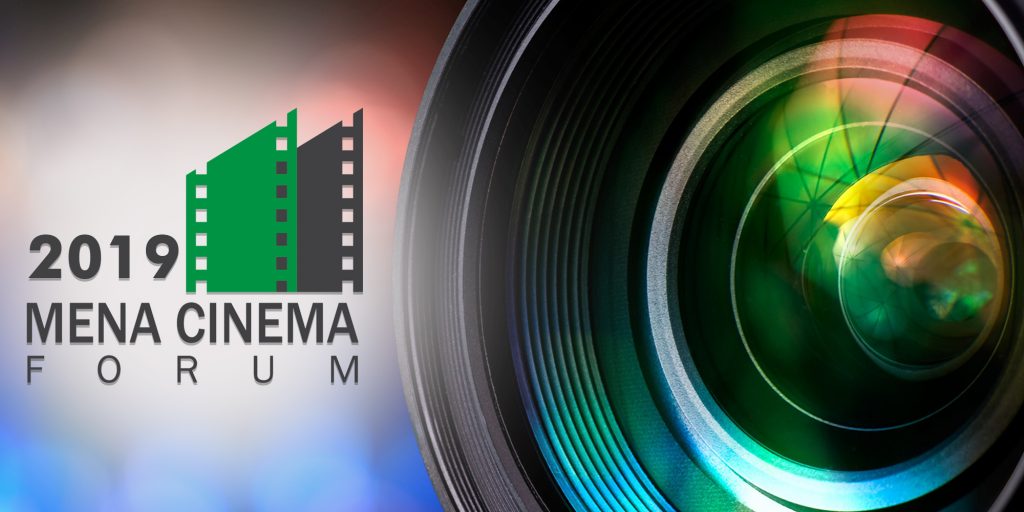 The second edition of the MENA Cinema Forum – largest conference and exhibition dedicated to cinema in the MENA region, organized by Great Minds Events took place at Conrad Dubai from 22nd to 24th October 2019.
From conferences, workshops, corporate meetings, film slates, screenings, post-event receptions, an expo and awards ceremony, and much more, this year's forum was on a much larger in scale – richer in content and designed to enhance the industry evolution through updates on regional projects and policies, technological and technical advancements in cinemas and best practices in next generation of customer experience and engagement, through a mixture of various content and mediums.
2019 witnessed over 60 speakers, 200+ C-Level Executives, 800+ attendees, 115+ sponsors and exhibitors from 50+ countries. 
Day 1 kicked off with an Opening Keynote by the Strategic Partner of the MENA Cinema Conference: Cameron Mitchell, Chief Executive Officer, Majid Al Futtaim Cinemas and Majid Al Futtaim Leisure & Entertainment.
The panel discussion on MENA Cinema Upcoming Project Updates included:
VOX Saudi Arabia upcoming projects overview & updates – by Mohamed Al Hashemi, Country Manager KSA, Majid Al Futtaim Ventures
NOVO Cinemas' upcoming projects overview & updates – by Debbie Stanford-Kristiansen, Chief Executive Officer, Novo Cinemas
Muvi Cinemas' upcoming projects overview & updates – by Adon Quinn, General Manager, Muvi Cinemas
AMC KSA's upcoming projects overview & updates – by John Iozzi, Chief Executive Officer & Managing Director, AMC Cinema-KSA
The panel also indulged in a live debate chaired by Jan Runge, MENA Cinema Chairman & Advisor, answering questions from the delegates and attendees at the forum.
Day 1 also featured a presentation focusing on 'Cinema Strategies and Statistic Updates' delivered by Rajkumar Akella, Managing Director, Comscore India (Movies)
His discussion included the following:
The economic, cultural and societal value of cinema and a thriving film sector
Cinema industry statistics globally and regionally
Main policies across the region and how they may impact the expansion of the industry
Main hurdles, obstacles and opportunities in the region.
Ashish Shukla, the Chief Executive Officer of Cinépolis Gulf addressed the audience with project updates from the fastest growing international exhibitor in the region – Cinépolis. He also unveiled a new special and exclusive project and partnership in the UAE.
The event was held across 2 levels at the Conrad Dubai; one to host conference sessions and the other for exhibitors to showcase their products and technologies.
The Trade Show on Day 1 featured technical seminars on:
Design, construction and acoustics
Architectural and technical considerations for designing state-of-the-art cinemas – Era Architects
Futuristic immersive cinema experiences with digital technology in the MENA region – Blu Rhine Industries
Total cinema integration solutions from feasibility studies to cinema operation and management – Capella Entertainment
Day 2 included a mix of presentations and panel discussions that focused on:
Global and regional cinema statistics
The new normal: ongoing investment in technology
Panel discussion – Cinema technology and innovation
Panel discussion – Managing audience engagement and growth
Technical Seminars on Day 2 of the forum included:
From design to material and Technology Selection – Partner & Principal Design Confidence – Acoustics
Knauf executive boardroom
12 steps towards right cinema – Gypsemna, LLC
Cinema technology and automation – GDC Technology International
Unlocking Big Data and ROI in the Middle East – EMEA, Movio
Day 3 focused on regional content production, best practices in this field and regional and international collaborations. A series of 6 masterclasses addressed pertinent topics such as film financing, script writing, production and acting, catered to professionals and newcomers alike.
New to 2019 were workshops and masterclasses on key topics for a more interactive and hands-on learning experiences – delivered by global leaders to help enhance learning and growth opportunities at the forum.
The workshops held on day 3 covered range of topics and themes:
Intro to Documentary Film Production Masterclass
Eco-Production Workshop focusing on Introduction to climate change and the media industry's carbon footprint impact
Positive impact of the cinema industry off-screen and on-screen.
MENA Cinema Forum also hosted an Expo – The largest exhibition of its kind in the region, and amongst one the largest cinema expos globally, for the second time round, following the success of last year's round.
The exhibition introduced interesting and interactive attractions including but not limited to floor talks, product demos, themed entertainment, mini-screenings, an Augmented Reality and Virtual Reality zones, rest and refreshment parlors.
The Awards ceremony – presented by Comscore and co-presented by Dubai Studio City, are globally recognized and are a fixture of the big global conventions, and now in MENA. These awards are based on quantitative data measuring performance of all sectors and markets across the globe with identical metrics.
Here's a list of this year's winners:
Highest Grossing Hollywood Film: Italia Film – Aladdin
Highest Sales Arabic Film: The Secret Men Club – (Naadi Al Rajal Al Serri)
Highest Grossing Bollywood Film: Phars Film – Lucifer
Best Performing Exhibitor: VOX Cinemas
Best Performing Distributor: Italia Film
Best Arabic Film: Capernaum
Best Arabic Director of the Year: Nadine Labaki
Best Arab Screen Play: Nadine Labaki, Jihad Hojelu – Capernaum
Expanding its scope as an event for the cinema industry – with the aim to engage, wow and inspire, this year included several international and regional content screenings at VOX Cinemas – Mall of the Emirates and Reel Cinemas – Dubai Mall: International films such as The Addams Family, Terminator: Dark Fate, Leonardo – The Works and Zombieland: Double Tap. Other screenings included: local and regional content such as Son-Mother.
Pass holders were given the opportunity to interact with cast and crew of some of these feature films.
At the end of each day of the forum, post-event reception – in a themed setting, offered refreshment and entertainment in a fun and relaxed atmosphere for attendees to mingle and further nourish their friendships and business relationships.
Here's a video with highlights from MENA Cinema Forum 2019:
The next forum will be held in October 2020.
For more information on the MENA Cinema Forum visit www.menacinema.com
Sources: Zawya and MENA Cinema Forum
Related Article: