3D Mapping Cinema Campaign by Etihad in Saudi Arabia
December 17, 2019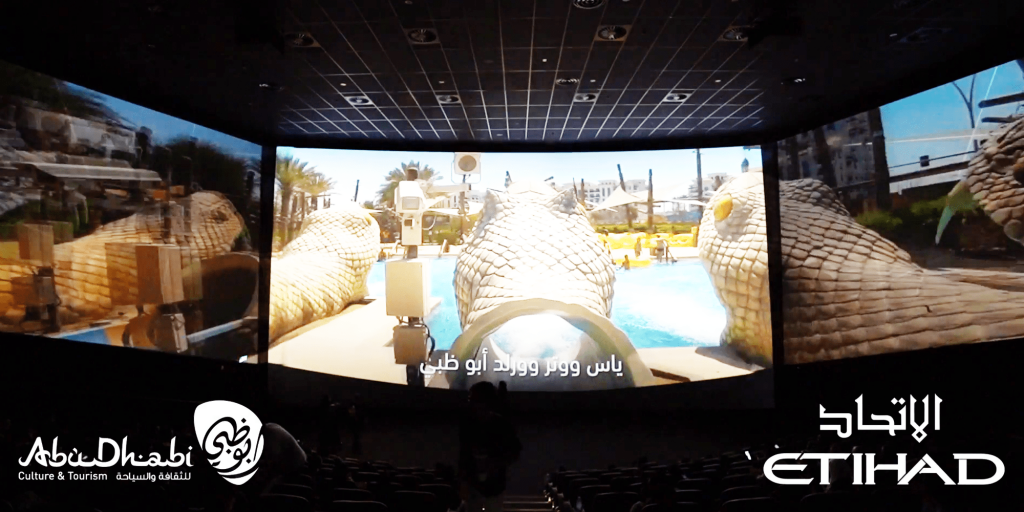 Etihad Airways – the second-largest airline in the UAE, and the Department of Culture and Tourism Abu Dhabi booked a one-of-a-kind 3D Mapping cinema campaign – through Spark Foundry (Starcom), at VOX Cinemas Red Sea Mall (Jeddah) in Saudi Arabia.
Campaign Objective:
To promote Abu Dhabi as a destination in Saudi Arabia by using innovative and immersive means of advertising within a cinema environment.
Idea:
The idea behind the campaign was to make use of 'Projection Mapping' technology inside the cinema – creating an immersive experience for cinemagoers.
Methodology:
The projection was executed on the main cinema screen along with two side screens (both left and right) to create a screen extension.
Sides of the theatre were covered with a piece of unique fabric to make sure the resolution of the projection matched the quality, look and feel of the main screen.
Four high-grade projectors were used for this activation.
*TAKELEAP – technology agency dedicated to creating sensational experiences, was the production company for this execution.
Content:
Etihad selected four destinations in Abu Dhabi – Ferrari World, Saadiyat Island, Warner Bros and a restaurant, to show a day in Abu Dhabi from a tourist perspective.
The filming – shot in 4K quality, was done over a 2-3 week period at the above mentioned locations and was stitched together to align with the projection mapping and to fit the extended screen.
This first ever 3D mapping cinema campaign in the Middle East ran for a period of one month (between February and March 2019), during evening shows on all days of the week. No statistics were generated for this campaign, however, element of surprise lasted throughout the duration of the campaign.
Here's the end result:
Seeking to amplify exposure for your brand? Contact us for more information on similar innovative  advertising opportunities across our circuit in the Middle East.
Sources: Spark Foundry
Related Articles: