Reel Opens Abu Dhabi's First Drive-in Cinema at Yas Marina Circuit
July 13, 2020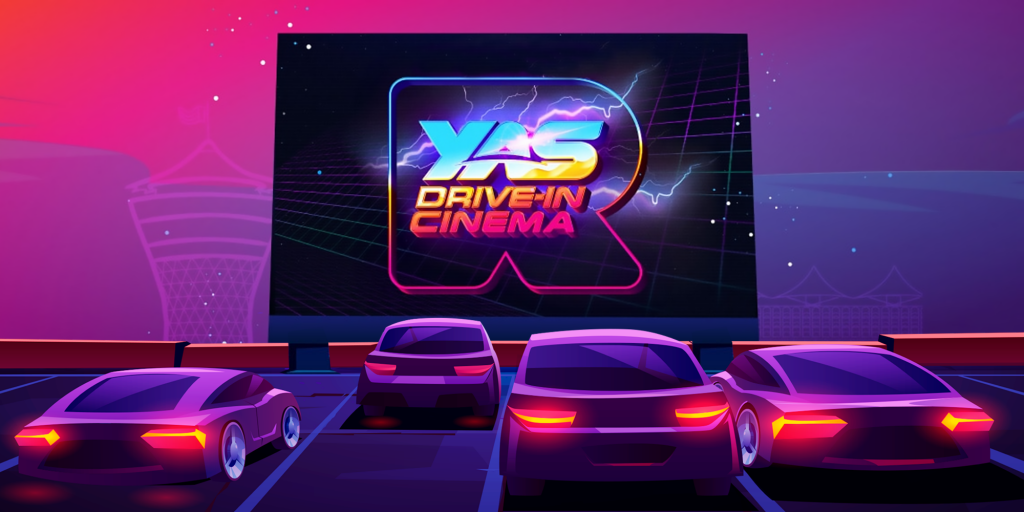 As part of the latest offering by cinema exhibitors in the UAE – in response to the COVID-19 pandemic, Reel Cinemas has launched its latest drive-in cinema in Abu Dhabi, brining the total count to five drive-ins across the UAE.
Reel Cinemas launched its third drive-in cinema at the Yas Marina Circuit in Abu Dhabi on Thursday 9th July 2020, and will screen movies three nights a week on Thursdays, Fridays and Saturdays at 7:45pm. The entrance to the drive-in cinema is located at Yas Marina Circuit's East Gate.
The cinema accommodates 63 cars, with a limit of up to five people per vehicle if family or up to three if not. Tickets are priced Dh160 per car, and includes a food and drinks package (popcorn, soft drinks, water and chocolate). Extra snacks can be ordered from inside the car, by alerting staff using the hazard lights.

Upon entry, guests will have their temperatures checked, before being directed to a specific parking spot. Visitors are requested to remain in their vehicles at all times, with the exception of using the toilets. Wearing of facemasks are mandatory if windows are lowered to speak to event staff, or when leaving the car.
Reel Cinemas launched its first drive-in experience at The Dubai Mall in late May, followed by another in Dubai Hills Estate in the fourth week of June – both launching after VOX Cinemas' drive in at Dubai's Mall of the Emirates, and the announcement by Urban Entertainment of a free drive-in cinema in Sharjah at Madar – Aljada (which opened to the public on Wednesday 1st July 2020).
For more information on movie schedules, visit www.reelcinemas.ae, and don't forget to check out their Drive-in experience FAQs.
Please Note: Drive-in movie sessions at Yas Marina Circuit currently show up to 1st August 2020. Additional movie sessions beyond 1st August will be added closer towards those dates.
Related Articles:
Reel Opens Second Drive-in Cinema at Dubai Hills
Reel Launches Drive-in Cinema at The Dubai Mall
VOX Opens Rooftop Drive-in Cinema at Mall of the Emirates
Sources: The National  & Reel Cinemas