VOX Cinemas Launches at The Spot – Sheikh Jaber in Riyadh
June 15, 2021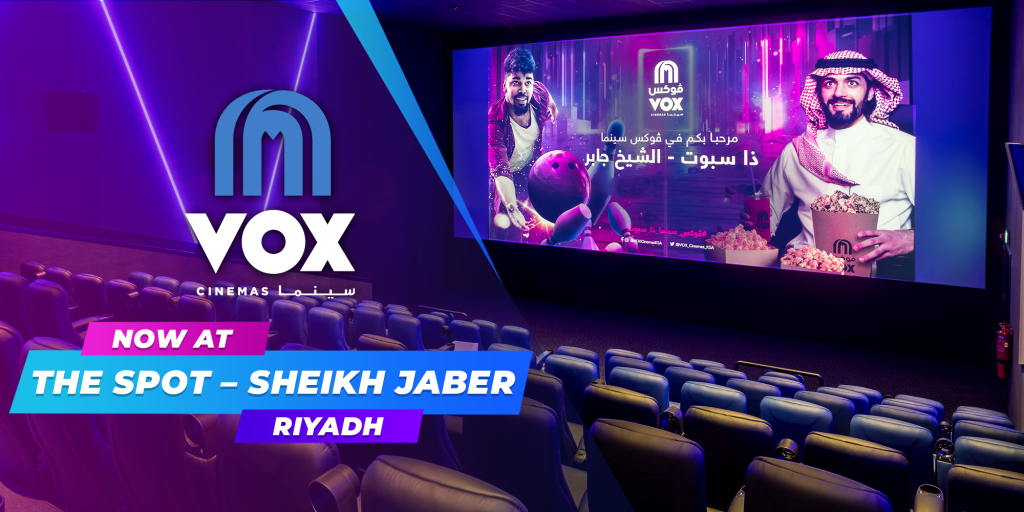 VOX Cinemas continues to expand its footprint across Saudi Arabia with the opening of a new 7-screen multiplex at The Spot – Sheikh Jaber in Riyadh.
VOX Cinemas launched a state-of-the-art multiplex at The Spot – Sheikh Jaber in Riyadh on 19 May 2021. The 7-screen cinema with a total of 662 seats and VIP and KIDS experiences is the result of a partnership between Majid Al Futtaim and Rakaa Holding to bring five new integrated entertainment destinations to Riyadh and Jizan.
Providing entertainment for the entire family, the latest location features a modern eight-lane Yalla! Bowling alley and a games section furnished with billiards tables and air hockey.
Commenting on the opening, Mohamed Al Hashemi, Country Head, Kingdom of Saudi Arabia, Majid Al Futtaim Leisure, Entertainment, Cinemas and Lifestyle said, "VOX Cinemas is extremely proud to partner with Rakaa Holding to expand our footprint across Saudi Arabia, which is a key strategic market for us. This launch demonstrates our alignment with Vision 2030's ambitions to increase the number of family entertainment centres and our commitment to making world-class entertainment accessible to communities throughout the Kingdom. We look forward to welcoming guests to our latest cinematic experience and creating even more great moments for them to enjoy."
Hamad Al Malik, Board Member of Rakaa Holding added: "We are proud to collaborate with Majid Al Futtaim, which is synonymous with customer-focused and innovative experiences. Saudi Arabia has a thriving leisure and entertainment sector and, given Majid Al Futtaim's market understanding and expertise, we are confident that these new developments will be hugely successful."
VOX Cinemas presently operates 141 screens across 13 locations in 5 cities of Saudi Arabia, making it the largest exhibitor by screen count, and the largest independent distributor in the Kingdom. Motivate Val Morgan warmly congratulates VOX Cinemas on the opening of The Spot – Sheikh Jaber and warmly welcomes this new location to our cinema circuit in Saudi Arabia.
Contact us for cinema advertising opportunities at  VOX Cinemas The Spot – Sheikh Jaber.
Sources: VOX Cinemas (Press Release)
Related Articles:
VOX Cinemas Launches at Hail Square in Saudi Arabia
VOX Cinemas Launches at Wafi City in UAE