Muvi Cinemas Launches at City Walk Taif in Saudi Arabia
August 23, 2021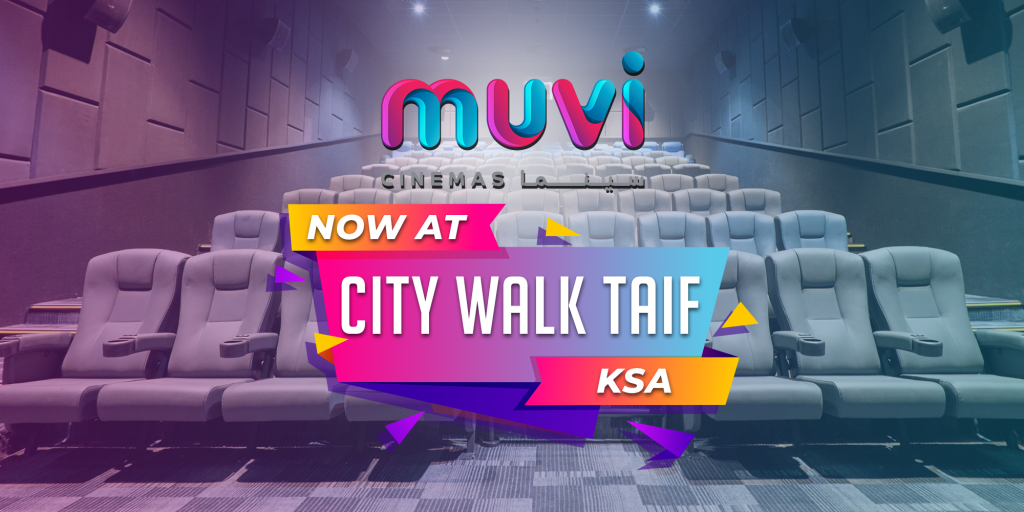 Muvi Cinemas City Walk Taif is the 12th location launched by the cinema exhibitor in the Kingdom.
Muvi Cinemas opened its twelfth location at City Walk in Taif on 19 August 2021. The cinema features 10 standard screens with a total of 791 seats.
Similar to other locations operated by the exhibitor, Muvi Cinemas City Walk Taif was designed by UK's Chapman and Taylor, with an aim to create a dynamic, modern and innovative cinematic experience.
Spanning 4,196-meter square, the designs for the cutting-edge cinema have a theme of urban downtown, with the intention of creating a dynamic, modern, and innovative cinema experience. Digital LED screens and dramatic lighting installations complement the city warehouse feel, providing a strong visual identity for the developments.

City Walk Taif is located in the Mecca Province of southwest Saudi Arabia, and provides one of the best family entertainment experiences in the city, with our great selection of shops, incredible dining options, and fun activities for the whole family.
Muvi Cinemas presently operates 119 screen across 12 locations in 8 cities of Saudi Arabia, and will soon be opening an 8-screen cinema at Salaam Mall in Riyadh.
As the official cinema advertising partner of Muvi Cinemas, Motivate Val Morgan congratulates the cinema exhibitor on its opening of City Walk Taif, and warmly welcomes this location to our regional cinema circuit.
Contact a member of our sales team for cinema advertising opportunities on the screens of Muvi Cinemas –City Walk Taif.
Sources: Chapman and Taylor
Related Articles:
Muvi Cinemas Launches at Nakheel Plaza Buraydah in Saudi Arabia