Chloe Salloum to Represent the UAE at the Cannes Lions Roger Hatchuel Academy 2023
Chloe Salloum, a third year student majoring in Visual Communication – Digital Media at American University in Dubai, to represent the UAE at the exclusive Cannes Lions Roger Hatchuel Academy 2023
The Roger Hatchuel Student Academy is a 6-day global learning experience as part of the Cannes Lions International Festival of Creativity, designed for students approaching graduation. Since 2003, the Academy has been inspiring the next generation of creative leaders by giving them the tools, knowledge and connections they need to explore different creative avenues and launch their careers in the advertising and creative communications industry.
As the official UAE representatives of the Cannes Lions Festival, Motivate Media Group and Motivate Val Morgan are delighted to announce that Chloe Salloum, a third year student majoring in Visual Communication – Digital Media at American University in Dubai (AUD), has been selected to represent the UAE at the exclusive Cannes Lions Roger Hatchuel Academy 2023.
Chloe was one of the four recommended students from the UAE this year, alongside Mary Al Nassr Allah and Ayesha Malak from AUD, and Samyuktha Shankar Narayanan from Middlesex University Dubai, whose submissions were reviewed by the Roger Hatchuel Academy Jury panel – a diverse mix of global experts from reputed education institutions, the industry and related creative fields.
Commenting on being selected for this year's Roger Hatchuel Academy, Chloe said, "I have always had a love for visual storytelling. I spent much of my childhood embracing my creative side through photography, drawing, and creating short films. So far, I have learned a lot through my own experimentation and throughout my academic journey at the American University in Dubai, and I am looking forward to taking my knowledge to the next level. I am honored and delighted to be representing the UAE at the esteemed Cannes Lions Roger Hatchuel Academy! I am incredibly excited to be a part of this classroom alongside other young and eager creatives from across the world."
I could not have achieved this alone, and I am so grateful to my Professor Dina Faour, my university, and my family for endlessly supporting me, believing in me, and guiding me to become who I am today," she added.
Commenting on Chloe's selection as this year's Roger Hatchuel Academy student from the UAE, Dina Faour, Professor of Advertising, Department of Visual Arts, American University in Dubai said, "We, at AUD, are very excited and proud to be representing the UAE, once again, at the Roger Hatchuel Academy and at the Cannes Lions Festival. As avid believers in active learning and in close engagement with the industry, we find that the RHA and the festival as a whole offer exceptional learning and networking opportunities that prove to be inspirational to our students, year after year. We want to thank the festival for this initiative."
"We also thank the Motivate Val Morgan team, especially Ms. Dumindrini Ratnayake, for organizing and conducting the selection process and for the professional support they consistently offer our students. Finally, we wish Chloe the best of luck and we are certain she will learn immensely and will continue to do us proud," she added.
The Roger Hatchuel Academy class of 2023 will host 30 students in total, and throughout the week-long programme, students will dissect diversity and unlock a greater understanding of each other, the world and the nature of the industry.
This year's Roger Hatchuel Academy will run in parallel to the Cannes Lions Festival from 19– 23 June 2023 in Cannes, France. Motivate Media Group and Motivate Val Morgan wish Chloe Salloum the best of luck as she embarks on this journey, and we hope her experience and learnings at the Roger Hatchuel Academy will create positive impact, and contribute to her future endeavours in the industry.
And Us Wins Gold at the UAE Young Lions Digital Competition 2023
Jonathan Cruz and Saymon Medeiros from And Us won gold at the UAE Young Lions Digital Competition 2023
The 20th edition of the esteemed UAE Young Lions Digital Competition, hosted by Motivate Media Group and Motivate Val Morgan – the official UAE representatives of the Cannes Lions International Festival of Creativity, witnessed 21 teams across 15 agencies compete on Saturday, 4th March 2023.
The Judging and Awards Ceremony followed on Wednesday, 8th March 2023, with Jonathan Cruz and Saymon Medeiros from And Us winning Gold.
Jonathan Cruz and Saymon Medeiros will receive a full week's delegate pass and an all-expense-paid trip to represent the UAE at the International Young Lions Digital Competition – part of the Cannes Lions International Festival of Creativity, in June 2023.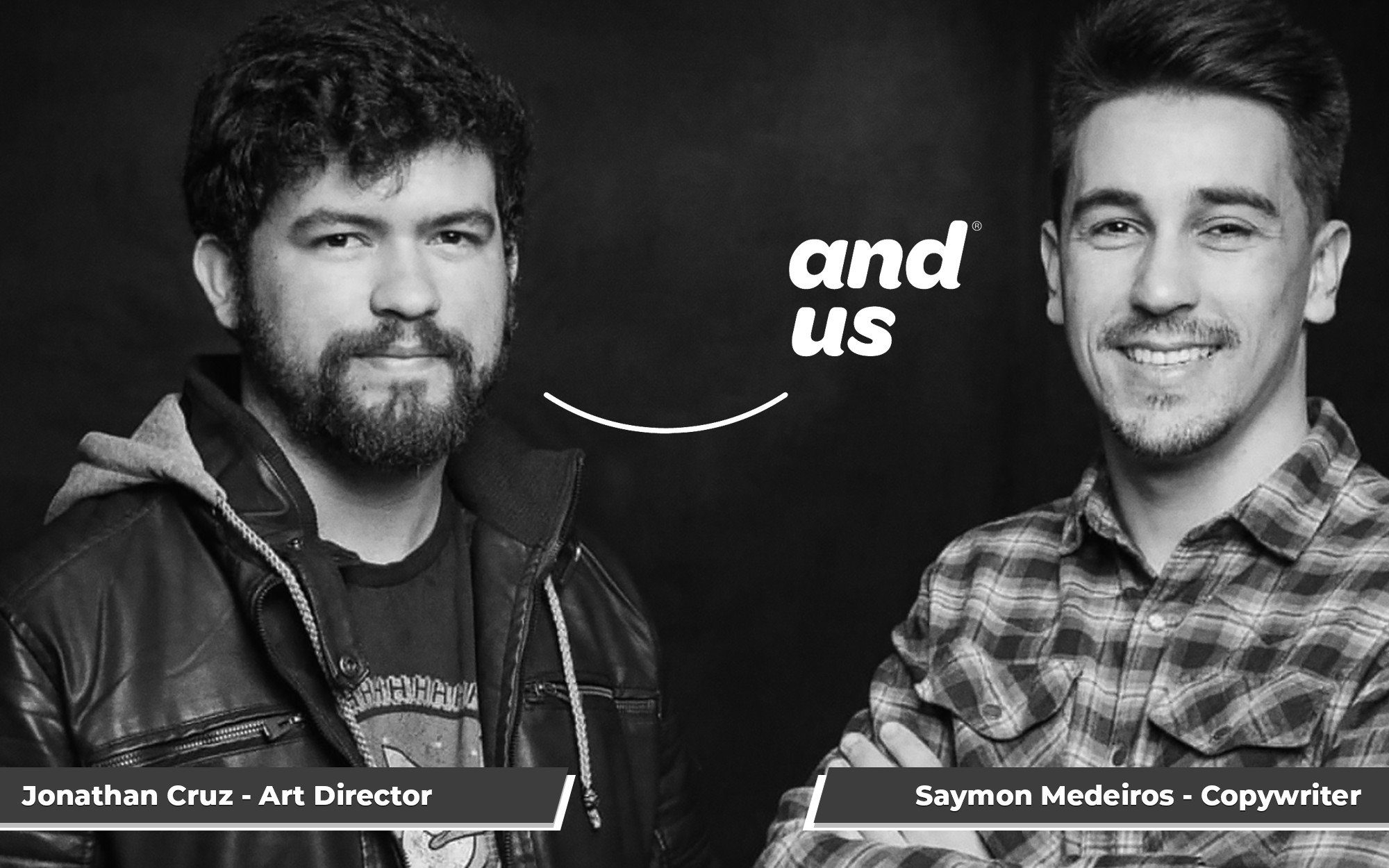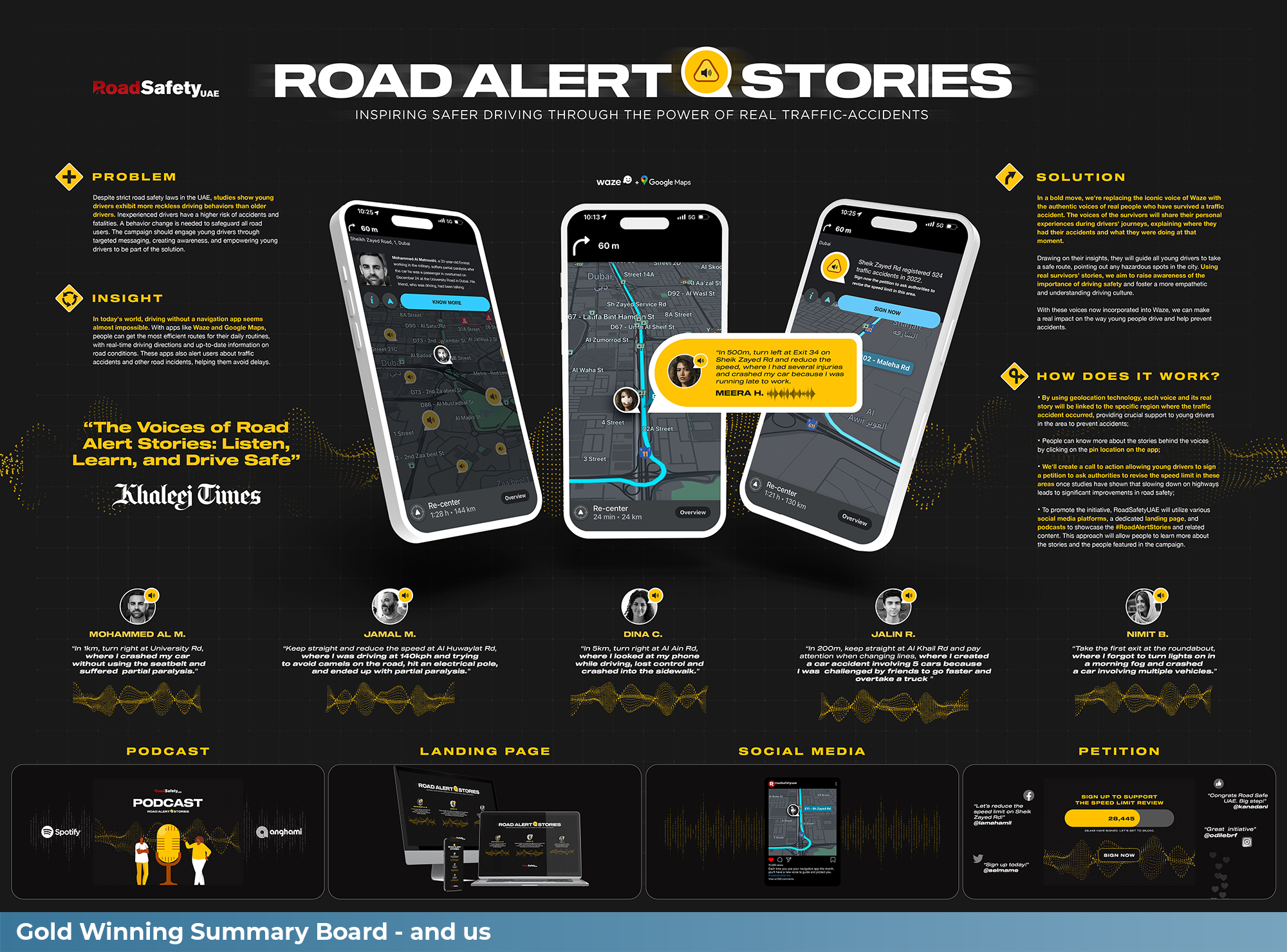 Adila Fataliyeva and Isha Sharma from Science and Sunshine secured Silver, while Haneen Chaarawi and Sebastian Galindo Rubiano from McCann Dubai and Rim Reda and Kezia Shamil from Leo Burnett tied for Bronze.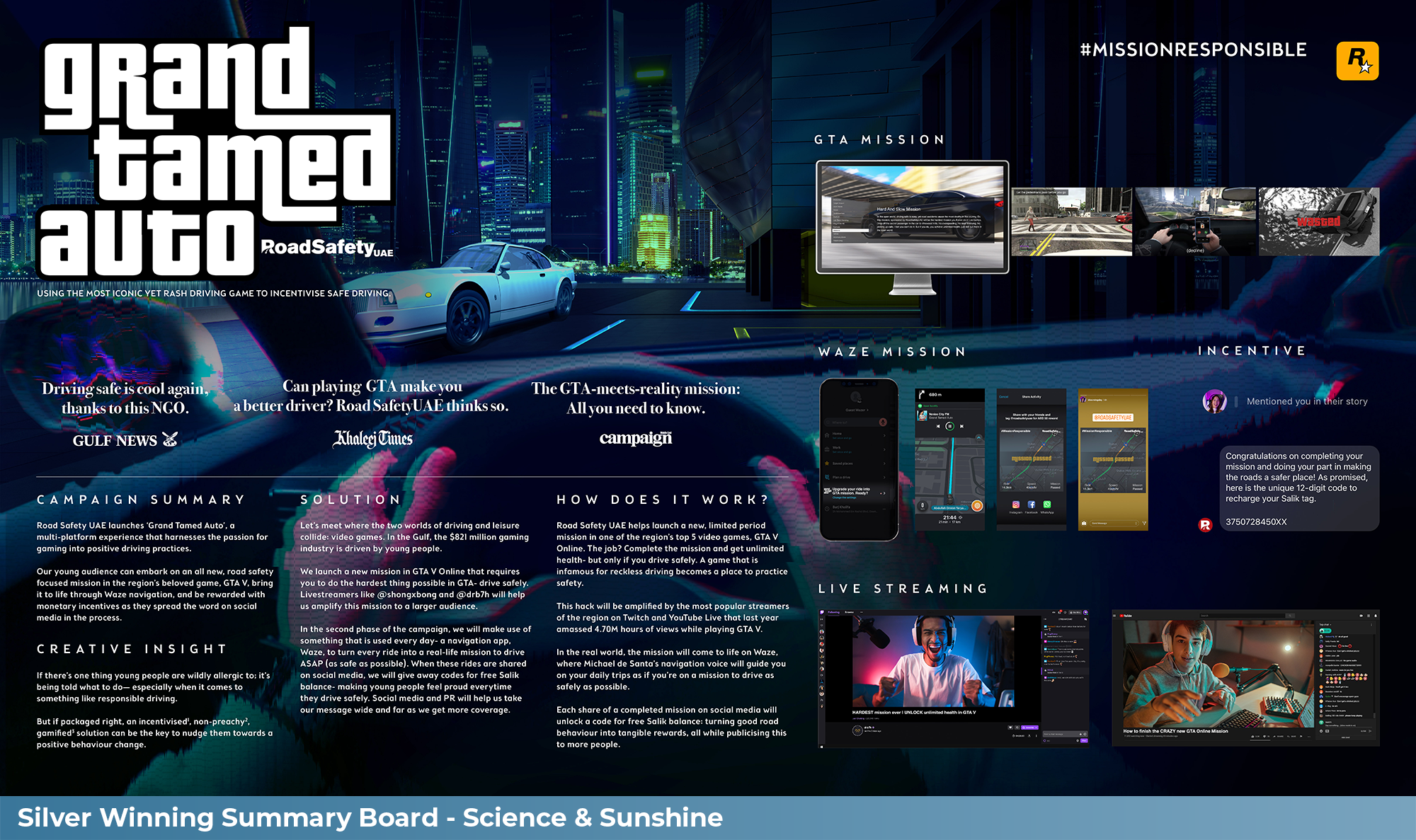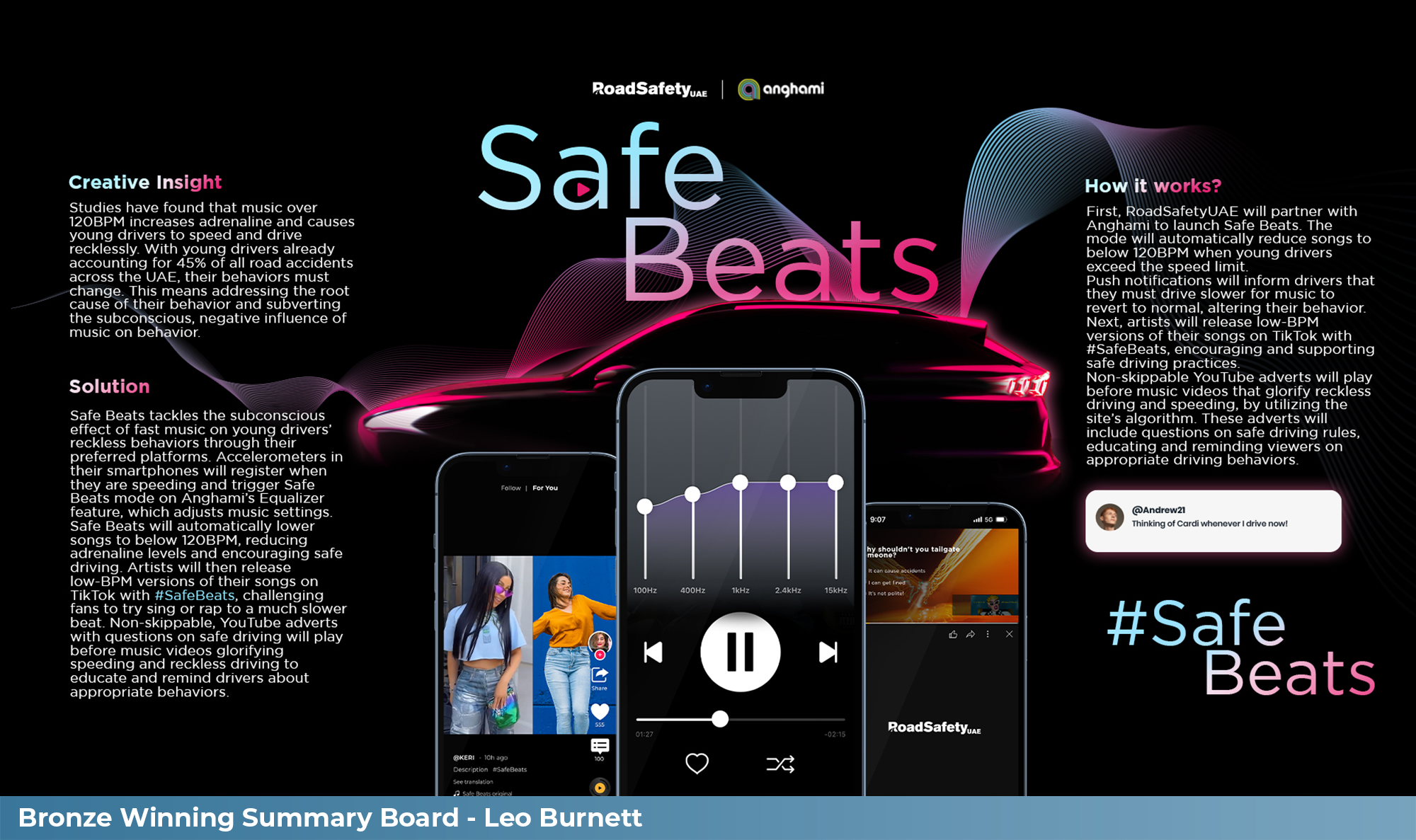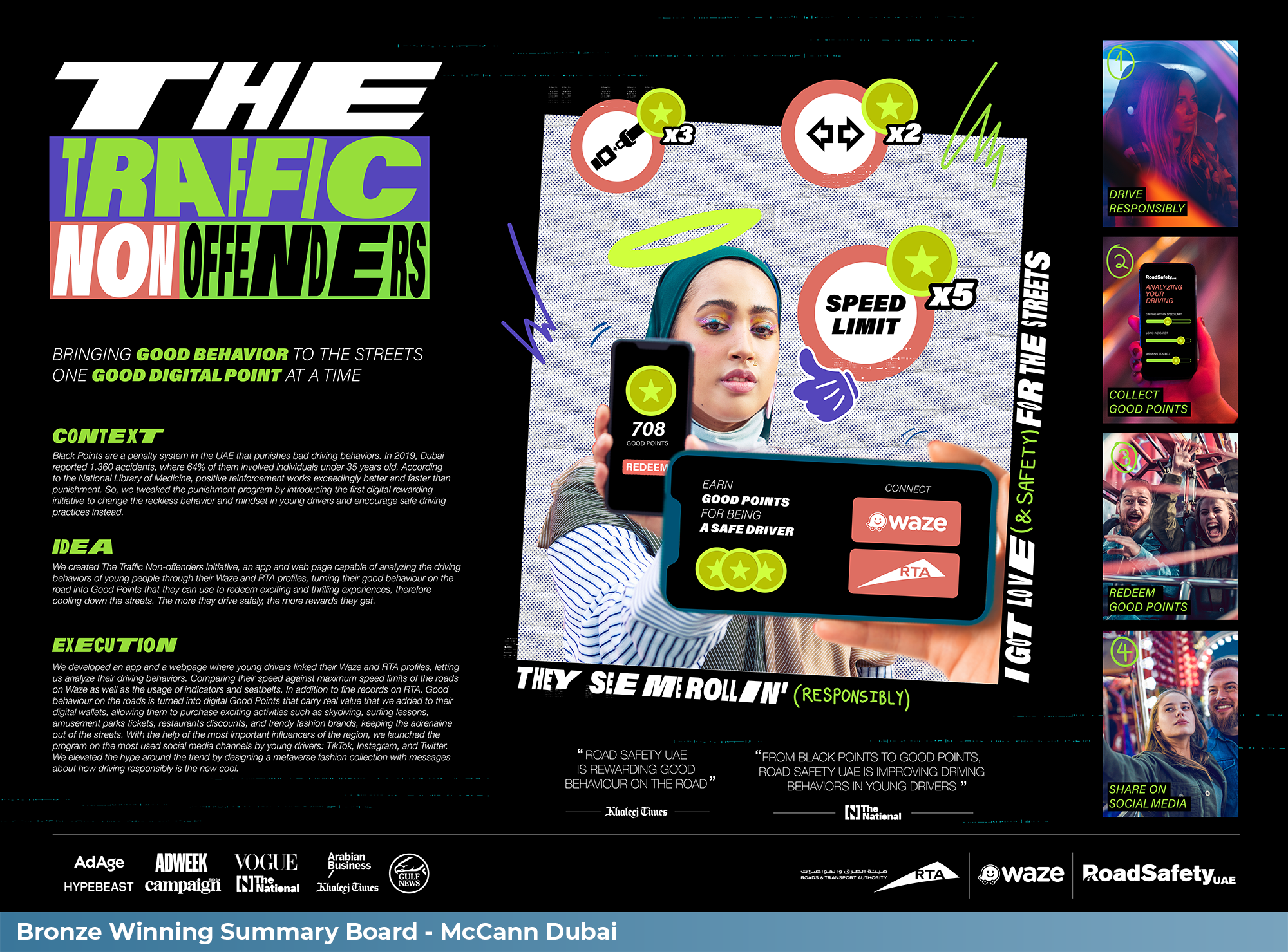 This year's client brief was from RoadSafetyUAE –  an award-winning CSR & engagement program established in 2014, which serves as a communication, improvement, and education platform for all traffic participants in the UAE. Participating teams were challenged to develop a creative and innovative, 'root cause' based, long-lasting and universally true awareness campaign to help change the behaviour and mindset of young drivers in the UAE.
Speaking at the awards ceremony, Thomas Edelmann, Managing Director, RoadSafetyUAE stated: "Young drivers represent about 50% of all road fatalities in the UAE and hence, this segment must be tackled by creating awareness for safe behavior, in a relevant manner. The team members of all twenty-one participating teams precisely represented the target audience, resulting in the creation of a series of genuinely insightful and pertinent campaigns that adhered to the guiding principle of "by them…for them!" As a means of honouring the outstanding creative endeavors, it would be ideal for the agencies behind the twenty-one teams to engage their clients and invite them to adopt the cause of road safety, while also leveraging some of the innovative concepts presented in partnership with RoadSafetyUAE. We want to thank Motivate Val Morgan and Getty Images for organizing and supporting the UAE Young Lions Digital Competition 2023, as well as the team members and the agencies behind them for their commitment and hard work."
The jury panel for this year's competition comprised of Girogia Fattoracci (Leo Burnett), Ingersol Jayakumar (Precise Communications), Andrej Arsenijevic (Commonwealth McCann), Steve De Lange (And Us), Anton Marais (Publicis Middle East), Anshuman Bhattacharya (Havas Middle East), Claudia Canas (FP7 McCann), David Willett (Weber Shandwick), Jordache Fernandes (KEKO Dubai), Raja Rizkallah Nadim (Science & Sunshine), Saleh Elghatit (Serviceplan), Rodrigo Scapolan (TBWA\RAAD), Rita Harbie (Saatchi & Saatchi MEA), and Robert Habib (C2 Communications)
Ian Fairservice, Managing Partner, Motivate Media Group, said: "This year has seen a notable increase in the number of entries, signifying the industry's progress and resilience in the aftermath of the pandemic. I was mightily impressed with the quality of the work produced by the future of the creative industry. As always, it was extremely difficult to narrow down the top submissions but in the end there had to be a winning team – I want to congratulate everyone who put their all into the competition, but especially the winners, Jonathan Cruz and Saymon Medeiros from And Us, who I'm sure will be great ambassadors during this year's Cannes Lions event."
The UAE Young Lions Digital Competition – hosted by Motivate Media Group and Motivate Val Morgan and supported by Getty Images (exclusive image provider of the competition), aims to unveil the brightest creative minds from across the UAE, and is part of the Cannes Lions International Festival of Creativity – the world's biggest celebration of creativity in communications. The 2023 festival will take place between 19-23 June at the Palais des Festivals et des Congrès in Cannes, France.
Saudi Founding Day 2023 Cinema Campaigns
The Kingdom of Saudi Arabia celebrated Saudi Founding Day on 22nd February, with Saudi nationals and residents joining in on the celebration. National holidays are highly celebrated by Saudis as they look forward to such days during the year, and Saudi Founding Day is no exception.
Cinemas were abuzz with moviegoers eager to watch the latest blockbusters, and renowned KSA brands took advantage of this unique opportunity by securing on screen adverting in a bid to establish connections with captive cinema audiences on the big screen.
From ads promoting products or services, to brands showing their solidarity with the people of Saudi Arabia and supporting the country's growth and development, here are the ads that took over the big screen in celebration of Saudi Founding Day 2023:
Architecture & Design Commission
Start Date: 25 February 2023
Locations: Multiple AMC, Cinépolis, Muvi and VOX locations
Banque Saudi Fransi
Start Date: 20. February 2023
Locations: Multiple AMC, Muvi and VOX locations
Ministry of Culture
Start Date: 13 February 2023
Locations: Multiple AMC, Cinépolis, Muvi, Reel and VOX locations
Monsha'at
Start Date: 20. February 2023
Locations: Multiple AMC and Muvi locations
Royal Commission for Makkah City and Holy Sites
Start Date: 20. February 2023
Locations: Multiple AMC, Cinépolis, Muvi and VOX locations
Riyad Bank
Start Date: 23 February 2023
Locations: Select VOX and Muvi locations
Cannes Lions Launches the LIONS Scholarship
LIONS Scholarship will support more than 130 underrepresented members of the creative community and emerging talent with access to Cannes Lions
LIONS has announced the launch of the LIONS Scholarship, which is designed to support the next generation of talent. The scholarship offers a group of young people from around the world a fully funded place on the Cannes Lions Brand Marketers and Creative Academies, which will take place during the Festival in June.
The new initiative sits alongside a range of talent programmes which are part of LIONS' drive to introduce more opportunities for underrepresented groups through fully funded talent programmes at Cannes Lions.
Simon Cook, CEO, LIONS, said, "We've spent 70 years helping to shape careers, foster connections, and platform the power of creativity on a global scale. As we look forward to the next 70 years, we will focus on creating opportunities, providing access, and nurturing the next generation of creative marketing leaders. As part of our mission to support those 'in the making' and drive progress for people, we're opening up the Festival to more than 130 people from groups traditionally underrepresented in the creative industries. To mark our 70th edition, we're introducing the inaugural LIONS Scholarship. This initiative is designed to increase the accessibility of Cannes Lions' bespoke academies, which offer a curated education programme at the heart of the Festival."
The LIONS talent programme includes a range of early career initiatives with the LIONS Academies and Young Lions Competitions designed to catapult young talent in their careers. Additionally, LIONS current talent accelerator programmes continue this year, including See It Be It, which aims to help achieve equal gender representation of creative directors and leaders.
Included within the wider talent programme are community-led initiatives which have been designed in partnership with the global creative industry. These include: a programme with The Black Executive CMO Alliance to bring Future Leaders from The BECA Playbook to Cannes; complimentary passes for the winners of the Perifa Education Programme which is designed for creatives from the Brazilian peripheries; support of the #CannesForAll initiative, launched by the Brixton Finishing School, DigiLearning Foundation and Lollipop Mentoring, with Festival access for their 12 talents; and a continued partnership with Cephas Williams to provide Black talent with Cannes Lions access and curated Festival programme.
Learn more on all the LIONS talent programmes, along with how to apply here
Cannes Lions will take place from 19-23 June in Cannes, France.
Sylndr | Off Screen Cinema Campaign | Egypt
Sylndr, an automotive-focused e-commerce marketplace in Egypt, recently booked a promotional campaign for its website at VOX Cinemas – Mall of Egypt and City Centre Almaza from 26 January to 13 February 2023.
The campaign involved an off-screen cinema advertising where a kiosk with a promoter was set up in the foyer area of the cinemas at Mall of Egypt and City Centre Almaza.
The promoter engaged with cinemagoers by explaining the platform and inviting them to participate in a 'spin-the-wheel' contest, with the chance to win a car or other exciting prizes. This interactive experience allowed patrons to learn about the sylndr.com.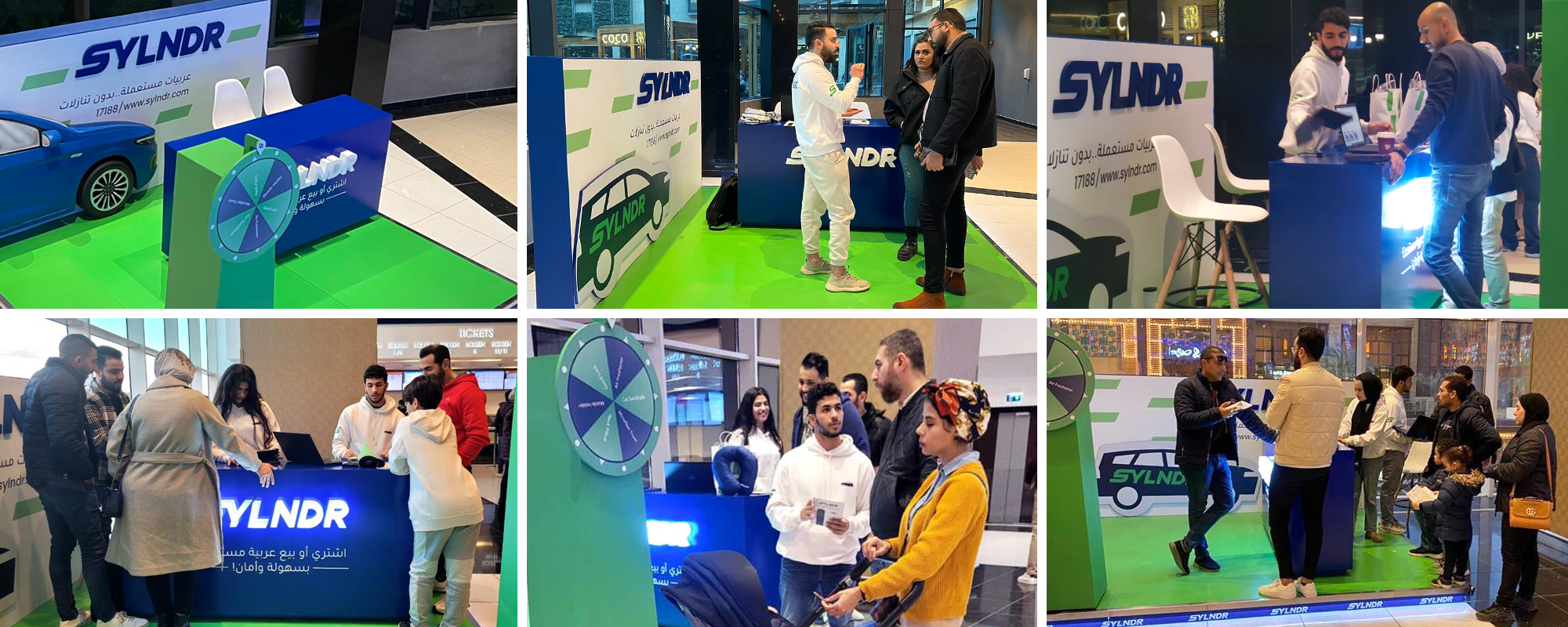 Contact us for more on how off screen cinema advertising could help move your brand closer to its target audience.
All The Latest Trailers From Super Bowl 2023
From Scream VI to Fast X, Super Bowl 2023 saw a string of enticing new trailers
The Super Bowl 2023 brought us more than just an epic football game between the Kansas City Chiefs and the Philadelphia Eagles, it also gave us a sneak peek into some of the most anticipated movies of the year. Major movie studios including Sony Pictures, Universal Pictures, Paramount Pictures, Warner Bros. and Disney all paid big bucks to promote their hottest titles.
From big-budget blockbusters to captivating dramas and spine-chilling thrillers, this year's Super Bowl was a showcase of what's to come from Tinseltown. Whatever genre it is you fancy, there was something for everyone during the trailer segment of the Super Bowl 2023. Here's a rundown of all the movies that got a promotional boost during this year's event.
Creed III
Release Date: 2 March 2023
30-second spot from Creed III at Super Bowl 2023 showcases more of the training and rivalry between Michael B. Jordan's title character and Jonathan Majors' Damian Anderson.
65
Release Date: 2 March 2023* (*Could be pushed to 9 March 2023)
Sony Pictures promoted 65 –  a science-fiction thriller starring Adam Driver as a pilot who crashes and becomes stranded on Earth 65 million years ago. Written and directed by Scott Beck and Bryan Woods, the film also stars Ariana Greenblatt and Chloe Coleman.
Scream VI
Release Date: 9 March 2023
Courteney Cox, Jenna Ortega, and Melissa Barrera headline this new minute-long Super Bowl 2023 spot that offers a longer look at one of the thriller's set pieces briefly glimpsed in the previous trailer.
Dungeons and Dragons: Honor Among Thieves
Release Date: 20 April 2023
The Dungeons and Dragons: Honor Among Thieves Super Bowl 2023 trailer goes a long way to promise how action-packed it will be. Though brief, the teaser is a fast-paced, breathless montage of multiple action set-pieces, mythical creatures and even a titular dragon.
Air
Release Date: 6 April 2023 (International Release)
Ben Affleck's next directorial offering sees Matt Damon play the man whose brainchild saw the birth of Nike's Air Jordans. The first trailer for Air was revealed before Super Bowl LVII, with a big game spot along for the ride.
Guardians of Galaxy Vol. 3
Release Date: 4 May 2023
Disney used the Super Bowl broadcast to spotlight the third installment of Guardians of the Galaxy starring Chris Pratt, Zoe Saldaña, Dave Bautista, Karen Gillan, Pom Klementieff, Vin Diesel and Bradley Cooper as the titular band of Marvel superheroes.
Fast X
Release Date: 19 May 2023
10 main movies in, it's impossible not to know what you're getting with the Fast & Furious franchise. The Super Bowl Fast X teaser and the full trailer released before it showed off all of the best parts: a new ostentatious villain in the shape of Jason Momoa, returning heroes and anti-heroes, major set-pieces, ludicrous physics and some good old-fashioned racing.
Transformers: Rise of the Beasts
Release Date: 08 June 2023
There's more than just a sneak peek in this Transformers: Rise of the Beasts TV spot, because it's not only a short promo for the film, but also an ad for Porsche, which is what Autobot Mirage transforms into in the trailer.
The Flash
Release Date: 15 June 2023
The first trailer for The Flash not only gives us a pretty good idea how the story might play out, but also reveals Michael Keaton in the Batsuit (and his Batmobile), Michael Shannon's Zod, and Sasha Calle's Supergirl, among other things. We also got a shorter minute-long TV spot for the film containing a lot of the same footage.
Indiana Jones and the Dial of Destiny
Release Date: 30 June 2023
Indiana Jones and the Dial of Destiny, the fifth installment of the hit Indiana Jones franchise featuring the return of Harrison Ford as the titular swashbuckling archaeologist.
Click here to check out the leading brand commercials that aired during Super Bowl 2023.
Think cinema for effective advertising! Contact us.
Source: Empire, Variety
Kibsons | Integrated Cinema Campaign | UAE | 2023
Kibsons booked an integrated cinema campaign with Motivate Val Morgan at VOX, Royal and Oscar cinemas in Abu Dhabi, UAE.
The on screen component included four 30 sec. ads following Asian Mega Blockbuster Pathaan at VOX Cinemas – Yas Mall,Royal Cinemas – Khalidiyah Mall and Oscar Cinema – Wahda Mall
*The four creatives are running in rotation across the respective cinema locations
For the off screen advertising component, Kibsons booked a sampling activity over the weekend of 28th to 29th January at VOX Cinemas – Yas Mall and Royal Cinemas – Khalidiyah Mall. A box filled with fresh fruits was distributed to moviegoers at the entrance of the screens at both cinema locations.

The power of an integrated cinema campaign is unmatchable – leave your mark and build better brand awareness by amplify exposure for you brand.
Contact us for similar advertising opportunities across our cinema circuit in the GCC, Egypt and Lebanon.
Be Part of the Big Screen Experience this Valentine's Day
Got a brand commercial for Valentine's Day?
Take advantage of the big screen, a fantastic movie line-up and an attentive audience to promote a product/offer during the season of love.
Below are a list of movies releasing in time for Valentine's Day:
Titanic: 25th Anniversary
Magic Mike's Last Dance
Maybe I Do
Al Hob Bitafasiloh (Egyptian)
Dada
And click here to access a playlist of Valentine's Day ads that previously screened across the Motivate Val Morgan cinema circuit.
Contact us to get your commercial up on screen in time for Valentine's Day!
AMC Cinemas Launches at The Walk in Al Hofuf – KSA
AMC The Walk 7 – Al Hofuf offers luxury auditoriums, best-in-class projection, sound and seating, and is the latest effort by AMC in an ongoing program to provide state-of-the-art cinemas across Saudi Arabia.
AMC Cinemas has opened its twelfth location at The Walk in Hofuf, KSA. The 7-screen cinema with a total of 362 seats, which includes a PRIME at AMC screen, is another impressive step in the rapid evolution of the cinema experience in Saudi Arabia.

Following the launch of  The Walk 7, AMC aims to reach a large number of movie lovers around Saudi Arabia, a goal which is in line with the government's plan to diversify entertainment content as well as provide new experiences to a range of audiences in several cities and governorates across the Kingdom.
Together with the opening of Tabuk Boulevard 7, AMC presently operates 82 screens across 13 locations in 9 cities of Saudi Arabia.
*Stay tuned for more on the launch of Tabuk Boulevard 7.
Motivate Val Morgan congratulates AMC Cinemas on the opening of AMC The Walk 7 – Al Hofuf, and warmly welcomes this location to our cinema circuit in KSA.
Source: AMC Cinemas
Cannes Lions Announces its 2023 Jury President Line-up
Impact BBDO's Ali Rez serves as the first Cannes Lions Jury President from the MENA region
The Cannes Lions International Festival of Creativity has announced the names of the Jury Presidents who will lead juries to award this year's Lions and set the global benchmark for excellence in creativity.
Simon Cook, CEO, LIONS, said, "These individuals represent the rich spread of exceptional talent from across the full spectrum of the creative industry. The Cannes Lions Jury Presidents play an essential role in upholding the integrity of the Lions as well as setting the creative benchmark for the global industry. We thank them for their unique perspectives, expertise, and experience for the leadership they will bring to the very important task ahead of them."
In a first, Impact BBDO's Ali Rez will serve as Cannes Lions' first Jury President from the MENA region. Commenting on the appointment, Rez said, "The UAE is a place where creativity thrives, and where we believe nothing is impossible. It is a special honour to represent that very spirit of this inspiring country, and the rich heritage of the Middle East, at Cannes Lions as Jury President. I hope this announcement will pave the way for many more people from the region to lead juries in the future at this most prestigious of awards."
The Cannes Lions 2023 Jury Presidents have been named as:

Brand Experience & Activation Lions:
Ari Weiss, Global Chief Creative Officer, DDB Worldwide, Global

Creative B2B Lions:
Tom Stein, Chairman and Chief Growth Officer, Stein IAS, Global

Creative Business Transformation Lions:
Justin Peyton, Chief Transformation Officer, Wunderman Thompson, APAC

Creative Commerce Lions:
Nancy Crimi-Lamanna, Chief Creative Officer, FCB, Canada

Creative Data Lions:
Samantha Hernández Díaz, Chief Strategy Officer, GUT Mexico City, Mexico

Creative Effectiveness Lions:
Devika Bulchandani, Global CEO, Ogilvy, Global

Creative Strategy Lions:
Amrita Randhawa, CEO, Publicis Groupe, Singapore & Southeast Asia

Design Lions:
Quinnton Harris, Co-founder & CEO, Retrospect, USA

Digital Craft Lions:
Resh Sidhu, Global Director of Arcadia Creative Studio, Snap Inc., Global

Direct Lions:
Chaka Sobhani, Global Chief Creative Officer, Leo Burnett, Global

Entertainment Lions:
Brent Anderson, Global Chief Creative Officer, TBWA\Media Arts Lab, Global

Entertainment Lions for Gaming:
Francine Li, Global Head of Marketing, Riot Games, Global

Entertainment Lions for Music:
Danielle Hinde, Owner / Executive Producer, Doomsday Entertainment, USA

Entertainment Lions for Sport:
Rob Doubal, Co-President of McCann London and Joint Chief Creative Officer of McCann UK, McCann London, UK

Film Lions:
Bruno Bertelli, Global CEO of Le Pub, Global Chief Creative Officer of Publicis Worldwide, Chief Creative Officer of Publicis Groupe Italy, Publicis Worldwide, Global

Glass Lions: The Lion for Change:
Tea Uglow, Creative Director, Google, APAC

Health & Wellness Lions:
Mel Routhier, Chief Creative Officer, VMLY&R Chicago, USA

Industry Craft Lions:
Yoshihiro Yagi, Executive Creative Director, Dentsu Inc., Japan

Innovation Lions:
Grace Francis, Global Chief Creative and Design Officer, WONGDOODY, Global

Media Lions:
Christian Juhl, Global CEO, GroupM, Global

Mobile Lions:
Shannon Washington, US Chief Creative Officer, Connected Communications, R/GA, USA

Outdoor Lions:
Javier Campopiano, Worldwide Chief Creative Officer at Grey and Global Chief Creative Officer of OpenX From WPP, Grey/OpenX, Global

Pharma Lions:
Joshua Prince, CEO, Professional Group, Omnicom Health Group, Global

PR Lions:
Jo-ann Robertson, CEO, Global Markets, Ketchum, Global

Print & Publishing Lions:
Ali Rez, Chief Creative Officer, Impact BBDO, MENAP

Radio & Audio Lions:
Tseliso Rangaka, Chief Creative Officer, FCB, South Africa

Social & Influencer Lions:
Samantha Almeida, Director of Diversity and Content Innovation, Globo, Brazil

Sustainable Development Goals Lions:
Jean Lin, Chief Culture Officer, Dentsu Group Inc., Global

Dan Wieden Titanium Lions:
David Droga, CEO & Creative Chairman, Accenture Song, Global
The Cannes Lions International Festival of Creativity will take place between 19-23 June and will provide an annual forum for the global industry to address the most pressing issues that they and the world are facing today.
Registration to attend Cannes Lions opens on 12 January 2023 and awards submissions open on 19 January 2023. Further information on this year's Jury Presidents, as well as the Festival, the Lions Awards and LIONS Membership can be found at canneslions.com.