AMC Cinemas Launches at The Walk in Al Hofuf – KSA
AMC The Walk 7 – Al Hofuf offers luxury auditoriums, best-in-class projection, sound and seating, and is the latest effort by AMC in an ongoing program to provide state-of-the-art cinemas across Saudi Arabia.
AMC Cinemas has opened its twelfth location at The Walk in Hofuf, KSA. The 7-screen cinema with a total of 362 seats, which includes a PRIME at AMC screen, is another impressive step in the rapid evolution of the cinema experience in Saudi Arabia.

Following the launch of  The Walk 7, AMC aims to reach a large number of movie lovers around Saudi Arabia, a goal which is in line with the government's plan to diversify entertainment content as well as provide new experiences to a range of audiences in several cities and governorates across the Kingdom.
Together with the opening of Tabuk Boulevard 7, AMC presently operates 82 screens across 13 locations in 9 cities of Saudi Arabia.
*Stay tuned for more on the launch of Tabuk Boulevard 7.
Motivate Val Morgan congratulates AMC Cinemas on the opening of AMC The Walk 7 – Al Hofuf, and warmly welcomes this location to our cinema circuit in KSA.
Source: AMC Cinemas
Cannes Lions Announces its 2023 Jury President Line-up
Impact BBDO's Ali Rez serves as the first Cannes Lions Jury President from the MENA region
The Cannes Lions International Festival of Creativity has announced the names of the Jury Presidents who will lead juries to award this year's Lions and set the global benchmark for excellence in creativity.
Simon Cook, CEO, LIONS, said, "These individuals represent the rich spread of exceptional talent from across the full spectrum of the creative industry. The Cannes Lions Jury Presidents play an essential role in upholding the integrity of the Lions as well as setting the creative benchmark for the global industry. We thank them for their unique perspectives, expertise, and experience for the leadership they will bring to the very important task ahead of them."
In a first, Impact BBDO's Ali Rez will serve as Cannes Lions' first Jury President from the MENA region. Commenting on the appointment, Rez said, "The UAE is a place where creativity thrives, and where we believe nothing is impossible. It is a special honour to represent that very spirit of this inspiring country, and the rich heritage of the Middle East, at Cannes Lions as Jury President. I hope this announcement will pave the way for many more people from the region to lead juries in the future at this most prestigious of awards."
The Cannes Lions 2023 Jury Presidents have been named as:

Brand Experience & Activation Lions:
Ari Weiss, Global Chief Creative Officer, DDB Worldwide, Global

Creative B2B Lions:
Tom Stein, Chairman and Chief Growth Officer, Stein IAS, Global

Creative Business Transformation Lions:
Justin Peyton, Chief Transformation Officer, Wunderman Thompson, APAC

Creative Commerce Lions:
Nancy Crimi-Lamanna, Chief Creative Officer, FCB, Canada

Creative Data Lions:
Samantha Hernández Díaz, Chief Strategy Officer, GUT Mexico City, Mexico

Creative Effectiveness Lions:
Devika Bulchandani, Global CEO, Ogilvy, Global

Creative Strategy Lions:
Amrita Randhawa, CEO, Publicis Groupe, Singapore & Southeast Asia

Design Lions:
Quinnton Harris, Co-founder & CEO, Retrospect, USA

Digital Craft Lions:
Resh Sidhu, Global Director of Arcadia Creative Studio, Snap Inc., Global

Direct Lions:
Chaka Sobhani, Global Chief Creative Officer, Leo Burnett, Global

Entertainment Lions:
Brent Anderson, Global Chief Creative Officer, TBWA\Media Arts Lab, Global

Entertainment Lions for Gaming:
Francine Li, Global Head of Marketing, Riot Games, Global

Entertainment Lions for Music:
Danielle Hinde, Owner / Executive Producer, Doomsday Entertainment, USA

Entertainment Lions for Sport:
Rob Doubal, Co-President of McCann London and Joint Chief Creative Officer of McCann UK, McCann London, UK

Film Lions:
Bruno Bertelli, Global CEO of Le Pub, Global Chief Creative Officer of Publicis Worldwide, Chief Creative Officer of Publicis Groupe Italy, Publicis Worldwide, Global

Glass Lions: The Lion for Change:
Tea Uglow, Creative Director, Google, APAC

Health & Wellness Lions:
Mel Routhier, Chief Creative Officer, VMLY&R Chicago, USA

Industry Craft Lions:
Yoshihiro Yagi, Executive Creative Director, Dentsu Inc., Japan

Innovation Lions:
Grace Francis, Global Chief Creative and Design Officer, WONGDOODY, Global

Media Lions:
Christian Juhl, Global CEO, GroupM, Global

Mobile Lions:
Shannon Washington, US Chief Creative Officer, Connected Communications, R/GA, USA

Outdoor Lions:
Javier Campopiano, Worldwide Chief Creative Officer at Grey and Global Chief Creative Officer of OpenX From WPP, Grey/OpenX, Global

Pharma Lions:
Joshua Prince, CEO, Professional Group, Omnicom Health Group, Global

PR Lions:
Jo-ann Robertson, CEO, Global Markets, Ketchum, Global

Print & Publishing Lions:
Ali Rez, Chief Creative Officer, Impact BBDO, MENAP

Radio & Audio Lions:
Tseliso Rangaka, Chief Creative Officer, FCB, South Africa

Social & Influencer Lions:
Samantha Almeida, Director of Diversity and Content Innovation, Globo, Brazil

Sustainable Development Goals Lions:
Jean Lin, Chief Culture Officer, Dentsu Group Inc., Global

Dan Wieden Titanium Lions:
David Droga, CEO & Creative Chairman, Accenture Song, Global
The Cannes Lions International Festival of Creativity will take place between 19-23 June and will provide an annual forum for the global industry to address the most pressing issues that they and the world are facing today.
Registration to attend Cannes Lions opens on 12 January 2023 and awards submissions open on 19 January 2023. Further information on this year's Jury Presidents, as well as the Festival, the Lions Awards and LIONS Membership can be found at canneslions.com.
Motivate Val Morgan | Yearly Wrap-Up | 2022
The cinema industry successfully ushered global audiences back into theatre in 2022 largely owing to the steadier flow of blockbusters in comparison to 2021, with Top Gun: Maverick, Black Panther: Wakanda Forever, and Avatar: The Way of Water leading the long list of successful titles this year.
While 2021 was a dress rehearsal for the future of cinemas, 2022 has proved that cinema is back for real. This was especially evident in Saudi Arabia, when the country overtook Italy in annual box office revenue (in US$ terms), highlighting the prominence of cinema in the region.
Box office in 2022 had its first test with Scream which grossed nearly US$1M in the UAE alone and marked the successful return of the horror genre in the region since the pandemic. This was followed by the chartbuster performance of Matt Reeve's The Batman, which earned a combined US$12M in the UAE and Saudi Arabia, and Marvel's Doctor Strange in the Multiverse of Madness, which earned US$6.7M in the UAE.
Summer blockbusters highly contributed to the recovery of the global box office in 2022, with Tom Cruise's Top Gun: Maverick grossing a combined US$21.2M in the UAE and Saudi Arabia and over US$1.5 billion globally. Jurassic World: Dominion and Minions: The Rise of Gru also performed well, grossing over US$1.7M and US$1.64M in UAE and Saudi Arabia, respectively.
August to October was a challenging phase for cinemas in the region due to a weaker movie release schedule owing to pandemic-related delays. The year however ended on a high note with the release of James Cameron's Avatar: The Way of Water, which earned close to US$10M in the UAE in its opening weeks. Arabic titles such as Bahebek, 3amohom, and Men Agl Zeko also topped the 2022 charts across GCC.
Here's our 2022 wrap-up featuring the top movie releases in the eight countries we cover, the most watched genres across the region, the top 15 cinema ads booked through us that lit up the big screen, and last but not least, the new cinema locations added to our circuit and our milestones:
Top Five Movies – By Country
UAE
Top Gun: Maverick
Doctor Strange: in the Multiverse of Madness
Avatar: The Way of Water
Minions 2: The Rise of Gru
Thor: Love and Thunder
Saudi Arabia
Top Gun: Maverick
Bahebek (Egyptian)
3amohom (Egyptian)
Men Agl Zeko (Arabic)
The Batman
Egypt
Kera We El Gin (Egyptian)
Wahed Tany (Arabic)
3amohom (Egyptian)
Bahebek (Egyptian)
Al Gareema (Arabic)
Oman
Top Gun: Maverick
Bahebek (Egyptian)
Minions 2: The Rise of Gru
Avatar: The Way of Water
Jurassic World Dominion
Kuwait
Top Gun: Maverick
Minions 2: The Rise of Gru
Bahebek (Egyptian)
Sonic the Hedgehog 2
3amohom (Egyptian)
Bahrain
Top Gun: Maverick
Bahebek (Egyptian)
Minions 2: The Rise of Gru
Black Adam
The Batman
Qatar
Top Gun: Maverick
Minions 2: The Rise of Gru
Jurassic World Dominion
Bahebek (Egyptian)
Black Adam
Lebanon 
Bahebek (Egyptian)
Al Hayba (Arabic)
Taraf Talet (Lebanese)
Top Gun: Maverick
Doctor Strange: in the Multiverse of Madness
Most Watched Genres – Regional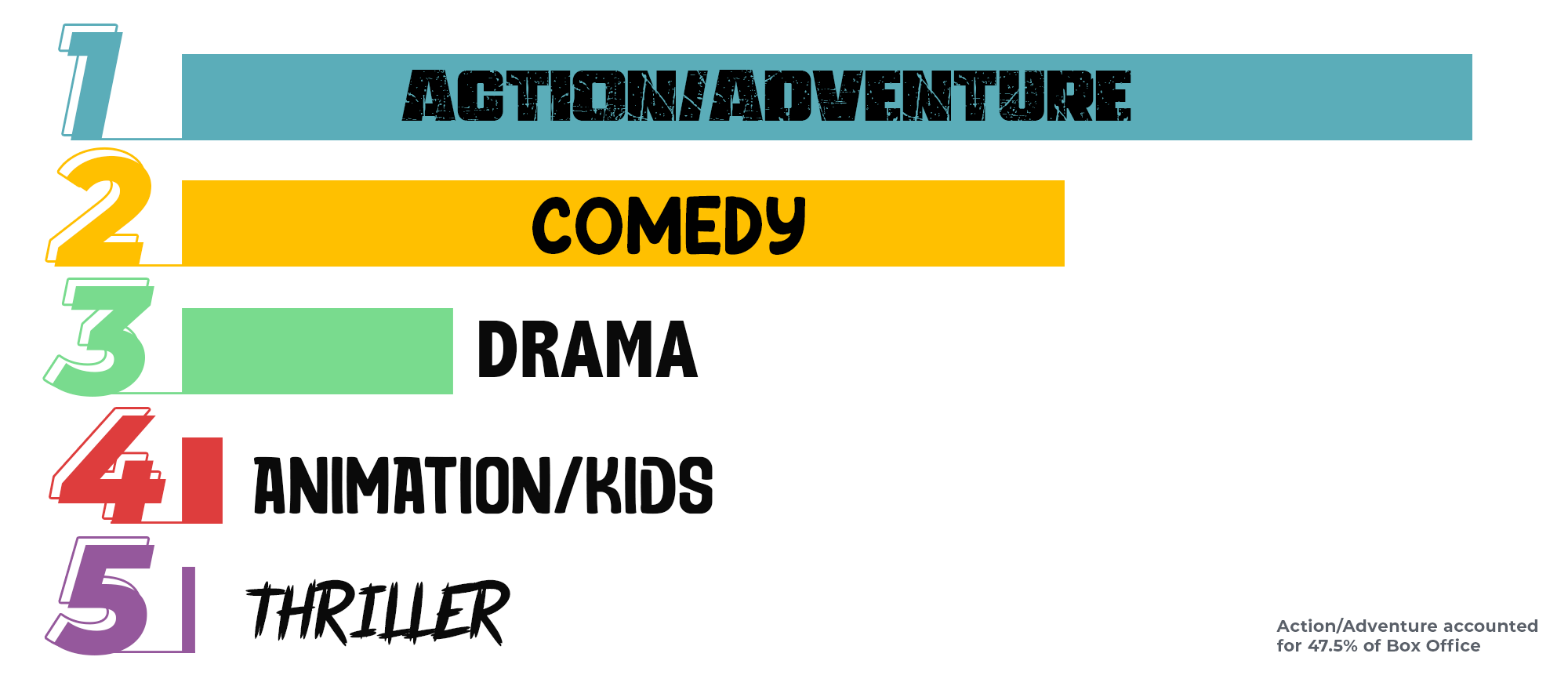 Top 15 Cinema Ads
The 15 blockbuster ads (in no particular order) – booked through Motivate Val Morgan, that lit up the big screen in 2022 (also featured in Campaign Middle East):
Brand: Mercedes-Benz Burmester
Title: Innovations by Mercedes-Benz: Dolby Atmos
Media Agency: OMD
Brand: NEOM
Title: Trojena – Journey To New Heights
Media Agency: Starcom
Brand: Emirates
Title: Gerry the Goose Flies Better
Media Agency: UM MENA
Brand: Rolex
Title: Rolex & Cinema – The Path
Media Agency: Mindshare
Brand: Sephora
Title: Amna Al Qubaisi – Emirati F3 Driver – Redefining Beauty with Sephora
Media Agency: Spark Foundry – Publicis Media
Brand: Malabar Gold
Title: Brides of India
Brand: Hermès
Title: Terre d'Hermès
Media Agency: Havas Media
Brand: Thailand Tourism
Title: Amazing Thailand
Media Agency: Media Republic
Brand: Hayatna
Title: Grow Your World With Hayatna
Media Agency: Hearts & Science
Brand: Riyadh Book Fair
Media Agency: Blue Horizon
Brand: Infiniti QX60
Title: Take the Wheel
Media Agency: OMD
Brand: Jindal Shadeed
Media Agency: United Media Services
Brand: Theeb
Brand: Yas Island
Title: Yas Yas Baby
Media Agency: Initiative Media
Brand: Al Nahdi Pharmacies
Cinema Circuit Growth
2022 saw our cinema circuit expand with several new locations: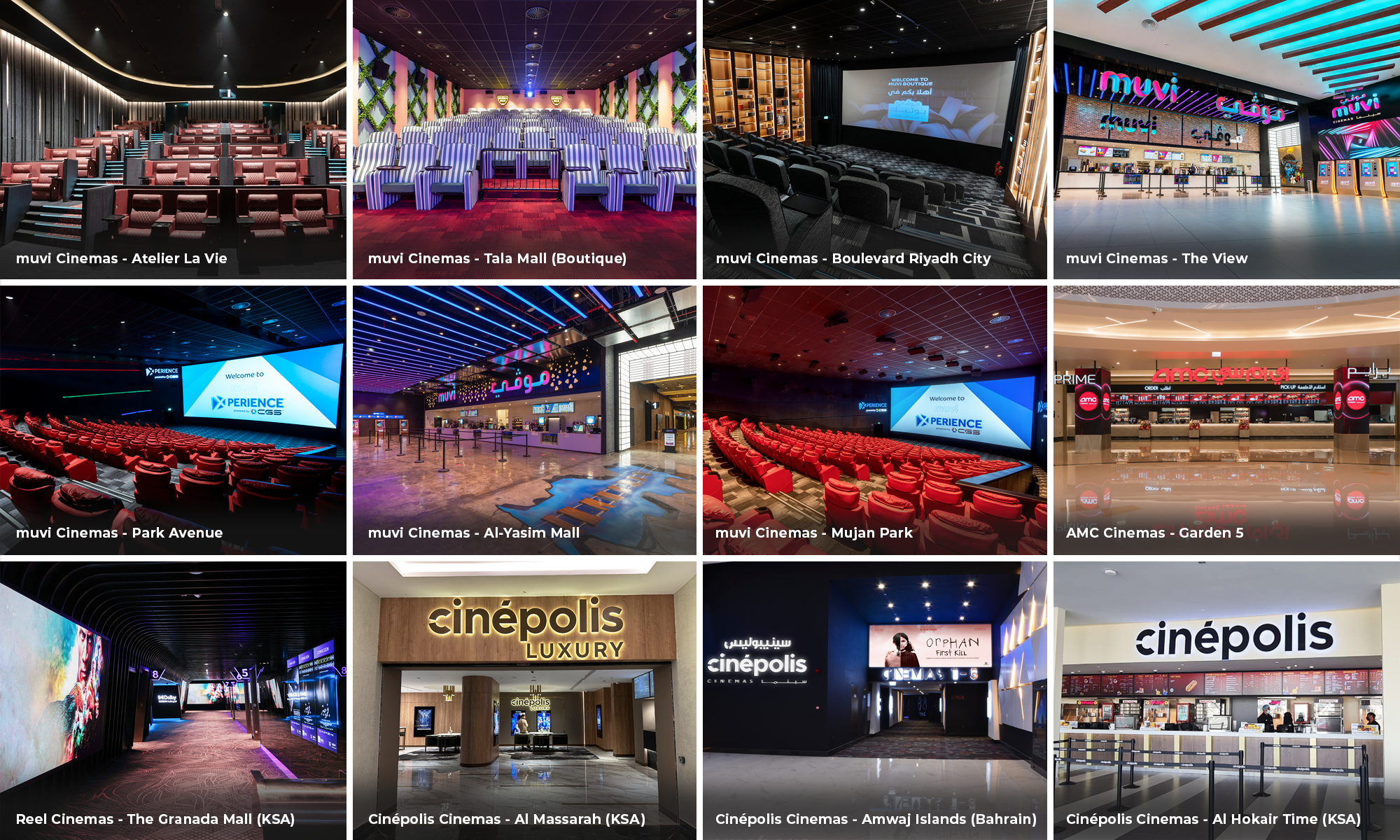 Muvi Cinemas (KSA): The View, Atelier La Vie, Mujan Park, Al-Yasmin Mall, Tala Mall (Boutique), Boulevard Riyadh and Park Avenue
AMC Cinemas (KSA) – Garden, Tabuk Boulevard and The Walk
Cinépolis Cinemas (KSA) – Al Hokair Time, Al Massarah
Cinépolis Cinemas (Bahrain) – Amwaj Islands
Reel Cinemas (KSA) – The Granada Mall
Milestone
Our dedicated cinema buying platform – CinePlan and CineMeasure, was launched, which enables data-driven, audience-based buying across our network of cinemas in the Middle East. The platform was also recognized as one of Campaign Middle East's Top 10 Media Milestones of 2022.
Blockbusters to Look Forward to in 2023
Get ready for an exciting year at the movies in 2023! Here are the top 20 movies to look forward to over the year ahead:
Ant-Man and The Wasp: Quantumania – February
Creed III – March
65 – March
Shazam! Fury of the Gods – March
John Wick: Chapter 4 – March
Dungeons & Dragons: Honor Among Thieves – March
Guardians of the Galaxy Vol. 3 – May
Fast X – May
Spider-Man: Across the Spider-Verse – June
Transformers: Rise of the Beasts – June
The Flash – June
Indiana Jones and the Dial of Destiny – June
Mission: Impossible – Dead Reckoning, Part One – July
Oppenheimer – July
The Marvels – July
Barbie – July
Dune: Part Two – November
The Hunger Games: The Ballad of Songbirds & Snakes – November
Wonka – December
Aquaman and the Lost Kingdom – December
For more on the movies coming out in 2023, be sure to check out our sizzle reel
Parkville | Integrated Cinema Campaign | Egypt
Parkville Pharmaceuticals booked an integrated cinema campaign with Motivate Val Morgan at VOX Cinemas – City Centre Almaza and Mall of Egypt.
The on screen component included a 30 sec. ad following the blockbuster  Avatar: The Way of Water at both locations, while the off screen component included an activation kiosk in the foyer area of City Centre Almaza from 20 December 2022 to 19 January 2023, and a sampling activity over the weekend 22 to 24 December 2022 at Mall of Egypt and City Centre Almaza.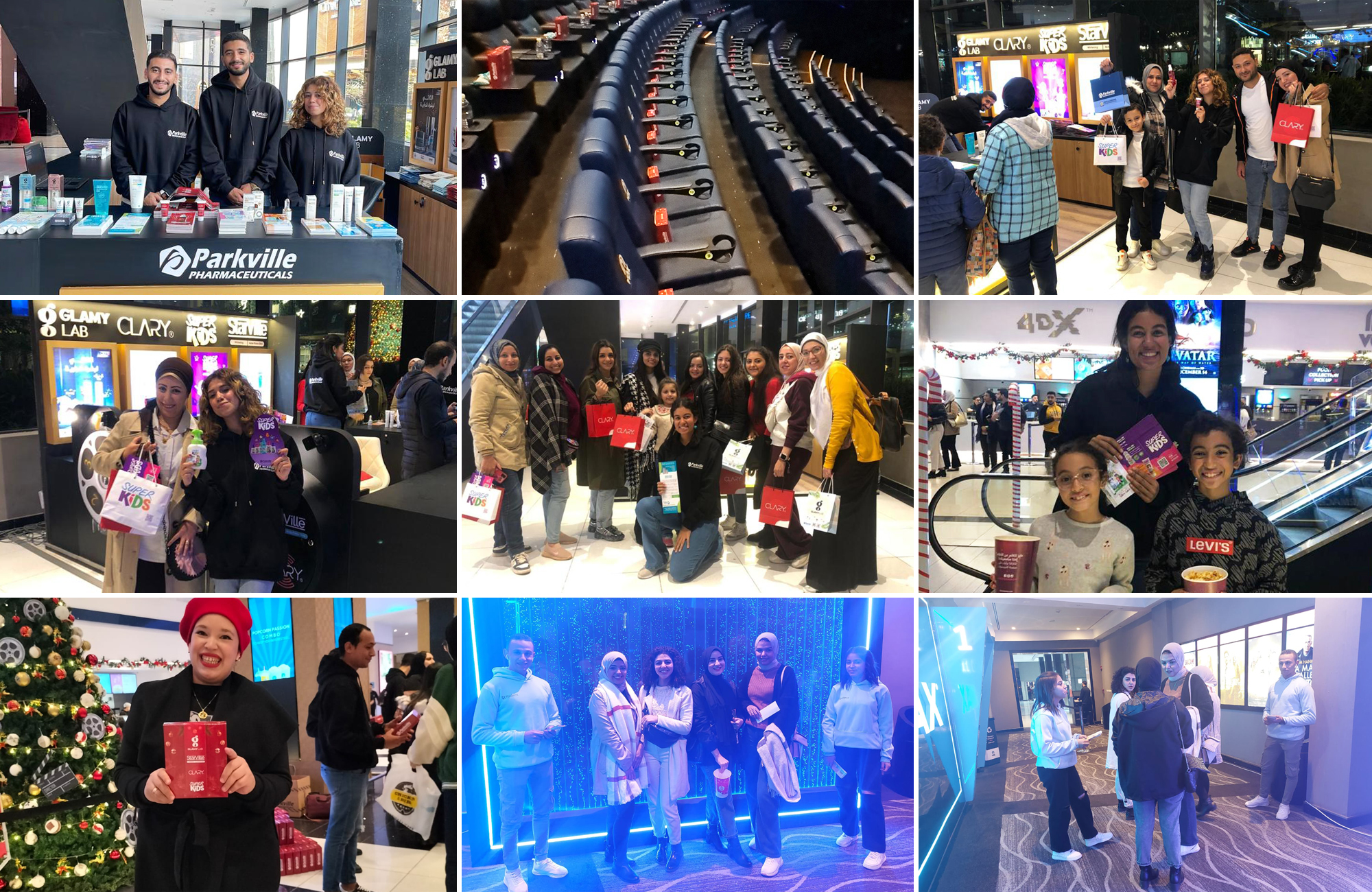 Amplify exposure for you brand with an integrated cinema campaign by capitalizing on creative and exciting promotional off screen opportunities, and complimenting it with an ad on the big screen.
Contact us for similar advertising opportunities across our cinema circuit in the GCC, Egypt and Lebanon.