AMC Cinemas Opens at Ajdan Walk in Al-Khobar
Newly opened Ajdan Walk is part of AMC Cinemas' ongoing strategy to develop the Kingdom's cinema sector under the Vision 2030 Quality of Life program. The Cinema offers 9 auditoriums providing an enjoyable luxury experience with advanced audiovisual technologies
AMC Cinemas, the first global cinema operator in the Kingdom, has opened a new location at Ajdan Walk in Al-Khobar.
It will provide a state-of-the-art cinematic experience in line with the high standards AMC Cinemas is already known for.
AMC Ajdan Walk  was officially inaugurated in presence of prominent personalities and media representatives on Wednesday, December 22. Guests watched an exclusive screening of newly released, The Matrix Resurrections, the fourth part of the Matrix series of films.
The new cinema offers 900 seats across nine auditoriums, including seven luxurious screens and two premium large formats, Dolby Cinema, which offers vibrant images and exceptional sound purity, and Prime, which evokes enthusiasm through amazing display technologies, sound systems with an immersive viewing pleasure, and luxurious reclining seats which provide the utmost comfort and relaxation.

Speaking on the occasion, Andrew Such, AMC Cinemas CEO said, "The opening is part of our ongoing strategy to provide an innovative cinematic experience for audiences throughout the Kingdom.  It also reflects our commitment to provide the highest international standards and ensure movie-goers' visits to our locations are an unforgettable experience."
"With the opening of AMC Ajdan Walk we continue to demonstrate our support for the Kingdom's Vision 2030 Quality of Life program which aims to enhance and grow the entertainment sector. It motivates us to continue our strategy to build and provide innovative cinemas across the Kingdom," he added.
CEO of Ajdan Development Company (Ajdan Walk Waterfront Operator) Eng. Mohammed bin Abdul Mohsen Al-Otaibi said, "We are proud of our cooperation with AMC Cinemas in opening the first independent Cinema theatre in the Kingdom. At the same time, we are looking forward to making this place one of the modern landmarks in Al-Khobar's first waterfront."
With the opening of AMC Ajdan Walk  in Al-Khobar, AMC Cinemas now operates 66 screens across 10 locations in the Kingdom with five in Riyadh and one in Jeddah, Al-Dawadmi, Hafr Al-Batin and Majmaah.
Contact us to advertise your brand on the screens of AMC Ajdan Walk  – AL Khobar.
Source: AMC Press Release.
Muvi Cinemas Opens at Mall of Dhahran in KSA
Muvi Cinemas celebrated the opening of its tenth and largest cinema location yet – Mall of Dhahran, on Thursday 15th October 2020.
The cinema is the first destination for movie lovers in the major administrative center for the Saudi oil industry – located in the Eastern province of KSA, and features 18 screens with a total of 2368 seats, including four unique cinema experiences: ScreenX, Dolby Cinema, Samsung Onyx and muvi SUITES.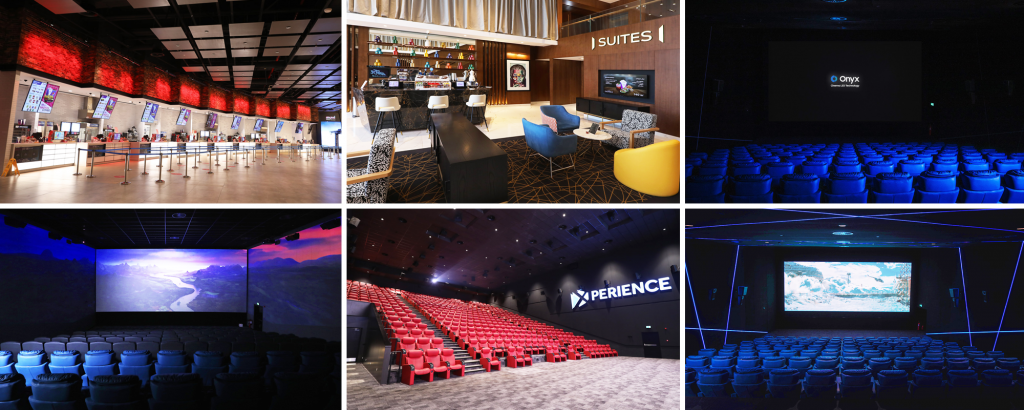 The new cinema was inaugurated by Dhahran Municipality Chief Eng. Mohammed Al Jassim and Sultan Alhokair, CEO of Muvi Cinemas, in the presence of representatives from the Quality of Life Program, Arabian Centers Company, General Commission for Audiovisual Media, social media celebrities, and media representatives. The opening also included a special screening of the 2020 American horror movie Antebellum to VIPs and invitees.
Commenting on the opening of the cinema at Mall of Dhahran, Mahmoud Mirza, Marketing Director of Muvi Cinemas, said: "It is extremely gratifying to introduce another advanced and luxurious cinema concept for our customers in Saudi Arabia. Entertainment has been an important part of the Saudi entertainment business, and it is our responsibility to continue to offer enhanced experiences to our customers."
He further added, "The new cinema complex which is considered as the largest in Saudi Arabia with its splendid aesthetics stands tall as one of the most advanced Muvi Cinemas in Saudi Arabia and we are excited for our customers to witness the captivating and immersive experience. We are certain that the newest Muvi Cinema in Dhahran Mall will be the next entertainment hub of the Eastern province."
More on Mall of Dhahran
Mall of Dhahran by Arabian Centres which opened in 2005, is one of the best malls in Saudi Arabia and a key destination in the triplet cities of Dhahran, Dammam, and Al Khobar. Spread across one floor spanning 160,647 SQM, the mall provides more than 400 stores, 70 eateries and a variety of entertaining activities, dedicated to creating a vibrant and unique environment for all its guests.
From small boutiques and high-end brand stores, to new retailers and international brands, the mall is home to popular brands such as: Adidas, DKNY, The Body Shop, Zara, New Yorker, Swatch and many more. In terms of restaurants and cafés, the variety of food offerings range from stylish and contemporary international brands, popular fast-food chains and coffee and cake shops.
To complement its shopping and dining facilities, the mall boasts not only the first home-grown cinema chain – Muvi Cinemas, but also the world's largest indoor playground – Billy Beez, and kids gaming and play center – Sparky's.
The mall is Arabian Centres' No. 1 mall in Saudi Arabia, with an occupancy rate of 94.6%, and its 2019 footfall was over 12.5 million.
As the official cinema advertising partner of Muvi Cinemas, Motivate Val Morgan congratulates the cinema exhibitor on the launch of Mall of Dhahran and warmly welcomes this new location to our cinema circuit in Saudi Arabia.
Contact us for cinema advertising opportunities at this new location.
Sources: Muvi Cinemas, Zawya, Mall of Dhahran and argaam