UAE Wins 21 Lions at The Cannes Lions Festival 2021
UAE creative agencies bag two gold, six silver and thirteen bronze lions at the recently concluded virtual Cannes Lions Festival 2021!
The Cannes Lions Festival 2021 drew to a close on Friday 25th June, which for the first time in history – due to the ongoing pandemic, took place online via the LIONS Live platform.
The UAE bagged 21 Lions in total for 2020 and 2021 – 2 Gold, 6 Silver and 13 Bronze Lions, across multiple categories, including newly introduced categories such as Sustainable Development Goals, Creative eCommerce and Creative Strategy.
This year's winning agencies from the UAE included Impact BBDO, Memac Ogilvy, FP7 McCann, TBWA\RAAD, Mullenlowe MENA and VMLY&R.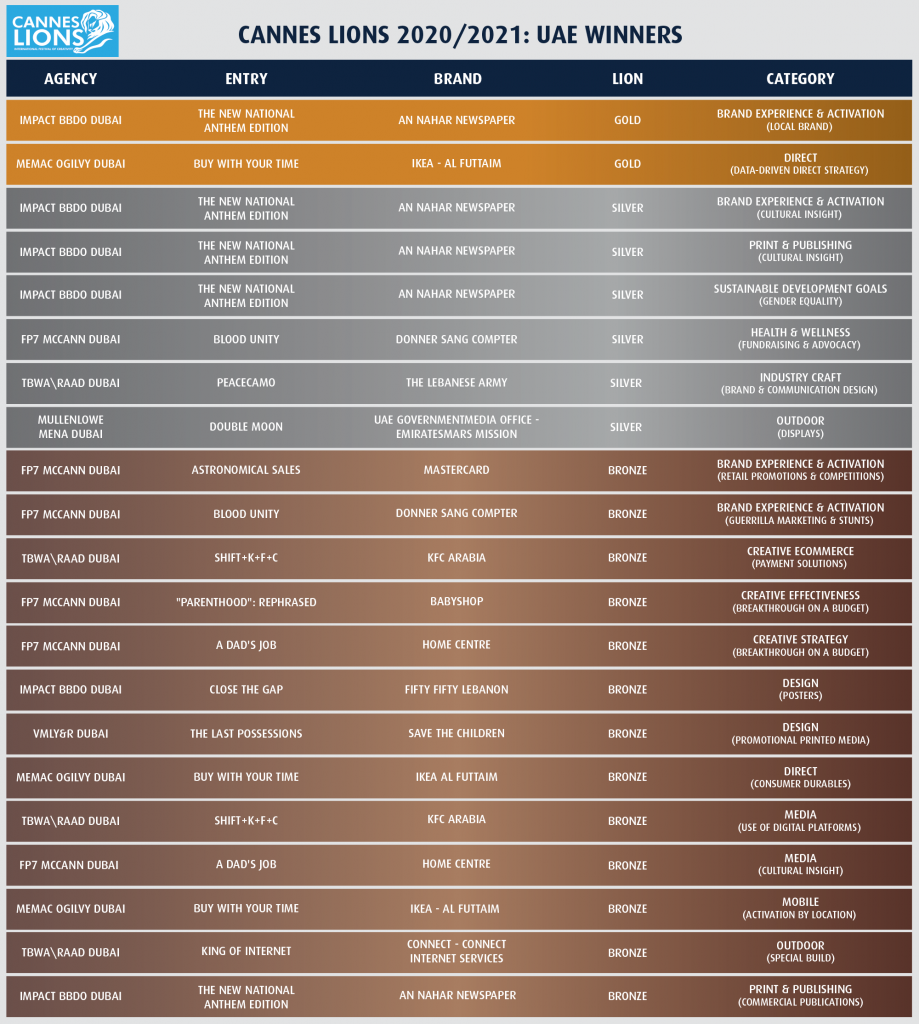 Addressing the Cannes Lions Live audience during the Awards Show, Simon Cook, Managing Director, LIONS, said, "Over the past five days we've seen the return of the global creative benchmark, and the winning work that sets the bar for the entire industry. We've seen inspirational talks, taken part in learning programmes, celebrated creative excellence through our Award Shows and Debriefs – and come together as a community, united in the belief that creativity has the power to build business, shape society, and change the world for the better."
2021 also witnessed 10 leading advertising and media professionals from the UAE represent the country as jury members at this year's Festival.
Paul Shearer (Chief Creative Officer, Impact BBDO Dubai), Jennifer Fischer (Chief Innovation Officer, TBWA\RAAD) and Dida Atassi (Design Director, Accenture Interactive Middle East) were part of the Awards jury across Industry Craft, Innovations and Design categories respectively, and joining them as Shortlist jury members were Asad Rehman (Director Media and Digital Transformation, Unilever MENA) for Media, Amy Brill (Head of PR, M&C Saatchi) for PR, Vidya Manmohan (Founder and Creative Chairwoman, V4 Advertising LLC) for Brand Experience & Activation, Serena Abi Aad (Head of Content, Havas Dubai) for Film, Akanksha Goel (Founder & CEO, Socialize) for Social & Influencer, Alex Pineda (Creative Director, TBWA\RAAD) for Direct and Fabio Silveira (General Manager, Havas Dubai) for Outdoor.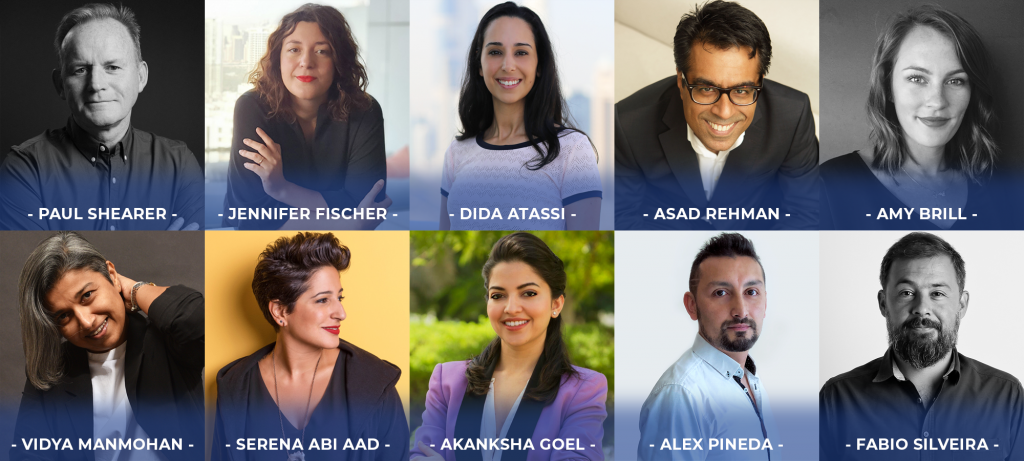 Running parallel to the Cannes Lions Festival are the Young Lions Competitions (for young creative below the age of 30 years) and Roger Hatchuel Academy (a mentorship programme for university students in the field of creative communications).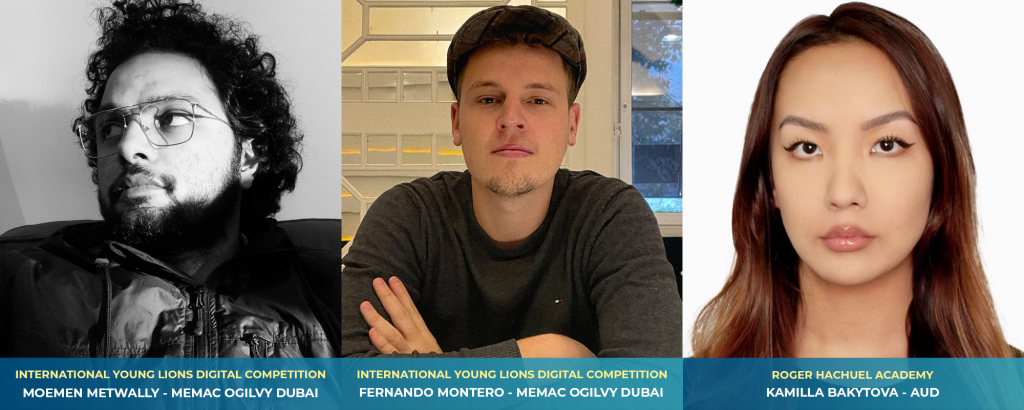 Having won Gold at the UAE Young Lions Digital Competition 2021, Moemen Metwally and Fernando Montero from Memac Ogilvy Dubai represented the UAE at the International Young Lions Digital Competition.
Kamilla Bakytova – a student at American University in Dubai (AUD), pursuing a Bachelor of Fine Arts in Visual Communication (majoring in advertising), was selected to represent the UAE at the prestigious Roger Hachuel Academy.
As the official UAE representatives of the Cannes Lions International Festival of Creativity, Motivate Media Group and Motivate Val Morgan warmly congratulates all winning agencies, jury members and both Young Lions and Roger Hatchuel Academy participants from the UAE, and look forward to yet another successful Festival in 2022.
Sources: Cannes Lions and Campaign Middle East
UAE Jury for Cannes Lions 2021 Announced
UAE Jury for Cannes Lions 2021 include Paul Shearer, Jennifer Fischer, Dida Atassi and seven other highly respected and award winning advertising and media personalities.
As the official representatives of the Cannes Lions International Festival of Creativity, Motivate Media Group and Motivate Val Morgan are pleased to announce that ten leading advertising and media professionals from the UAE have been selected as jury members for the 2021 Festival.
UAE jury members who will be on the Awarding and Shortlisting jury panel include:
Awarding Jury

Industry Craft Lions
Paul Shearer | Chief Creative Officer | Impact BBDO Dubai
Paul has always believed in bringing something different to the table.
His work for Guess Jeans, Nike, Audi and Levi's has won him respect and numerous advertising awards.
During his time at BBH, Paul had the opportunity to work collaboratively with clients, which contributed to his work being impactful and successful in the marketplace. Paul then decided to broaden his horizons globally and took a job at Wieden and Kenedy Amsterdam as the Creative Director. It was here that he had the chance to work on the Nike account.
Paul prides himself on understanding the digital world and has won 54 Cannes Lions (the most recent being a Grand Prix). When it comes to awards, Paul believes that winning a client some new customers is far more satisfying. Other awards won include 8 D&AD pencils, 15 One Show and 9 British Television awards.
Innovation Lions
Jennifer Fischer | Chief Innovation Officer | TBWA\RAAD
Always dissatisfied with the status quo, Jennifer spent years shaping the future of some of the most valuable brands in the world such as Coca-Cola, Apple, Ikea, KFC, Expo 2020, Facebook or Nissan.
Her role as Chief Innovation Officer MENA for TBWA\RAAD is to lead an always in beta transformation – harnessing the power of technology, strategy, collaboration, and creativity to re-imagine the way companies work, innovate and grow.
Her career milestones include many firsts from launching the first opera house in the region to communicating the first space mission from an Arabic nation or working on the first Apple campaign in MENA.
Her ideas have been published and shared by Forbes, Campaign Magazine, Communicate, Marketing Society, Arab Ad, Arabian Business among others.
Design Lions
Dida Atassi | Design Director | Accenture Interactive Middle East
An accomplished digital professional, Dida has spent 18 years developing compelling world-class experiences for global and local brands across telecommunication, banking, retail, lifestyle and government sectors. From ideation workshops to polished design deliverables, Dida places a particular focus on crafting unique, loveable products and services that resonate with local cultures. As an advocate of the user, Dida tries to help people see how digital can make life a little easier by designing simple and rewarding experiences.
Dida's skills include user experience design, interface design, service design, and digital strategy using tools such as prototyping, user research and design thinking workshops and methodology. She has a particular interest in studying local cultures and norms and how they impact design.
Shortlisting Jury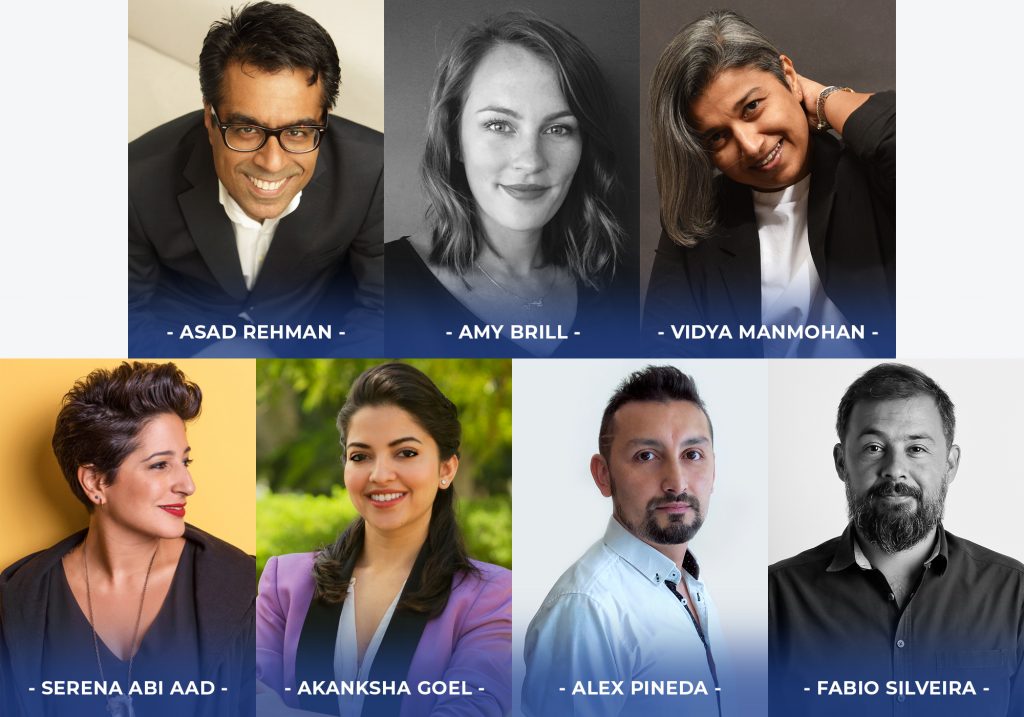 Media Lions
Asad Rehman | Director Media and Digital Transformation | Unilever MENA
Asad manages Unilever's Media & Digital Marketing Transformation for Middle & East North Africa. He also sits at the Unilever MENA/Turkey/Russia Board. He has been in Dubai since 2013, prior to which he spent 6 years at the Unilever HQ in London. Earlier on in his career, Asad worked for WPP/Group M in various parts of the world. He managed local offices in Pakistan and Vietnam, did a global role in London, and managed regional projects in Asia and LATAM.
Asad is an award-winning marketer with accolades from D&AD, Cannes Lions, WARC, Global Effie's, and Spikes, Lynx, Festival of Media, and MENA Effie's, and is passionate about bringing together technology, data, and creativity to help craft purposeful brands.
Asad was the Founding Chair of The Marketing Society Middle East Chapter from 2016 to 2018 and sits on the board of the IAA UAE. He was awarded The Marketing Society Fellowship in 2019 and was also the Effie's Marketer of The Year in 2018.
PR Lions
Amy Brill | Head of PR | M&C Saatchi
As M&C Saatchi Public Relations' market lead for the UAE, Amy is responsible for the overall direction of the team, creative work and business growth. An experienced PR professional, she has worked for some of the world's most recognisable brands across corporate and consumer sectors.
Amy has a BA Hons degree in Public Relations from Bournemouth University in the UK and started her career at BBC Worldwide before embarking on agency life, working for clients such as Rolls-Royce, Discovery, Hilton, Disney, PayPal and the British Embassy in both the UK and Middle East.
She established the M&C Saatchi Public Relations business in the UAE in 2017, aged just 27 and has been recognised by industry leaders as a Rising Star and Face to Watch. In the two years the agency has been running, Amy and her team have picked up gold and silver accolades at both the PRCA and MEPRA Awards.
Brand Experience and Activation Lions
Vidya Manmohan | Founder and Creative Chairwoman | V4 Advertising LLC
Vidya Manmohan is the Founder & Creative Chairwoman of V4 Good and Ex-Executive Creative Director of GREY Dubai.
She also happens to be one among the rare breed of female Executive Creative Directors in the region today, celebrated for having travelled off the beaten track, across the span of her career – from walking out of the gates of medical school to pursue a career in Advertising and switching from Art direction to copywriting mid-way through her successful career.
What's more, this mom of a University student has gone back to University herself to pursue her Master's in Digital Management, whilst having successfully launched a new-age communication hub.
Her work reflects the pop culture around her and has bagged International awards, not only in the print and outdoor categories, but also in radio, design, digital, integrated and advertising for good.
Vidya has also been on the jury panel of International Advertising Festivals such as Cannes Lions, New York Festivals, Clio, Adfest, Lisbon Advertising Awards, The White Square and the Young Guns to name a few.
Film Lions
Serena Abi Aad | Head of Content | Havas Dubai
Serena is an award winning film director whose short films have travelled international festivals across the Middle East, Europe and Canada.
As a passionate storyteller, her professional journey has been diverse and always centered around storytelling.
She spent most of her twenties on film sets, learning every job in a film crew. She then decided to understand the ad world better and became a TV producer at Leo Burnett, where she worked on films for DSF, Chevrolet and Hummer, among others.
Following her time at Leo Burnett, she worked with MBC as writer, producer and director of a first of its kind reality TV show. In 2012, she joined Yahoo as branded content manager and supervised multiple video content productions for brands such as P&G and DSF.
She had her own content production house for a couple of years, before joining Havas DXB as Head of Content.
She is currently Creative Director at Havas DXB, telling stories for clients such as FAB, Barakat, Veet and Durex.
Social & Influencer Lions
Akanksha Goel | Founder & CEO | Socialize
A digital marketing pioneer, Akanksha Goel is the founder of Socialize; Middle East's first dedicated social media agency.
Akanksha started her career at the age of 20, as the youngest ever Editor-in-chief for STUFF Magazine. She gained experience working across India & Singapore, where she was at the forefront of the Web2.0 revolution and helped organise Asia's first-ever pod-camp. She then moved to Dubai amidst the region's economic crisis, and in 2010 created Socialize to harness the untapped business potential of then-emerging social networks.
In her current role as Managing Director, she is actively involved in driving business growth, leading team development and overseeing the strategic mandate across the agency's coveted client roster that includes iconic brands like Dubai EXPO 2020, Volkswagen, Sony, General Mills & Bioderma.
An executive graduate from Harvard Business School; she holds a business degree in Marketing Communications from Singapore Management University. Nominated as Emirates Woman of the Year and named to Holmes Report's Innovator 25 list in 2018, Akanksha is widely recognized as a business influencer, speaker, and a reference for social media in the Middle East.
Direct Lions
Alex Pineda | Creative Director | TBWA\RAAD
Alex Pineda was born in Bogotá, Colombia, and English and Spanish speaker and Crazy about football. He is also a museum hunter, napkin illustrator and comic book artist who has travelled to 5 continents, 77 countries, hundreds of cities, and explored many cultures.
He holds a Master's degree in 'Creativity and Strategic Management of Advertising' from the European Institute of Design in Barcelona, Spain; Specialist in 'Advertising Management' from the Jorge Tadeo Lozano University of Bogotá, Colombia; and graduated as a 'Professional in Graphic Design' from the same university.
Alex has been awarded at Cannes Lions, Cannes Young Lions, D&AD, One Show, Clio, Dubai Lynx, LIA London International Awards, New York Festivals, Loeries, Webby Awards, Effies, Epica, Cresta, Ojo De Iberoamérica, Festival El Dorado and 'Lápiz de Acero' (National Design Award of Colombia).
He was also elected as 'Associate Creative Director of the Year' for the Middle East and North Africa, by the 'Black & White Report' in 2018; the Number 1 Creative Copywriter in the UAE by 'Lürzer's Archive' Magazine in 2017, 2018 and 2019, and one of the "Best Colombian expats around the world" by the Ministry of Foreign Affairs of Colombia and the Embassy of Colombia in Abu Dhabi in 2020.
Outdoor Lions
Fabio Silveira | General Manager | Havas Dubai
Fabio has been in leadership positions on strategy and client services in creative agencies for the past 10 years.
His experience spans 15 years and 5 continents – with regional and global responsibilities in Brazil, Portugal and Dubai.
He's currently responsible for the operations of Havas Creative in Dubai, encompassing Client Services, Strategy, Creative, Social Media, Content and Production.
Cannes Lions 2021 will mark the highest ever representation from global brands, platforms, entertainment and technology companies, bringing a breadth of expertise to the Lions awards.
Furthermore, for the first time ever, the number of female jurors too reaches 51%, up from 48% in 2019.
Cannes Lions 2021 will be fully digital, running as Cannes Lions Live, from 21-25 June. Due to the ongoing pandemic, the event in Cannes, France, will not take place this year. Further information on the Lions can be found at Cannes Lions Awards.
We at Motivate Media Group and Motivate Val Morgan warmly congratulate these ten highly respected and award winning advertising and media personalities from the UAE who will be part of the jury panel at this year's Cannes Lions Festival, and wish them all the very best with the judging ahead.
Get Ready for LYNX Live
From 5-7 October 2020, LYNX Live comes to LIONS Live, bringing together talent from across the world to talk about what's next for creativity in MENA.
Now, more than ever, the importance of creativity is fundamental. LYNX Live will provide a platform for the industry to collaborate, learn and be inspired by MENA focused content.
Enjoy a daily programme of original series, creative conversations, debates and interviews in a beautifully produced magazine show format. It is open and freely accessible to the whole advertising communications industry, with content for the young Lynx community, as well as agency and brand leaders.
What's On:
KEYNOTES
In-depth talks and discussions presenting fresh thinking on topical issues which will both inspire and challenge MENA's creative industry.
LYNX STORIES – MY CREATIVE JOURNEY
MENA's greatest storytellers and creative stars share lessons from, and secrets behind, a long-lasting career in creativity. Success stories with their own uniquely creative spin.
MENA, WHAT'S NEXT?
Diverse thinkers share thoughtful and provocative future scenarios – based on science, data, insight and their own ideas on what will matter most in the years to come.
MARKETERS FROM MENA
How to manage remote leadership in lockdown? Will the world of marketing in the MENA region change forever? What keeps the brand leaders in the region awake at night? These are some of the talking points the 'Marketers from MENA' series explores.
LYNX SHORTS
Extraordinary brands, agencies and people talk about creativity. Surprising and original, these films showcase some of the region's finest minds and the sharpest thinking in the industry.
The LYNX Live Debate
Industry leaders come together to figure out what's next. We tackle a hot topic affecting MENA's creative community, with perspective from important people across the business of creativity.
The Talent:

The schedule is being confirmed and will be released soon, in the meantime here are just a few of the confirmed speakers:
Ali Rez, Regional Executive Creative Director, Middle East and Pakistan Impact BBDO
Vidya Manmohan, Ex-ECD, GREY Dubai
Kalpesh Patankar, CCO, VMLY&R, MENA
Asad Rehman, Unilever
Zainab Salbi, Humanitarian, Author, and Media Personality
Christine Harb, VP Marketing CEMEA, VISA
How to Register:
Register on the LIONS Live platform where LYNX Live will be streamed. You can use your existing Dubai Lynx account details to log in to LIONS Live. Otherwise, you will need to create a new account.
Click here to register
Visit Dubai Lynx for more information: www.dubailynx.com
Sources: Cannes Lions and Dubai Lynx
UAE Jury Members for Cannes Lions Festival 2019 Announced
As the official representatives of the Cannes Lions International Festival of Creativity, Motivate Media Group and Motivate Val Morgan are pleased to announce that seven leading advertising professionals from the UAE have been selected as jury members for this year's Festival.
The seven leading advertising professionals who will represent the UAE in the Awards and Shortlist jury panel under Print & Publishing, Design, Glass: The Lion for Change, Media, PR, Direct and Brand Experience & Activation categories include:
Awards Jury
Print & Publishing:
Fouad Abdel Malak
Executive Creative Director
TBWA\RAAD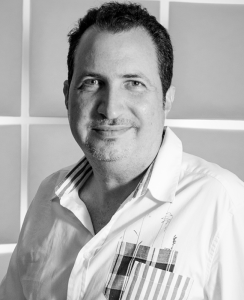 With over 18 years of experience in the region, Fouad is currently serving his second stint at TBWA\RAAD in Dubai as Executive Creative Director, after holding the creative helm at BBDO Dubai for 4+ years.
His career highlights include key business wins and leading some of the most awarded teams in the region, as well as working on sought-after brands such as: Nissan, Louvre Abu Dhabi, KFC, Pepsico, Emirates Airlines, MARS, du, GE, among other notable names.
Fouad drives business results, winning: multiple Grands Prix from Integrated to Direct, and Golds' at major award shows on SCB, Nissan, Domino's, MARS, Louvre Abu Dhabi, MTV, and many others from Cannes Lions to the Dubai Lynx and beyond.
He's a 'Disruptor' by nature and is most passionate about integrated ideas centered around innovation. Not only was Fouad named 2019 Executive Creative Director of the Year in the MENA Region – according to the official B&W 2019 Report, but was also ranked 8th worldwide according to The Big One Rankings.
Design:
Vidya Manmohan
Executive Creative Director
Grey Group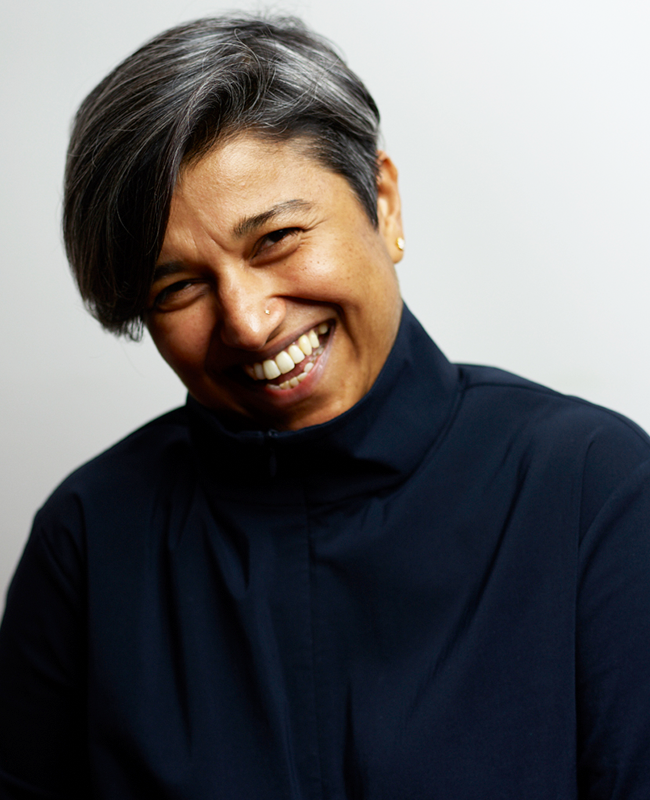 From walking out of the gates of medical school and entering an Art campus, to switching from art direction to copywriting half way through her advertising career, Vidya has constantly followed her passion.
After four decades in Dubai and having witnessed sand dunes transform in to skyscrapers, this charming young lady from India, proudly says she's 'Made in Dubai'.
Her work reflects the culture around her, be it the awards won in Radio, Print, Design, Outdoor, Integrated or Advertising for Good.
Vidya has been on the Jury of International Award Festivals that include: Clio, NewYork Festivals, Lisbon Ad Fest and recently was also a part of the Young Guns and Adfest, and says she learns as she shares her knowledge.
When asked on how she copes with advertising, this mom of an 18-year old, smilingly adds, "You don't teach a mom how to cope."
Glass – The Lion for Change:
Ali Rez
Regional Executive Creative Director – Middle East & Pakistan
BBDO Worldwide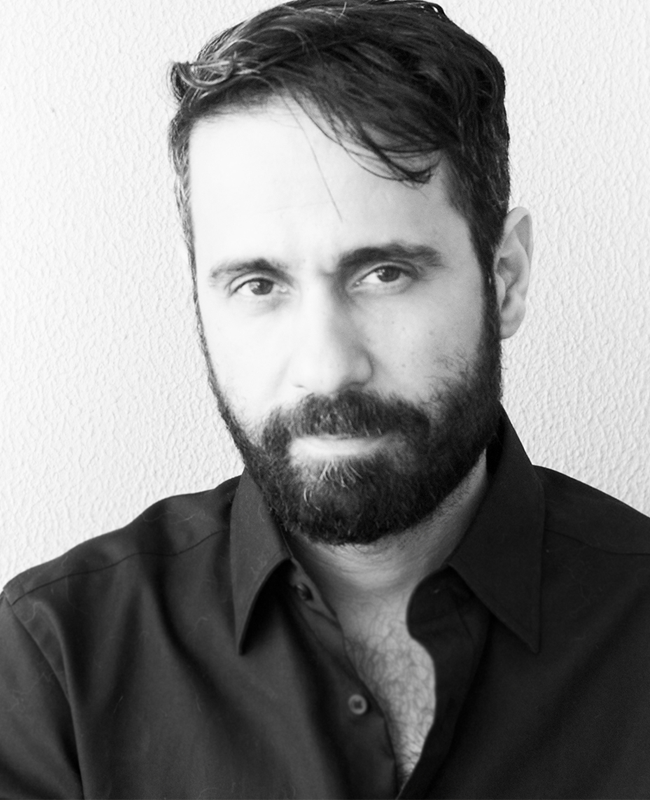 Ranked amongst the Top 15 Creative Directors and the Top 10 Art Directors in the world by the Big Won Report, and named the 2018 South Asian Creative Person of the Year by Campaign Magazine, Ali is one of the most awarded ECD's in the Greater Middle East region.
Ali has won more than 350 accolades in his career which include multiple Gold Cannes Lions, Gold Clios, D&AD pencils, Gold Effies, One Show pencils, a United Nations peace award, and the honor of setting a record of winning 4 Grands Prix for one campaign at Dubai Lynx.
His creative experience – shaped in the USA at Y&R and Goodby Silverstein Collaboratory and followed by a move to the Middle East, has contributed to BBDO being named Network of the Year at Cannes Lions, Effies, Dubai Lynx, Spikes Asia and AdStars, and Impact BBDO being named Agency of the Year at Dubai Lynx 2019.
Ali has lectured at Oxford University, exhibited at Tate UK, spoken at TEDx, traveled to 122 countries, and captained a county cricket team in the USA. He actively volunteers to fight for gender equality, and has won the inaugural Glass awards at both Dubai Lynx and Spikes Asia.
Please Note: Awards Jury members will join the jury committee in Cannes, France and will receive a complimentary pass to the Festival along with their accommodation paid for in full.
Shortlist Jury
Media:
Tarek Daouk
CEO
Dentsu Aegis Network MENA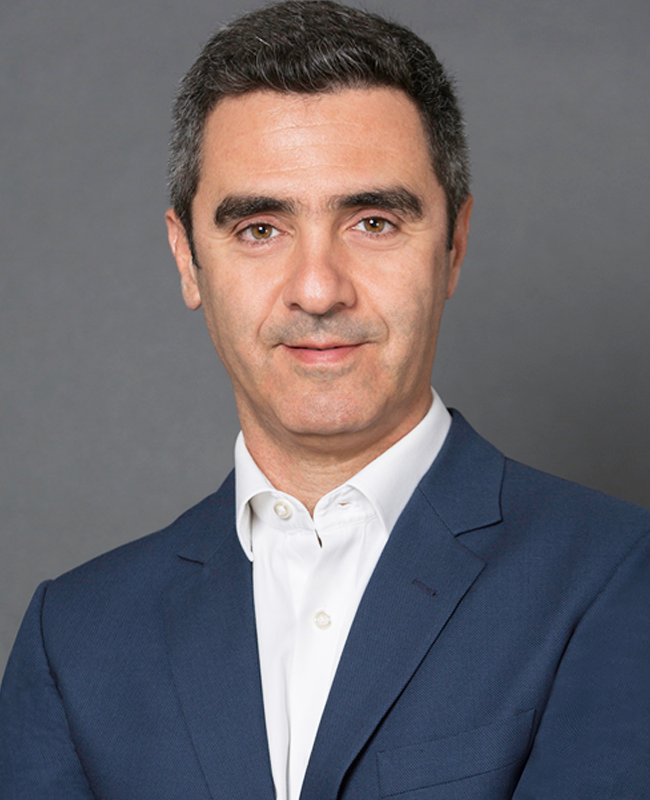 Tarek has been at the centre of innovation in media, content, and digital media in the Middle East and North Africa (MENA) for almost two decades. He built Starcom Mediavest Group into an early leader in the space, launched innovative new business models such as the content agency LiquidThread and landed Cannes Lions and numerous other awards.
Throughout his career he has amassed a wealth of industry experience, working with a number of blue-chip advertisers including GSK, GM, Mars, Mondelez, P&G, Samsung and Visa.
Today, Tarek is committed to supporting advertisers with their businesses in the region by building a next generation agency – focused on the convergence of creative, media, data, and commerce and which enables the design of unique experiences for consumers.
PR:
Valerie Tan
Vice President – Public Relations, Social Media and Internal Communications
Emirates Group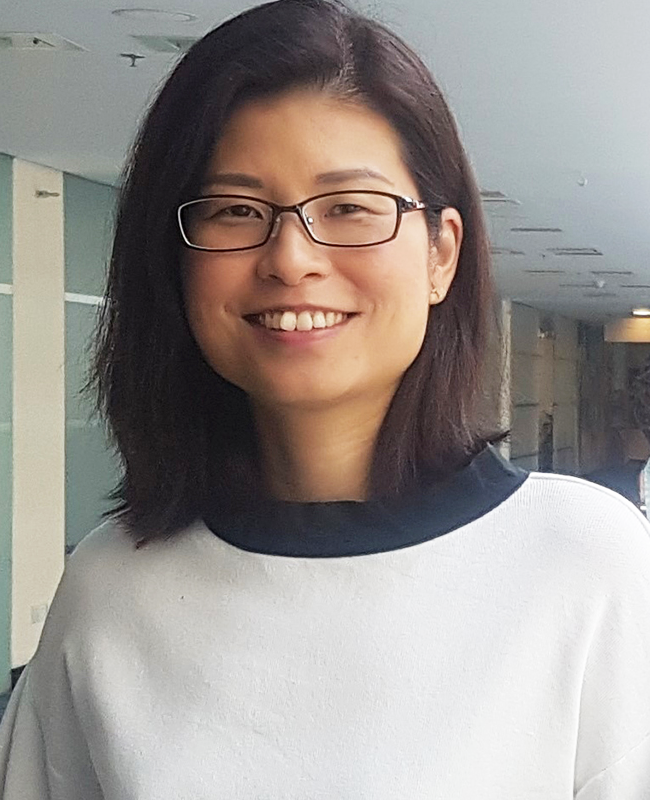 With 18 years of experience in communications, Valerie has held leadership roles in-house and at a global PR agency in Singapore.
Based in Dubai, she leads an in-house team of 30 professionals, overseeing a support network of over 80 agencies in the implementation of internal and external communications activity for Emirates Group – which comprises the global airline Emirates, the air services provider dnata, and over 100 subsidiaries. The Group employs more than 100,000 employees with operations in over 80 countries on six continents.
Prior to her current role, Valerie worked at a large communications agency in Singapore, leading its healthcare practice, select corporate accounts as well as media skills training and crisis communications.
Valerie was recognised in the Holmes Report Top 100 Most Influential In-house Communicators in 2018, and received an Individual Achievement Sabre Award the same year.  She was also recognised in the inaugural PRWeek Middle East Power Book. She most recently served on the jury for the 2018 MEPRA Awards.
Direct:
Dhruv Warrior
Associate Creative Director
VMLY&R Dubai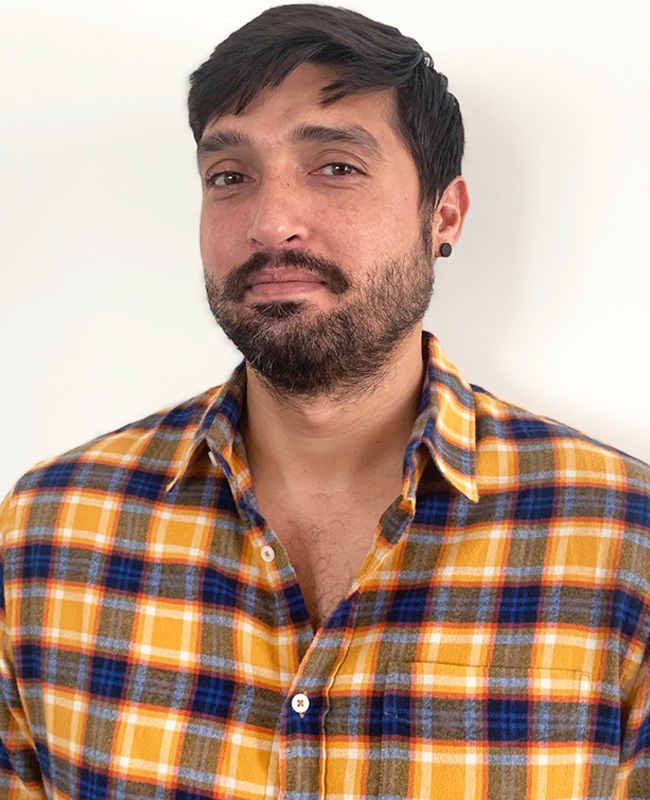 Dhruv spent a little over 7 years working for JWT Bangalore in India – first two years in client servicing followed by a switch to the creative side, before moving to VMLY&R Dubai in 2015.
His time at JWT saw him work on brands across a multitude of categories. He has diverse work experience spreading across different brands and categories such as United Breweries, Google, ING, Levi's, Van Heusen and Parikrma Humanity Foundation to name a few. His major successes came on his work for Nike, as he was instrumental in the execution of the 'Bleed Blue' and 'Make Every Yard Count' campaigns which were awarded at multiple global award shows including Cannes Lions, Clio's, One Show, and D&AD. The 'Make Every Yard Count' campaign was named in the Top 20 films globally by the Gunn Report in 2015 and the Top 10 films & Top 10 digital campaigns in 2014 by the Big Won report.
While at VMLY&R, Dhruv has worked on the agency's key brands which include Mall of the Emirates, Mashreq Bank, Nando's, American Garden, UNHCR, Dubai Font, General Mills and more.
He has been an essential part of a team whose work has been recognised by international and regional award shows and has helped VMLY&R EMEA gain regional and global recognition – which includes Regional Network of the Year in 2017 and No. 3 globally in Industry Craft at Cannes Lions.
Dhruv has won awards at Cannes Lions, Clio's, Spikes, One Show, D&AD, Adfest, The Effies, Goafest and Dubai Lynx. He was named in the 2014 list for Top Copywriters in the World by the Big Won report and was also listed in the Top 30 Under 30 Hot Young Creatives in 2014 by Economic Times.
Brand Experience & Activation
Marie Claire Maalouf
Creative Director
Impact BBDO Dubai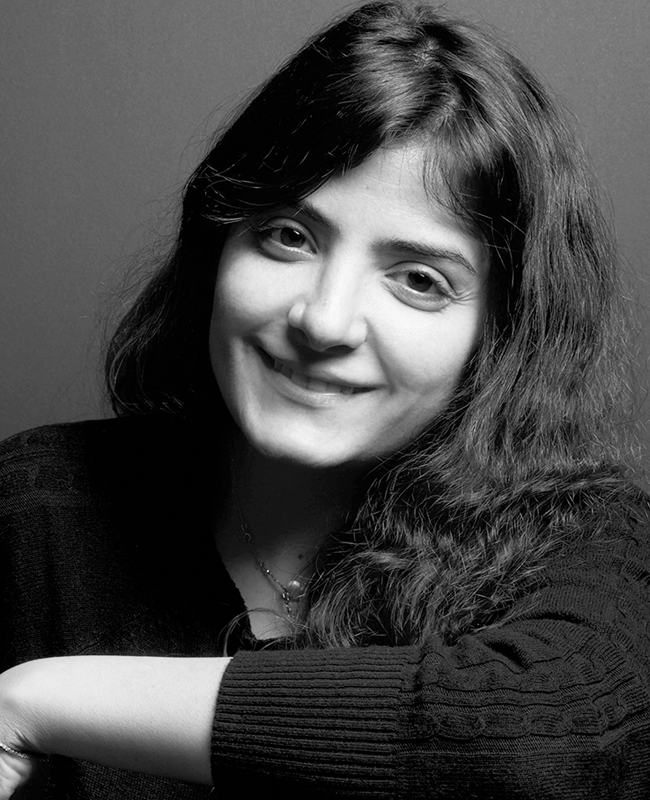 Marie-Claire holds a Master's degree in Creative Advertising and a Bachelor's degree in 2D/3D Animation from the Lebanese Academy of Fine Arts. Graduating top of her year in 2005, she received an excellence award and was offered an internship in France at the ENSAD — École Nationale Supérieure des Arts Décoratifs.
During her diploma presentation in 2006, where leading advertising agencies were invited, she was offered to join the Impact BBDO group and has been with them for over a decade, working on their wide range of global brands including Mars, PepsiCo and Johnson's.
Her work has been recognised at Dubai Lynx, Adfest, Global Cristal Festival, MENA Cristal, Effies and Cannes Lions — she has even hugged a real lion.
Please Note: Shortlist jury members will conduct the first round of judging in advance of the festival – from the UAE, and will be invited to attend the Festival with a complimentary pass.
This year's Cannes Lions International Festival of Creativity will run from 17th – 21st June 2019.
We at Motivate Media Group and Motivate Val Morgan warmly congratulate the seven judges who will represent the UAE as awards and shortlist jury members at this year's Cannes Lions Festival, and wish them all the very best with the judging ahead.