UAE Wins 21 Lions at The Cannes Lions Festival 2021
June 29, 2021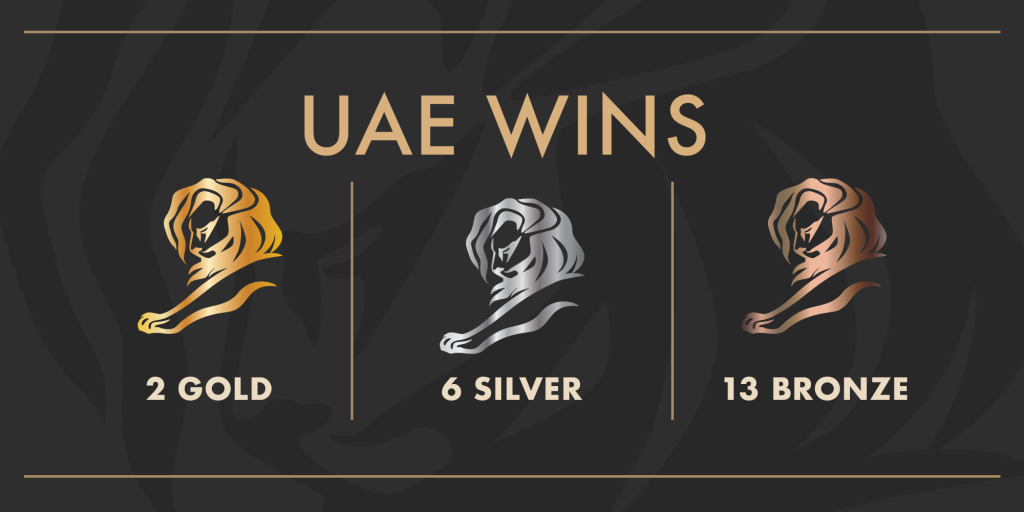 UAE creative agencies bag two gold, six silver and thirteen bronze lions at the recently concluded virtual Cannes Lions Festival 2021!
The Cannes Lions Festival 2021 drew to a close on Friday 25th June, which for the first time in history – due to the ongoing pandemic, took place online via the LIONS Live platform.
The UAE bagged 21 Lions in total for 2020 and 2021 – 2 Gold, 6 Silver and 13 Bronze Lions, across multiple categories, including newly introduced categories such as Sustainable Development Goals, Creative eCommerce and Creative Strategy.
This year's winning agencies from the UAE included Impact BBDO, Memac Ogilvy, FP7 McCann, TBWA\RAAD, Mullenlowe MENA and VMLY&R.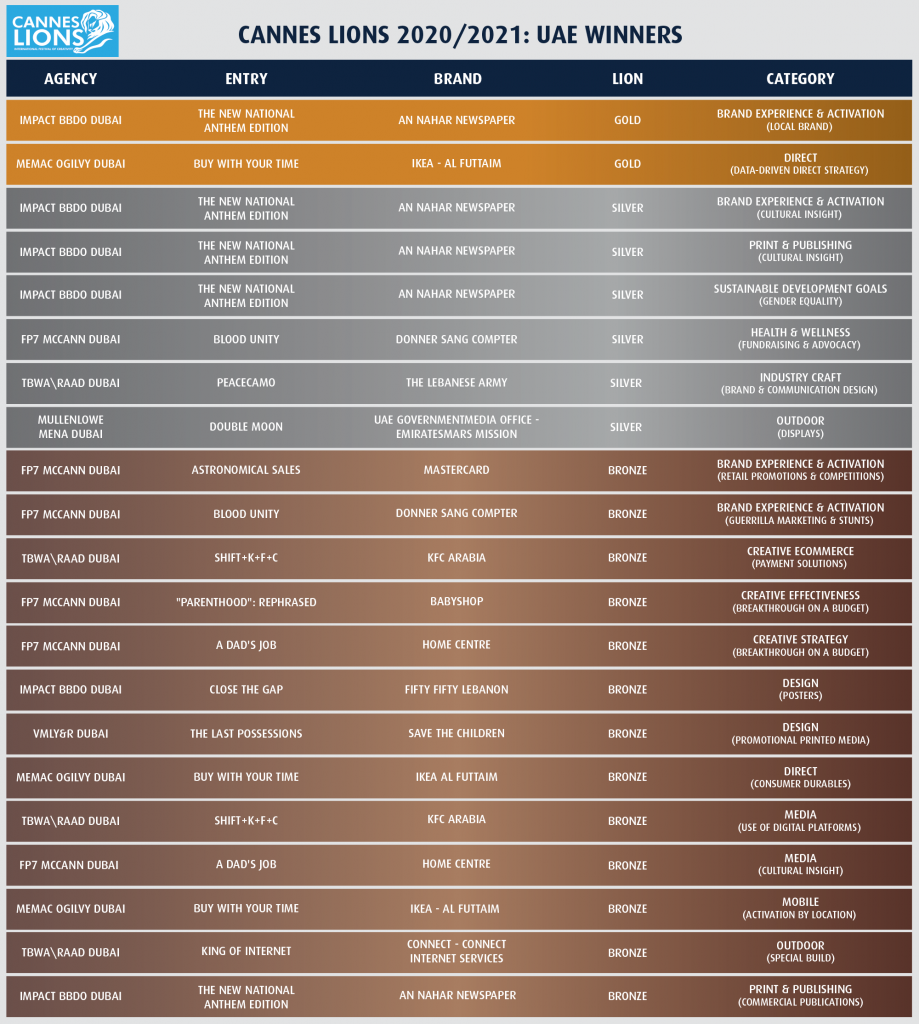 Addressing the Cannes Lions Live audience during the Awards Show, Simon Cook, Managing Director, LIONS, said, "Over the past five days we've seen the return of the global creative benchmark, and the winning work that sets the bar for the entire industry. We've seen inspirational talks, taken part in learning programmes, celebrated creative excellence through our Award Shows and Debriefs – and come together as a community, united in the belief that creativity has the power to build business, shape society, and change the world for the better."
2021 also witnessed 10 leading advertising and media professionals from the UAE represent the country as jury members at this year's Festival.
Paul Shearer (Chief Creative Officer, Impact BBDO Dubai), Jennifer Fischer (Chief Innovation Officer, TBWA\RAAD) and Dida Atassi (Design Director, Accenture Interactive Middle East) were part of the Awards jury across Industry Craft, Innovations and Design categories respectively, and joining them as Shortlist jury members were Asad Rehman (Director Media and Digital Transformation, Unilever MENA) for Media, Amy Brill (Head of PR, M&C Saatchi) for PR, Vidya Manmohan (Founder and Creative Chairwoman, V4 Advertising LLC) for Brand Experience & Activation, Serena Abi Aad (Head of Content, Havas Dubai) for Film, Akanksha Goel (Founder & CEO, Socialize) for Social & Influencer, Alex Pineda (Creative Director, TBWA\RAAD) for Direct and Fabio Silveira (General Manager, Havas Dubai) for Outdoor.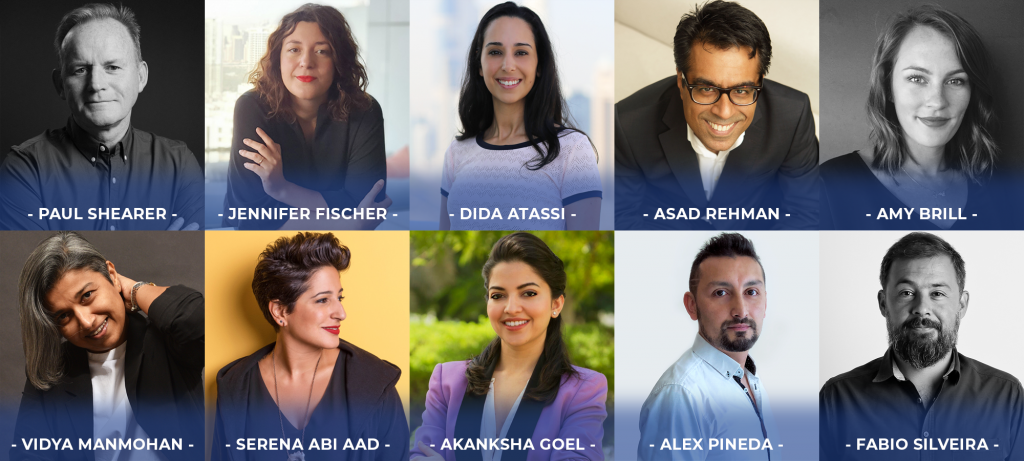 Running parallel to the Cannes Lions Festival are the Young Lions Competitions (for young creative below the age of 30 years) and Roger Hatchuel Academy (a mentorship programme for university students in the field of creative communications).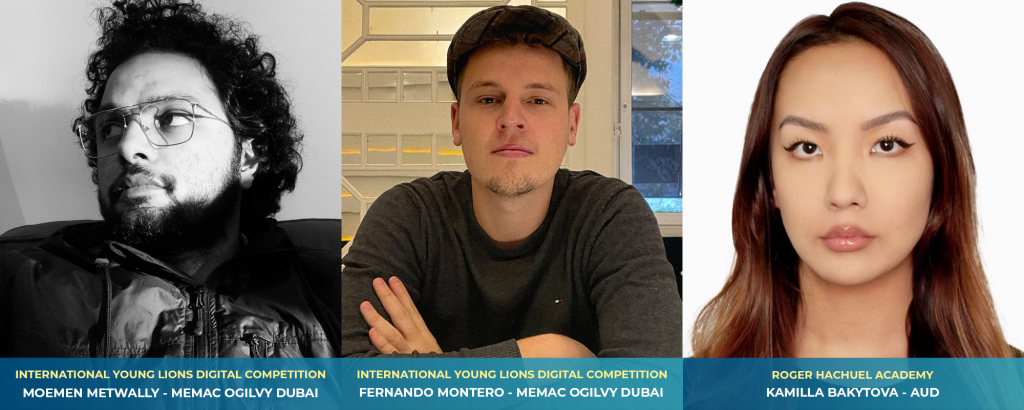 Having won Gold at the UAE Young Lions Digital Competition 2021, Moemen Metwally and Fernando Montero from Memac Ogilvy Dubai represented the UAE at the International Young Lions Digital Competition.
Kamilla Bakytova – a student at American University in Dubai (AUD), pursuing a Bachelor of Fine Arts in Visual Communication (majoring in advertising), was selected to represent the UAE at the prestigious Roger Hachuel Academy.
As the official UAE representatives of the Cannes Lions International Festival of Creativity, Motivate Media Group and Motivate Val Morgan warmly congratulates all winning agencies, jury members and both Young Lions and Roger Hatchuel Academy participants from the UAE, and look forward to yet another successful Festival in 2022.
Sources: Cannes Lions and Campaign Middle East
Related Articles:
UAE Jury for Cannes Lions 2021 Announced
Memac Ogilvy Wins Gold at the UAE Young Lions Digital Competition 2021
Impact BBDO Dubai Wins Seven Lions at Cannes Lions 2019
UAE Triumphs at Cannes Lions 2018