VOX Cinemas Launches at Doha Oasis in Qatar
July 13, 2021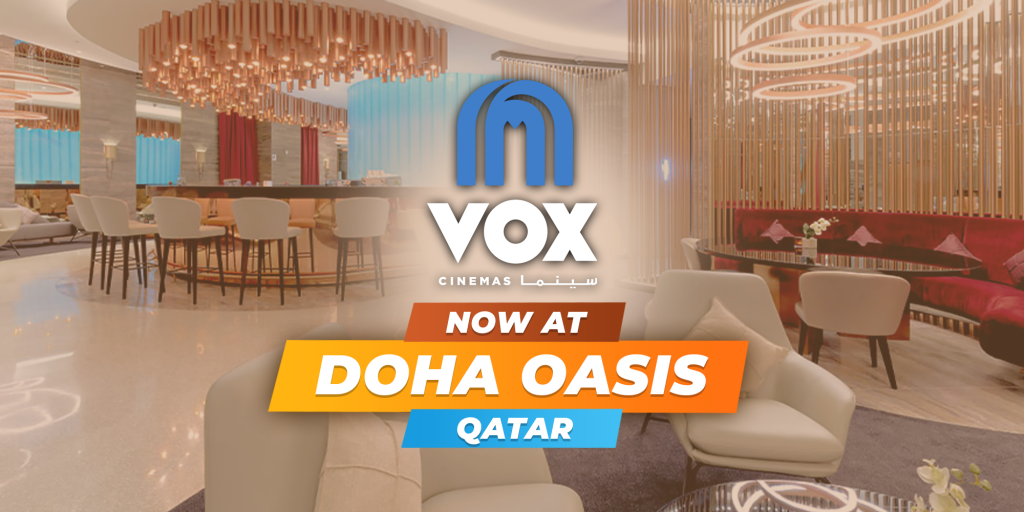 VOX Cinemas opens Qatar's most luxurious cinema at Doha Oasis.
VOX Cinemas launched its second location in Qatar at Doha Oasis on 1 July 2021. The 19-screen cinema with a total of 1,239 seats includes five luxury auditoriums- four VIP and one VVIP, allowing cinemagoers to sit back and relax in reclining leather seats while enjoying in-seat dining, as well as signature VOX concepts such as 4DX and Kids.
Guests can also enjoy gourmet cuisine in the private dining room or indulge in their favourite cinema snacks at the Candy Bar. The new state-of-the-art multiplex is integrated with Yalla! Bowling, which will have eight lanes and feature the most advanced digital score keeping computers and video simulations. This underpins VOX Cinemas' commitment to provide families with unrivalled and customer-focused entertainment concepts.
Fadi Kahal, Regional Manager, VOX Cinemas said, "VOX Cinemas Doha Oasis is taking the luxury cinematic experience to the next level with the ultimate VIP concept and an exceptional offering that caters for the whole family. The all-encompassing entertainment destination is in line with our commitment to innovate and introduce world-class entertainment options that go beyond guests' expectations. We are very excited to welcome new guests and create great moments together at our latest offering in Qatar."
VOX Cinemas Doha Oasis has implemented an all-encompassing sanitisation and physical distancing plan to ensure that guests can have an exceptional experience with added comfort and peace of mind.
The cinema exhibitor presently operates 37 screens across 2 locations in Qatar, and 600+ screens across 50+ locations in 8 countries across the MENA region.
Motivate Val Morgan warmly congratulates VOX Cinemas on the opening of Doha Oasis and welcomes this new location to our regional circuit.
Contact us to advertise your brand on the screens of VOX Cinemas – Doha Oasis.
Source: VOX Cinemas (Press Release)
Related Articles:
VOX Cinemas Launches at The Spot – Sheikh Jaber in Riyadh
VOX Cinemas Launches at Hail Square in Saudi Arabia
VOX Cinemas Launches at Wafi City in UAE