VOX Cinemas Opens at Mall of Oman in Muscat
September 7, 2021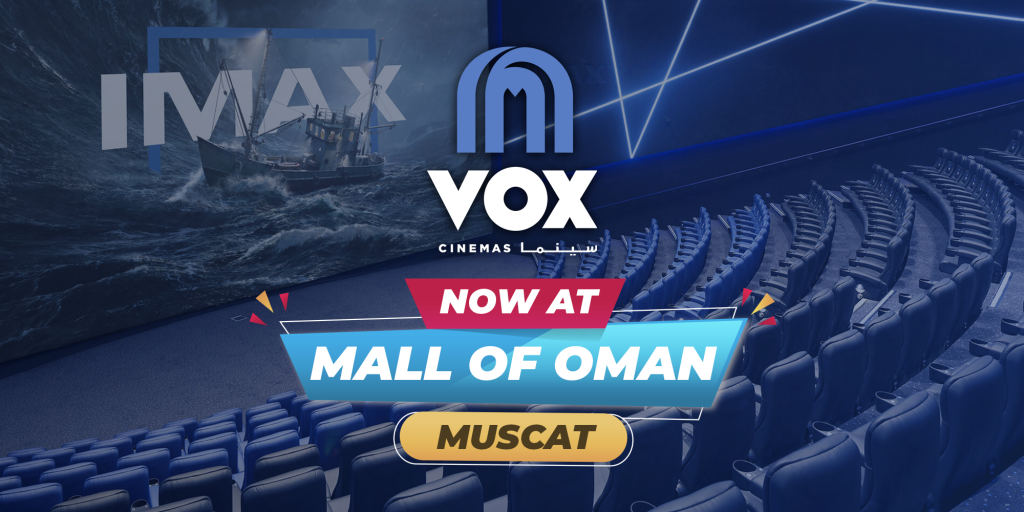 VOX Cinemas – Mall of Oman is the largest cinema in the Sultanate.
The cinema features 3 Gold cinemas – the cinema exhibitor's first luxury cinema offering in Oman
VOX Cinemas opened its largest cinema in Oman at the newly launched Mall of Oman in Muscat on 1st September 2021. The 15-screen cinema, with a total of 1471 seats, features IMAX, Gold and Kids concepts.
The three Gold cinemas at VOX Cinemas – Mall of Oman is the cinema exhibitor's first luxury offering in the Sultanate, with an adjoining VIP Lounge offering moviegoers a luxurious and diverse menu of popular and modern flavors presented in signature VOX style.
In addition to refreshment counter favourites such as popcorn, nachos and hotdogs/burgers, cinemagoers of VOX Cinemas – Mall of Oman can also indulge at the Nutella Bar and Kitchen 35 – a bakeshop with artisan breads, pastries and fresh juices.

Mall of Oman is home to a host of brands including a 9,000 square meter Carrefour Hypermarket and several brands from Landmark Group (Max Fashion and Centrepoint), Majid Al Futtaim (Hollister), Al Futtaim Group (Marks & Spencer) and Apparel Group (LC Waikiki, R&B and SMYK).  Other famous outlets at the mall include DKNY, Nespresso, G-SHOCK, Homes R Us, Tavola and Al Khalili Buildex. The mall also features a 1,000 plus seater food court which offers a selection of global chains. For patrons looking for more indulgent cuisine options from across the globe, the mall will soon feature various cafés and restaurants, including over 50 dining options.
80% of Mall of Oman's gross leasable area is leased and the mall is set to welcome over 300 additional retail outlets in the coming months. The mall will also feature the largest indoor snow park in the Sultanate next year, spanning over 14,000 square meters.
VOX Cinemas presently operates 78 screens across 14 locations in 6 cities of Oman.
As the official cinema advertising partner of VOX Cinemas, Motivate Val Morgan congratulates the exhibitor on the opening of its largest cinema in the Sultanate of Oman, and warmly welcomes this new location to our regional cinema circuit.
Click here to book your tickets at this new cinema, and contact a member of our sales team for cinema advertising opportunities on the screens of VOX Cinemas – Mall of Oman.
Sources: Majid Al Futtaim (Press Release) and Arabian Business
Related Articles:
VOX Cinemas Launches at The Esplanade in Riyadh