Movies to Watch in the Lead-up to Halloween 2021
October 18, 2021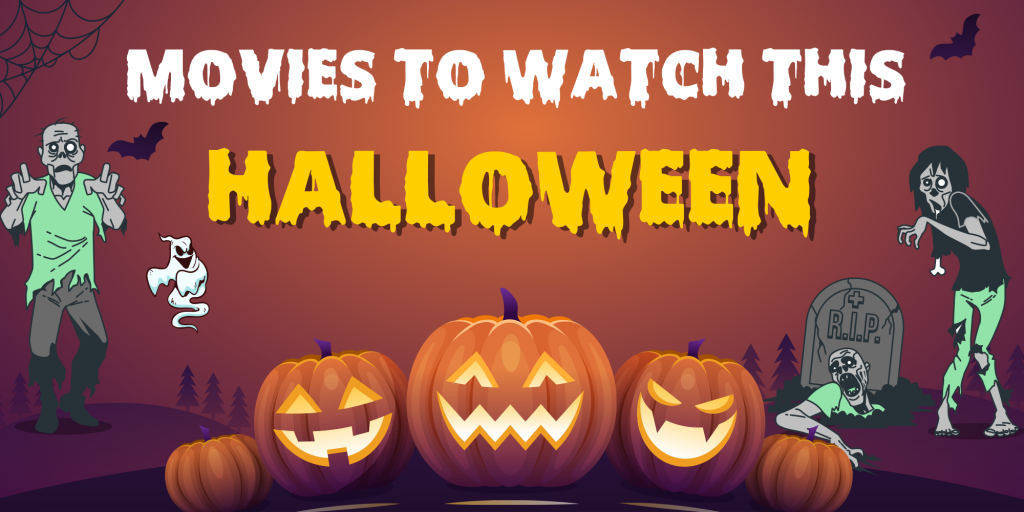 Peek a BOO… the SPOOKY season is upon us…. iIt's Halloween!
We're well into October, the month of Halloween, and to get you in the mood, we've put together a list of 10 movies, apart from the usual Hocus Pocus/Frankenstein fare.
Also be sure to check our Halloween 'Spookymeter' before watching a movie from the recommended list, to decide if it's super scary, scary, or not so scary.
The House With A Clock In Its Walls (2018)
 Spookymeter: Not-So-Scary – Fantasy – Kids and Family
Cast: Jack Black, Cate Blanchett, Owen Vaccaro
Synopsis: Based on the children's classic written by John Bellairs, this magical adventure tells the spine-tingling tale of 10-year-old Lewis, who goes to live with his uncle in a creaky old house with a mysterious tick-tocking noise.
The Mortuary Collection (2019)
Spookymeter: Scary – Haunted House – Male/Female 18+
Cast: Tristan Byon, Eden Campbell, Clancy Brown
Synopsis: What's better than an Anthology of Horror tales at this time of the year? A young drifter is hired as a mortician and learns a series of twisted tales about the place from an eccentric senior mortician.
The Wolfman (2010)
Spookymeter: Scary – Monster Movie – Male/Female 16+
Cast: Benicio Del Toro, Emily Blunt, Anthony Hopkins
Synopsis: Joe Johnston's remake of universal's classic monster movie 'The Wolfman' about an American bitten by a werewolf and eventually cursed by it. It offers intense visuals in a mysterious castle filled with love, murders, and monsters.
Corpse Bride (2005)
Spookymeter: Not So Scary – Animation – Kids and Family
Cast: Johnny Depp, Helena Bonham Carter, Emily Watson
Synopsis: When a shy groom practices his wedding vows in the inadvertent presence of a deceased young woman, she rises from the grave assuming he has married her. A must watch hilarious ageless classic.
Candyman (2021)
Spookymeter: Scary – Urban Legend – Male/Female 16+
Cast: Yahya Abdul-Mateen II, Teyonah Parris, Tony Todd
Synopsis: The sequel to the 1992 horror film returns to the now-gentrified Chicago neighborhood where the legend first began. Revisiting or watching the 1992 movie as a precursor is highly recommended.
Us (2019)
Spookymeter: Scary –Mystery – Male/Female 16+
Cast: Lupita Nyong'o, Winston Duke, Yahya Abdul-Mateen II
Synopsis: Jordan Peele's (Get Out) underrated gem, about a family's beach vacation that turns to chaos when their doppelgängers appear and terrorize them. The storyline is full of wacky twists and surprises which makes it a must watch for Halloween.
The Night House (2021)
Spookymeter: Super Scary – Haunted House – Male/Female 18+
Cast: Rebecca Hall, Sarah Goldberg, Evan Jonigkeit
Synopsis: In a haunted house on a lake in upstate New York, a grieving widow encounters her dead husband and begins to uncover her recently deceased husband's disturbing secrets. The movie, directed by David Bruckner, is the one for the new age horror lovers.
Brightburn (2019)
Spookymeter: Scary – Supernatural- Male/Female 16+
Cast: Elizabeth Banks, David Denman, Jackson A. Dunn
Synopsis: Do all the superhuman babies grow up to be heroes? What if a child from another world crash-landed on Earth, but instead of becoming a hero to mankind, proves to be something far more sinister?
Ghostbusters: Afterlife (2021)
Spookymeter: Not-So-Scary – Comedy – Kids and Family
Cast: Finn Wolfhard, Mckenna Grace, Paul Rudd
Synopsis: We all watch the 1984 classic as part of our Halloween celebrations. This year, director Jason Reitman brings a new take to franchise. The movie tells the story of two kids discovering their connection to the original Ghostbusters. In cinemas 18 November 2021.
Hereditary (2018)
Spookymeter: Super Scary – Cult – Male/Female 18+
Cast: Toni Collette, Alex Wolff, Gabriel Byrne
Synopsis: The secret ancestry of a family is revealed over the course of the movie. The more they discover, the more they uncover the sinister fate they seem to have inherited. Want more from the same director? Check out Midsommar (2019).
Have yourself a heart-pounding and unnerving Halloween!
Source: IMDB and YouTube
Related Articles:
Movies to Watch this Halloween