Jazeera Airways | Integrated Cinema Campaign | Kuwait
Jazeera Airways recently booked an integrated cinema campaign through Zenith Media, to promote their summer offers, coinciding with the release of the action blockbuster Fast X at VOX Cinemas – The Avenues in Kuwait.
The on screen component of the campaign included a 30 sec. ad following Fast X, while the off-screen execution witnessed Jazeera Airways taking over the 'Hero Screen' (above the candy bar) from 23 May to 05 June 2023.

Leverage the power of an integrated cinema campaign to increase brand visibility through a combination of on and off screen advertising.
Contact us for more information on integrated cinema advertising opportunities across the Middle East.
Related Articles:
FIFA | Integrated Cinema Campaign | UAE & KSA
Armani Code | Integrated Cinema Campaign | KSA
Kibsons International | Cinema Sampling | 2023
Kibsons International recently booked a sampling activity at select cinema locations across Abu Dhabi between 19-21 May 2023.
The sampling activity was booked to coincide with the release of the action blockbuster, Fast X, which collected over US$3.3 million in its opening weekend in the UAE, and $319 million globally.
The sampling was Kibsons' second cinema campaign of this year, following the successful integrated campaign in January.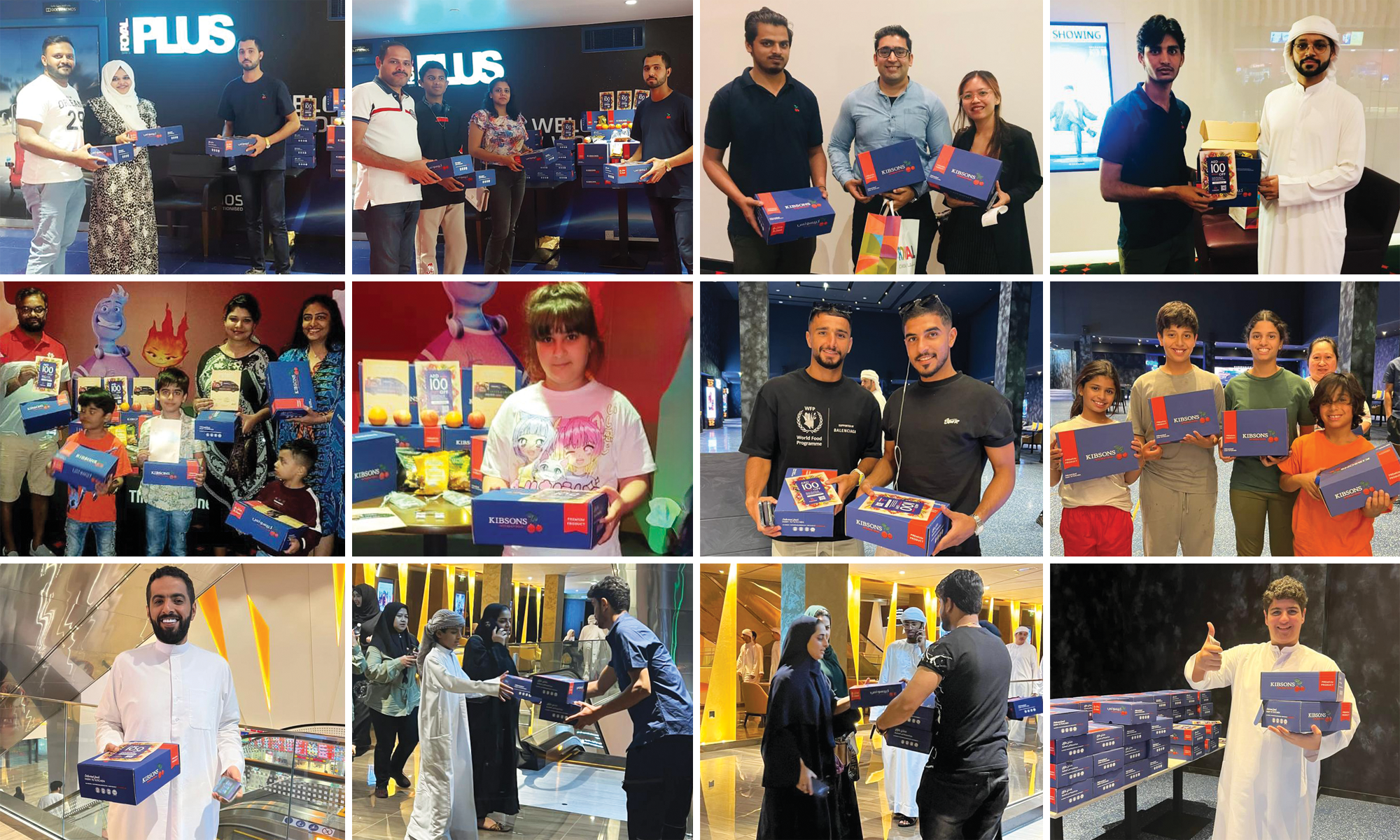 The latest campaign entailed the distribution of branded boxes containing a selection of fresh fruits, snacks, and a discount voucher for patrons to collect at the entrance and exit of the cinema auditoriums at the respective locations.
Contact us to learn more on how off screen cinema advertising can help move your brand closer to its target audience.
Source: Box Office Mojo.
CinemaCon 2023 – Roundup
The 2023 edition of CinemaCon drew to a successful close after four days of thrilling presentations, demonstrations, and discussions, which offered an unparalleled opportunity for industry leaders to come together and discuss the future of cinema.
CinemaCon attendees were privy to exclusive product presentations, cutting-edge technology demonstrations, and thought-provoking panel discussions featuring experts from various sectors of the industry, including studio executives, theatre operators, and technology providers.
Leading studios, including Disney, Paramount Pictures, Sony Pictures, Universal Studios, and Warner Bros. Discovery, presented their latest trailers for upcoming theatrical releases, and as always, the event concluded with the 'Big Screen Achievement Awards' –  held in honor of celebrities whose contributions to the industry have helped shape cinema into what it is today.
If you missed any of the presentations, fear not! Here are the latest trailers that were released during the event:
Sony Pictures
Sony Pictures set the tone for CinemaCon 2023 by showcasing a variety of major movie trailer releases and announcements. Some of the notable titles that were unveiled included Spider-Man: Across the Spider-Verse, Gran Turismo: The Movie, The Equalizer 3, and Insidious: The Red Door.
The Equalizer 3
Two-time Oscar winner Denzel Washington presented the first trailer of The Equalizer 3, in which he reprises the role of former government assassin Robert McCall. The film is described as the "final chapter" in the story, indicating that it could be the last with Washington as Robert.
The film is set to release in cinema on 31 August 2023.
Gran Turismo: The Movie
Orlando Bloom and Stranger Things star David Harbour presented a new trailer for Gran Turismo: The Movie. The film is based on the life of Jann Mardenborough, a real-life Gran Turismo player who became a professional racer. Archie Madekwe plays Mardenborough in the film. It also stars Djimon Hounsou as Mardenborough's father. Harbour plays Jack Salter, a retired race car driver, who trains Jann.
The film is set to release in cinema on 10 August 2023.
Insidious: The Red Door
CinemaCon 2023 attendees were treated to an extended trailer for Insidious: The Red Door.The new footage showed an adult Dalton (Ty Simpkins) being haunted by a wide variety of demons while now attending college. At the request of his wife Renai (Rose Byrne), father Josh (Patrick Wilson) accompanies him to help move into his college dorm where he realizes that Dalton's connection to "the Further" is coming back in full force.
The film is set for release in cinema on 6 July 2023.
Spider-Man: Across the Spider-Verse
Fourteen minutes from Spider-Man: Across the Spider-Verse was shown at CinemaCon 2023 as the studio is still finishing the movie. The latest trailer shows Miles Morales as he returns for the next chapter of the Oscar-winning Spider-Verse saga, Spider-Man: Across the Spider-Verse. After reuniting with Gwen Stacy, Brooklyn's full-time, friendly neighborhood Spider-Man is catapulted across the Multiverse, where he encounters a team of Spider-People charged with protecting its very existence. But when the heroes clash on how to handle a new threat, Miles finds himself pitted against the other Spiders and must redefine what it means to be a hero so he can save the people he loves most.
The film is set to release in cinema on 1 June 2023
Other movies showcased by Sony Pictures included Kraven the Hunter (5 October 2023), Dumb Money (19 October 2023) and Napoleon (21 November 2023).
Warner Bros. Discovery
Warner Bros. Discovery presented a slew of trailers and announcements on 25 April, the second day of the mega event. Here is a look at the studio's upcoming releases including three DC Extended Universe (DCEU) movies — The Flash, Blue Beetle and Aquaman and the Lost Kingdom.
The Flash
Ezra Miller plays two versions of Barry Allen in different realities. While Ben Affleck appears as Batman in his own reality, Michael Keaton returns as the Dark Knight in an alternate reality in the story. Sasha Calle's Supergirl and Michael Shannon's General Zod are also seen in much more detail in the new trailer.
The film is set to release in cinema on 15 June 2023.
Blue Beetle
The Blue Beetle footage shown at CinemaCon 2023 was very similar to the trailer that was recently released. However, it did give us an even better look at the villainous Carapax. The trailer shows what fans have already seen, which is Xolo Maridueña's Jamie Reye getting his hands on an alien object that looks like a mystical scarab which turns him into a superhero.
The film is set to release in cinema on 17 August 2023.
Barbie
Margot Robbie and Ryan Gosling joined director Greta Gerwig for an extended trailer release of Barbie.
The film is set to release in cinema on 20 July 2023.
Other movies showcased by Warner Bros. Discovery included: Dune: Part Two (2 November 2023), Aquaman and the Lost Kingdom (19 December 2023), Wonka (14 December 2023), The Color Purple (24 December 2023), The Nun II (7 September 2023), Tim Burton's Beetlejuice (TBA).
Disney
Disney brought Marvel Studios, Walt Disney Animation and Pixar films to CinemaCon 2023. Among these were MCU films Guardians of the Galaxy Vol. 3 and The Marvels, animated movie Elemental, and highly anticipated movies The Little Mermaid and Indiana Jones and the Dial of Destiny.
A Haunting in Venice
The third instalment in Kenneth Branagh's Hercule Poirot movies had its first teaser trailer release at CinemaCon 2023.
The film is set to release in cinema on 14 September 2023.
Taika Waititi's Next Goal Wins
The maverick Taika Waititi is ready with his sports comedy film Next Goal Wins. It is about the American Samoa football team, known infamously for its 31-0 loss to Australia in a FIFA game in 2001. The film follows Michael Fassbender's Thomas Rongen, a coach who is hired to help the team qualify for the 2014 FIFA World Cup.
The film is set to release in cinema on 16 November 2023.
Elemental
Pixar's Elemental is an animated film about residents of Element City, each of whom belong to an elemental group — land, air, water and fire. The extended 20-minute clip focussed on a fire element character, Ember, from the time she was a baby to her younger years. Unable to control her temper, she causes a disaster which brings her in conflict with water-element character Wade.
The film is set to release in cinema on 15 June 2023.
Indiana Jones and the Dial of Destiny
Indiana Jones and the Dial of Destiny concluded Disney's slate of presentations at the event. Attendees got to see an action-packed clip from the upcoming film. The clip followed Harrison Ford's Indy and Phoebe Waller-Bridge's Helena in pursuit of Mads Mikkelsen's antagonist character Jürgen Voller through Tangier in Morocco.
The film is set to release in cinema on 29 June 2023.
Other movies showcased by Disney included: The Creator (28 September 2023) and Wish (21 November 2023).
Paramount Pictures
Paramount Studios showcased their 2023 and 2024 slates of highly anticipated movie titles during their presentation at CinemaCon 2023.
Teenage Mutant Ninja Turtles: Mutant Mayhem
CinemaCon 2023 was treated to a brand new look at Teenage Mutant Ninja Turtles: Mutant Mayhem. The footage was extended from the already-released teaser.
The film is set to release in cinema on 3 August 2023.
The studio showcased a full 20 minutes of the upcoming film Mission: Impossible – Dead Reckoning Part One, starring Tom Cruise and set to release on 11 July 2023, along with the first trailer for Martin Scorsese's Killers of the Flower Moon, which is scheduled for release on 19 October 2023, and a first look at A Quiet Place: Day One, set to release on 8 March 2024.
Universal Studios and Focus Features
Universal and Focus Features presented their films after Disney on Day 3 of CinemaCon 2023.
Oppenheimer
Christopher Nolan took to the stage to introduce Oppenheimer, one of the most-anticipated movies of 2023. Nolan said that a full trailer may be attached to Guardians of the Galaxy Vol. 3 theatrical release. A five-minute reel was then shown to attendees. Cillian Murphy plays J. Robert Oppenheimer in the film. Matt Damon essays Major General Leslie Groves. Among the A-list star cast of the film are Emily Blunt, Robert Downey Jr., Florence Pugh, David Dastmalchian, and Rami Malek among others.
The film is set to release in cinema on 20 July 2023.
Fast X
Vin Diesel made a surprise appearance at CinemaCon 2023 to announce that Fast X – Part 2 will be released in theaters in 2025. The announcement was made after the first part of the movie, Fast X, which is set to be released in cinemas on 18 May 2023. The event came to a close for the day following a trailer of Fast X.
Other titles showcased by Universal and Focus Features included: Drive-Away Dolls (22 September 2023), Kung Fu Panda 4 (6 March 2024), Wicked (November 2024).
Source: Lifestyle Asia, DiscussingFilm
All The Latest Trailers From Super Bowl 2023
From Scream VI to Fast X, Super Bowl 2023 saw a string of enticing new trailers
The Super Bowl 2023 brought us more than just an epic football game between the Kansas City Chiefs and the Philadelphia Eagles, it also gave us a sneak peek into some of the most anticipated movies of the year. Major movie studios including Sony Pictures, Universal Pictures, Paramount Pictures, Warner Bros. and Disney all paid big bucks to promote their hottest titles.
From big-budget blockbusters to captivating dramas and spine-chilling thrillers, this year's Super Bowl was a showcase of what's to come from Tinseltown. Whatever genre it is you fancy, there was something for everyone during the trailer segment of the Super Bowl 2023. Here's a rundown of all the movies that got a promotional boost during this year's event.
Creed III
Release Date: 2 March 2023
30-second spot from Creed III at Super Bowl 2023 showcases more of the training and rivalry between Michael B. Jordan's title character and Jonathan Majors' Damian Anderson.
65
Release Date: 2 March 2023* (*Could be pushed to 9 March 2023)
Sony Pictures promoted 65 –  a science-fiction thriller starring Adam Driver as a pilot who crashes and becomes stranded on Earth 65 million years ago. Written and directed by Scott Beck and Bryan Woods, the film also stars Ariana Greenblatt and Chloe Coleman.
Scream VI
Release Date: 9 March 2023
Courteney Cox, Jenna Ortega, and Melissa Barrera headline this new minute-long Super Bowl 2023 spot that offers a longer look at one of the thriller's set pieces briefly glimpsed in the previous trailer.
Dungeons and Dragons: Honor Among Thieves
Release Date: 20 April 2023
The Dungeons and Dragons: Honor Among Thieves Super Bowl 2023 trailer goes a long way to promise how action-packed it will be. Though brief, the teaser is a fast-paced, breathless montage of multiple action set-pieces, mythical creatures and even a titular dragon.
Air
Release Date: 6 April 2023 (International Release)
Ben Affleck's next directorial offering sees Matt Damon play the man whose brainchild saw the birth of Nike's Air Jordans. The first trailer for Air was revealed before Super Bowl LVII, with a big game spot along for the ride.
Guardians of Galaxy Vol. 3
Release Date: 4 May 2023
Disney used the Super Bowl broadcast to spotlight the third installment of Guardians of the Galaxy starring Chris Pratt, Zoe Saldaña, Dave Bautista, Karen Gillan, Pom Klementieff, Vin Diesel and Bradley Cooper as the titular band of Marvel superheroes.
Fast X
Release Date: 19 May 2023
10 main movies in, it's impossible not to know what you're getting with the Fast & Furious franchise. The Super Bowl Fast X teaser and the full trailer released before it showed off all of the best parts: a new ostentatious villain in the shape of Jason Momoa, returning heroes and anti-heroes, major set-pieces, ludicrous physics and some good old-fashioned racing.
Transformers: Rise of the Beasts
Release Date: 08 June 2023
There's more than just a sneak peek in this Transformers: Rise of the Beasts TV spot, because it's not only a short promo for the film, but also an ad for Porsche, which is what Autobot Mirage transforms into in the trailer.
The Flash
Release Date: 15 June 2023
The first trailer for The Flash not only gives us a pretty good idea how the story might play out, but also reveals Michael Keaton in the Batsuit (and his Batmobile), Michael Shannon's Zod, and Sasha Calle's Supergirl, among other things. We also got a shorter minute-long TV spot for the film containing a lot of the same footage.
Indiana Jones and the Dial of Destiny
Release Date: 30 June 2023
Indiana Jones and the Dial of Destiny, the fifth installment of the hit Indiana Jones franchise featuring the return of Harrison Ford as the titular swashbuckling archaeologist.
Click here to check out the leading brand commercials that aired during Super Bowl 2023.
Think cinema for effective advertising! Contact us.
Source: Empire, Variety