Upcoming Marvel Movies Through Phase 5 and 6
Marvel Studios is set to roll its curtain down on Phase 4, and has revealed future plans for its cinematic universe at the recently concluded San Diego Comic-Con 2022. The studio announced an exciting line-up of live-action and animated projects in its next phases from 2023-2025.
Phases 5 and 6 feature new titles with familiar faces, starting with Ant-Man and the Wasp: Quantumania, and leading up to not just one but two back-to-back Avengers movies with much to explore in between in the Multiverse.
If you've missed those announcements and want more information, here is everything you need to know about Marvel's latest slate of projects set to release on the big screen:
Ant-Man and the Wasp: Quantumania
Release date: February 17, 2023
Ant-Man and the Wasp: Quantumania will be the beginning of Phase 5. That film is expected to reveal more mysteries of the pivotal Quantum Realm universe; it will be the first official introduction of Jonathan Majors as Kang (the big bad of this Multiverse Saga) and will debut a new young hero when Scott Lang's daughter Cassie (Kathryn Newton) suits up as well.
Guardians of the Galaxy Vol. 3
Release date: May 5, 2023
James Gunn will be ending his Guardians of the Galaxy trilogy with this film – and he and the cast and crew are letting fans know in no uncertain terms that it is going to be an ending. The movie will be introducing some key cosmic figures – Adam Warlock (Will Poulter) and the High Evolutionary (Chukwudi Iwuji) – and it's here that we begin to see a possible pattern forming in Phase 5: powerful villains rising in ways our heroes may not be ready for.
The Marvels
Release date: July 28, 2023
The Captain Marvel movie franchise will meet the Ms. Marvel TV series (with help from WandaVision's Monica Rambeau) to form a new trifecta of cosmic-powered superheroines in the MCU. Plot details are unknown, but Ms. Marvel left us with a place-switching connection between Carol Danvers (Brie Larson) and Kamala Khan (Iman Vellani), so that's something. Based on other projects like Secret Invasion, The Marvels could have some serious Kree/Skrull drama to resolve – and again, we could be looking at a major shakeup in the cosmic order, as a result.
Blade
Release date: November 3, 2023
The Marvel Knights supernatural side of things has been teased through Moon Knight and Eternals' post-credits scene, but Blade is the film that will really open the door to it all. Blade could be a pivotal dark horse story whose significance we can't yet fully understand.
Captain America: New World Order
Release date: May 3, 2024
Sam Wilson (Anthony Mackie) has taken up the shield and mantle, but it sounds like the timing could be rather unfortunate. In the comics, the New World Order organization was founded by Red Skull in a clandestine plot to take over the world. There have been many similar stories in Marvel lore since then (Leviathan) that could be streamlined into the premise of Captain America 4. Either way, it sounds like Sam will find out there are some truly seedy (world threatening) things happening in the world of politics and espionage.
Thunderbolts
Release date: May 3, 2024
The end of MCU Phase 5 will be Thunderbolts – a series that started as a team of villains posing as heroes. Given everything we've seen in Phase 5 leading up to it, Thunderbolts makes us wonder if Phase 5 will end with a new world order of villains holding the reigns, and heroes left on the run.
While those Marvel Phase 5 plans took their rightful place in the spotlight at Comic-Con 2022, Marvel also announced the first three projects in its Phase 6 slate
Fantastic Four
Release date: November 8, 2024
MCU reboot of the Fantastic Four will be released in November of 2024, marking the first movie in Phase 6 and kickstarting the road to Secret Wars. This movie will be necessary to get to the final film of The Multiverse Saga as Marvels' first family play a major role in that storyline.
Avengers: The Kang Dynasty
Release date: May 2, 2025
The summer of 2025 will kick off with Avengers 5, subtitled The Kang Dynasty and set to be directed by Destin Daniel Cretton. What's unclear about the film is…who will be part of Earth's Mightiest Heroes in this movie? One guess is that Captain Marvel and Hulk have continued the team, as seen at the end of Shang-Chi and the Legend of the Ten Rings.
Avengers: Secret Wars
Release date: November 7, 2025
The Multiverse Saga will officially conclude with this title, as the Avengers: Secret Wars will seemingly draw from the Jonathan Hickman-penned reboot of the title from 2015, one that combined multiple different Earths/timelines/universes into one planet, the all-new Battle World.
Sources: Techradar, Comicbook.com and Boxoffice Pro
CinemaCon 2022 – Round Up
CinemaCon 2022 took place between 25 – 28 April 2022 at Caesars Palace in Las Vegas.
CinemaCon, the annual convention organized by the National Association of Theatre Owners, is back after a cancelled 2020 edition and a muted 2021 affair.
Only eight months ago, the movie theater industry congregated at Caesars Palace in Las Vegas. The previous edition took place at a time when the cinema industry was in constant flux, with fewer overseas delegates, pre-recorded studio presentations, and a low turnout on the trade show floor.
The industry has made great strides since CinemaCon 2021, after a string of box office successes – Spider-Man: No Way Home, The Batman, Venom: Let There Be Carnage, Shang-Chi and the Legend of the Ten Rings, and a far more stabilized movie release calendar, which have given cinema owners the foundation to pursue a serious recovery. The worst looks to be behind movie owners around the world, with theatrically exclusive films returning to big screen and recent box office figures suggesting that viewers are returning to the medium.
Here's a look at the biggest studio announcements from the largest annual gathering of the motion picture industry:
Sony Pictures:

Sony opened the studio presentations at CinemaCon 2022 with a victory lap. Tom Rothman, chairman and CEO of Sony Pictures Entertainment, who energized the studio's 2021 showcase to exhibitors by expressing a strong commitment to theatrical exclusivity.
Sony Pictures Entertainment has earned a whopping $3.3 billion in global box office since their last appearance in CinemaCon, only eight months back.
The studio's 2022 presentation began with an extended look at the upcoming comedy-action caper Bullet Train (July 29) and continued its presentation further with the new looks of Where the Crawdads Sing (July 15) and The Woman King (September 16), original titles the studio believes will help balance the tentpole-heavy release schedule of the coming months.
Warner Bros.:
Warner Bros. started the presentation at CinemaCon 2022 by unveiling an early first look at footage from The Flash.
The major announcement of the evening was confirmation from studio chairman Toby Emmerich that director Matt Reeves and star Robert Pattinson would be coming back for another installment of The Batman.
Fans also caught the first glimpse of Margot Robbie in the starring role for Barbie, now scheduled for a July 21, 2023 release.
Director Baz Luhrman gave an enthusiastic introduction to footage from his upcoming Elvis, scheduled for a June 24 release, the film will confront the challenge of re-engaging older moviegoers.
Other non-franchise Warner Bros. titles featured in the presentation include the Timothy Chalamet musical Wonka (Christmas 2023), Olivia Wilde's Don't Worry, Darling starring Florence Pugh (September 23), and the Stephen King adaptation Salem's Lot (September 9).
Warner Bros.' focus on original titles didn't overshadow the other DC Comics properties on its schedule. Their CinemaCon presentation included advance looks at Shazam! Fury of the Gods (December 16), Aquaman: The Lost Kingdom (March 17, 2023), DC League of Super-Pets (July 29), and Black Adam (October 21).
Disney:
Marvel Studios president Kevin Feige opened the ceremony introducing a 20-minute clip of Doctor Strange in the Multiverse of Madness. Marvel titles have been a financial lifeline for the industry since cinemas reopened with titles like Black Widow, Shan-Chi and the Legend of the Ten Rings, The Eternals, and Spider-Man: No Way Home.
The CinemaCon 2022 audience also enjoyed a 30-minute look at Lightyear, the first Pixar title to hit theaters since Onward.
Disney turned the rest of the presentation over to its 20th Century Studios division, where audiences got a first look at footage of David O. Russell's Amsterdam (November 4). The title promises to be a star-studded big screen experience driven by leads Christian Bale, Margot Robbie, and John David Washington.
Six minutes of The Bob's Burgers Movie (May 27) also screened for the audience, emerging as a promising counter-programming option set to open alongside Top Gun: Maverick over Memorial Day weekend.
Producer Jon Landau came on stage to share Disney's biggest announcement of the morning. Avatar 2, now titled Avatar: The Way of Water, will stick to its December 16 release date.
Universal Studios:
Universal Studios' presentation represented with footage from Jordan Peele's Nope (July 22), David Gordon Green's Halloween Ends (October 14), and the Blumhouse evil robot thriller M3gan (January 13, 2023).
Highlights from the showcase also included enthusiastic responses from exhibitors for comedies Easter Sunday (August 5), Minions: The Rise of Gru (July 1), and Bros (September 30). Universal's presentation closed with legacy cast members of Jurassic World: Dominion introducing a trailer for the film ahead of its June 10 release.
Focus Features:
Focus Features president Lisa Bunnell introduced footage from several upcoming titles. Focus will bring a diverse slate to theaters in 2022 that includes movies like Downton Abbey: A New Era (May 18) and Mrs. Harris Goes to Paris (July 15), genre plays like action-comedy flick Violent Night (December 2), and dramas like James Gray's Armageddon Time.
Neon:
Neon showcased footage from a trio of its own titles to complement the week's tentpole-driven presentations. David Cronenberg's Crimes of the Future (June 3) is sure to make audiences squirm as the legendary director returns to his roots in body horror.
Lionsgate:
Lionsgate showcased upcoming comedy About My Father. The Studio also revealed never before seen footage of a slate that balances original films like coming-of-age comedy Are You There God? It's Me, Margaret and horror flick The Devil's Light with established action franchises like John Wick Chapter 4 and The Expendables 4.
The studio is also building spin-off series based on successful films. The drama White Bird will act as a sort of spiritual prequel to Lionsgate's 2017 hit Wonder, while Ballerina will give star Anna de Armas her own series in the John Wick universe.
The CinemaCon 2022 audience caught their first glimpse of the video game adaptation Borderlands and a new Dirty Dancing movie heralding the return of original star Jeniffer Grey.
The big news from the Lionsgate showcase came in the final moments of the presentation with the announcement of a new Hunger Games prequel dated for November 17, 2023. The Hunger Games: The Ballad of Songbirds and Snakes could provide a return to major global grosses for Lionsgate, which has played a larger role with mid-range titles since the Hunger Games series concluded in 2015.
Paramount Pictures:
Paramount Pictures kept most of the focus of its CinemaCon 2022 presentation on Top Gun: Maverick, which got its first public screening at the Las Vegas gathering Thursday.
The studio still had a few other big announcements to make. Among them were two title announcements for Paramount's biggest franchises: Mission: Impossible and A Quiet Place. The seventh M:I film will be titled Mission: Impossible — Dead Reckoning: Part One while the upcoming "Quiet Place" spinoff from director Michael Sarnoski will be called A Quiet Place: Day One. Both films are set for release in 2023.
Source: Boxoffice Pro
Black Widow Triumphs at Box Office
Setting a pandemic box office record, Black Widow opened with a whopping $218.8 million globally on its first weekend!
Marvel Studios' latest production, Black Widow, surpassed all predictions for its opening weekend, collecting US$218.8 million globally. Crossing F9's debut of US$162.4 million across eight overseas markets in its first weekend of release, Black Widow had a theatrical release in 41 international markets along with a simultaneous OTT release.
Here's a closer look at the movie's performance at box office:
At the end of the opening weekend, the movie had made an international box office debut of US$78.8 million, domestic collection of US$80 million and a global box office collection of US$158.8 million
Among the Asian markets, Korea is currently leading at US$19.13 million, while Hong Kong set a new benchmark with a launch of US$3.2 million
It grossed US$42 million across Europe and was the top pandemic opening weekend in 15 markets including the UK (US$9.7 million) and France (US$6.9 million)
The top 5 opening weekend markets were Korea (US$12.7 million), UK (US$9.7 million), France (US$6.9 million), Australia (US$5.3 million) and Mexico (US$4.8 million). Russia came in at sixth position with $3.9 million
In IMAX, Black Widow did US$12 million globally,  of which US$4.8 million were from 315 offshore screens across 59 countries.
On the opening weekend, Black Widow was No. 1 in majority of the Middle East markets namely -Egypt, Jordan, Kuwait, Lebanon, Oman, Qatar,Bahrain, Saudi Arabia, UAE as well as International markets such as Austria, Bosnia, Croatia, Czech Republic, Greece, Hungary, Iceland, , Portugal, Slovakia, Slovenia, Ukraine, New Zealand, Singapore, Brazil, Argentina and smaller Latin American territories
The movie also also posted the highest pandemic era opening day in Austria, Czech Republic, Qatar and Slovakia.
In Saudi Arabia, Black Widow scored Disney's highest opening day ever
Although Black Widow is yet to release in China, the biggest Marvel market in the world, it is performing exceptionally at worldwide Box Office, despite having a simultaneous OTT release.
Following a similar pattern of previously released blockbusters within the first half of this year, namely Godzilla vs. Kong, Mortal Kombat, F9 and now Black Widow, upcoming blockbusters are anticipated to follow a similar pattern, garner similar attention from audiences and shine at box office.
Contact us to showcase your brand alongside highly anticipated upcoming blockbusters namely – Suicide Squad (August), Free guy (August), Shang-Chi and the Legend of the Ten Rings (September), Venom: Let There Be Carnage (September), Dune (September), No Time to Die (October), Eternals (November), Top Gun: Maverick (December) and Spiderman: No Way Home (December).
Sources: Deadline, Variety and Box Office Mojo
Female-Centric Movies Releasing in 2021
The recent release of the fashion spectacle – Cruella, on the BIG screen will be followed by a few other female-centric movie over Q3 and Q4 of 2021.
As history has witnessed, numerous female-centric films have performed well at box office and have been acknowledged and appreciated by audiences and critics alike:
Captain Marvel
Worldwide BO – Over $1.12M
UAE Admissions – Over 425k
Padmaavat (Hindi)
Worldwide BO – $741,630,951
UAE Admissions – Over 357K
Ocean's 8
Worldwide BO – $741,630,951
UAE Admissions – Over 236k
Wonder Woman 1984
UAE BO – $3,171,866
This year's Academy Awards also witnessed females bag awards across a range of categories  – the Oscar for Best Director was won by Chloé Zhao for her movie Nomadland, Frances McDormand won the Oscar for Best Actress for her performance in Nomadland. and Yuh-Jung Youn took home the Oscar for Best Actress in a Supporting Role for Minari. Here are the female-centric movies that are a must-watch on the big screen over the rest of 2021:
A Quiet Place II
Real life couple and reel life iconic pairing of director-actress duo John Krasinski and Emily Blunt are back with the sequel to their 2018 thriller. In The Quiet Place II, the Abbott family face the terrors of the outside world. Forced to venture into the unknown, they realize the creatures that hunt by sound are not the only threats lurking beyond the sand path. Catch the eerie blockbuster in cinemas on 10 June 2021.
Black Widow
In Marvel Studios' action-packed spy thriller, Black Widow, Natasha Romanoff confronts the darker parts of her life when a dangerous conspiracy with ties to her past arises. Pursued by a force that will stop at nothing to bring her down, Natasha must deal with her history as a spy and the broken relationships left in her wake long before she became an Avenger. This blockbuster resales on 9 July 2021.
Respect
Directed by Liesl Tommy, Respect is the biography of iconic singer, Aretha Franklin. Aretha sings in her father's church choir as a child and grows up to become an international musical superstar and legend. Catch the highly anticipated musical delight in cinemas on 19 August 2021.
Other blockbusters starring a female(s) in a lead role include:
The Suicide Squad
The sequel to the 2016 Suicide Squad, is set to release across cinemas on 5 August 2021. The movie revolves around super-villains Harley Quinn, Bloodsport, Peacemaker, and a collection of cons at Belle Reve prison who join the super-secret Force X. Heavily armed, they are dropped off at the remote, enemy-infused island of Corto Maltese where they must fight to live.
Eternals
The Marvel debut of award-winning Director Chloé Zhao witnesses the Eternals be a part of various historic changes throughout the centuries during their time at Earth, however they have never interfered….until now. The visual spectacle releases in cinemas on 4 November 2021.
Is your brand looking to target female audiences? Be part of the BIG Ticket female-centric event on the BIG Screen in 2021 and reach your ideal audience.
Contact us to make cinema an integral part of your media plan.
Sources: IMDB, Aviation Analysis, Whip Media and Zoella
The Latest News from the World of Movies – May 2020
Attention movie-lovers! Cinemas may still remain closed in response to COVID-19, but that doesn't mean you shouldn't stay up-to-date with what's happening in the world of movies!
Here are some of the big announcements made in May 2020:
While the word eagerly awaits the release of Wonder Woman 1984, and even though there is no official on the big screen, Patty Jenkins has story ideas for Wonder Woman 3 and the planned Amazonian spin-off.
But of course, Wonder Woman 1984 needs to release first.
"I'm not going to nail down a fresh thought about it until [Wonder Woman 1984] comes out, because I kind of want to give myself a palette cleanser, and be fresh of mind. But yeah, there's an arc that I have in mind for the first movie, and then the second movie, and then the Amazon movie, and then the third movie," said Patty Jenkins.
Read more on this at ScreenRant and CinemaBlend
Warner Bros. has unveiled a new image from the Dune adaptation from director Denis Villeneuve – due to hit cinemas in December this year, which also features the sandy landscape of Abu Dhabi in the background.
Scenes for this highly anticipated sci-fi movie were filmed in Jordan and the UAE, as well as Budapest.
Read more on this at The National and Empire
One small step for Tom Cruise, one giant leap for moviemaking?
Cruise is partnering with NASA to shoot a movie, at least in part, aboard the Intl. Space Station – the first narrative feature to be shot in space.
It's unclear how Cruise will pull off this feat, but one thing's for sure, knowing him, even at 57 he'll probably insist on doing his own stunts (remember the freefall at 200 mph in 2018's Mission: Impossible — Fallout?)
Read more on this at Variety an ScreenRant
Yes, it's highly unlikely that anyone will ever win an Oscar for playing the caped crusader – Batman, but this does not mean that the pressure is off when portraying the character.
Robert Pattinson – the new Caped Crusader, says he has found a 'gap' to make Batman his own – in contrast to the likes of Val Kilmer's cheeseball effort.
"I kind of like the fact that not only are there very, very, very well-done versions of the character which seem pretty definitive, but I was thinking that there are multiple definitive playings of the character," said Pattinson.
You've seen this sort of lighter version, you've seen a kind of jaded version, a kind of more animalistic version. And the puzzle of it becomes quite satisfying, to think: Where's my opening? And also, do I have anything inside me which would work if I could do it? And then also, it's a legacy part, right? I like that," he added.
Read more on this at: The Guardian
You know who's great at spicing things up and adding much-needed levity to franchises that have become somewhat bogged down in their own mythology? Taika Waititi!
Disney has announced that Taika Waititi will direct and co-write a new Star Wars movie for theatrical release.
Rumors of a Waititi-helmed Star Wars movie first surfaced in January, though it's unclear if this movie is the one that Marvel Studios president Kevin Feige is reportedly developing.
Read more on this at The Verge and Wired
Paramount Pictures has dated a new, untitled live-action Transformers film to be released in theaters on June 24, 2022.
As Paramount and Hasbro press forward to revamp the franchise, two new Transformers projects are being developed simultaneously, with Joby Harold (Army of the Dead) and James Vanderbilt (Zodiac) each penning a script. Plot details are being kept under wraps and no directors are currently attached to either.
Also, An untitled animated prequel to the Transformers franchise is in the works at Paramount Pictures and Hasbro's eOne with Toy Story 4 director Josh Cooley.
Read more on this at TheWrap and Variety
Disney Dominates Worldwide Box Office in 2019
Disney's record-setting year at the box office simply won't quit until the calendar rolls over. As the year comes to a close, Disney has remained king of the 2019 worldwide box office, producing eight out of the year's 10 highest-grossing films.
Star Wars: The Rise of Skywalker hit cinema screens the past weekend and had a strong opening at $175.5 million in the United States. While that's not as large as The Force Awakens (2015) or The Last Jedi (2017), it's still going to make the movie a huge hit for Disney, giving them another spot in the top ten highest-grossing US releases of 2019 – edging out Jordan Peele's acclaimed Us, which grossed $175.05 million at the box office in the United States earlier this year. As such, Disney has produced eight of this year's top ten, which is a truly unprecedented level of success.
With the success of numerous films including Avengers: Endgame, Aladdin and Toy Story 4 earlier this year, Disney has been growing at an astonishing rate and has earned a record-setting $10 billion at worldwide box office. The recent growth in success of Disney shouldn't come as a surprise, given that the studio has always been a prominent player in the entertainment industry and has also begun to buy and consume its competition over the last couple of years.
The following 2019 movies also sit in the top ten, all of which were produced by Disney:
Avengers: Endgame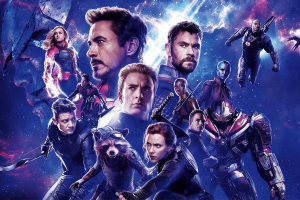 Worldwide Box Office: $2,797,800,564
The Lion King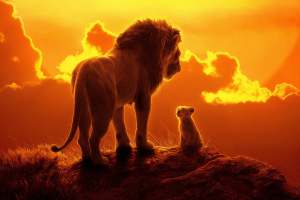 Worldwide Box Office: $1,656,313,097
Toy Story 4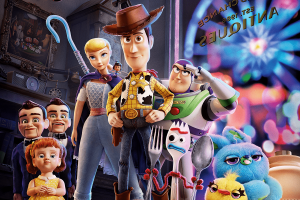 Worldwide Box Office: $1,073,394,813
Captain Marvel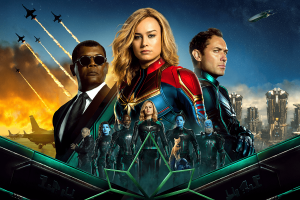 Worldwide Box Office: $1,128,274,794
Spider-Man: Far From Home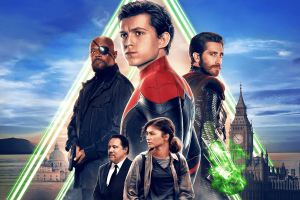 Worldwide Box Office: $1,131,927,996
*Disney's Marvel Studios produced Spider-Man: Far From Home while Sony handled distribution. Therefore, the film's box office earnings doesn't technically count towards Disney's total for the year.
Frozen II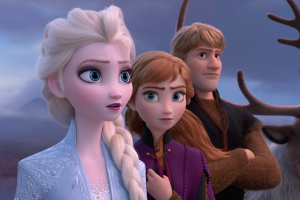 Worldwide Box Office: $1,165,209,889 (to date as the film is still screening in cinema)
Aladdin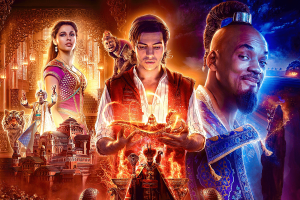 Worldwide Box Office: $1,050,693,953
The only non-Disney movies to crack the top 10 in North America this year were Joker ($333.3 million) and IT Chapter Two ($211.5 million) – both titles produced by Warner Bros.
Disney has officially become the first studio in history to bring in $10 billion at the box office in a single year, and that total doesn't count Spider-Man: Far From Home, nor does it account for the Fox titles the studio distributed following the $71.3 billion merger of the two companies earlier this year. Thus, Disney has han alarmingly good year and the competition is, without doubt, struggling to accomplish even a fraction of that success financially.
Disney's 2020 release schedule is far less packed with anticipated movies. However, there are a few major titles including a live-action adaptation of Mulan and Black Widow and The Eternals from Marvel.
Watch trailers:
Mulan:
Black Widow:
Disney's box office dominance is poised to continue in the new decade, as they will now be in full control of Fox content moving forward, with X-Men and Fantastic Four being two example franchises that can be used for further financial wins.
Contact a member of our sales team for cinema advertising opportunities alongside Disney Blockbusters in the upcoming year!
Sources: The Verge, CinemaBlend and The Numbers.