Motivate Val Morgan | Yearly Wrap-Up | 2022
The cinema industry successfully ushered global audiences back into theatre in 2022 largely owing to the steadier flow of blockbusters in comparison to 2021, with Top Gun: Maverick, Black Panther: Wakanda Forever, and Avatar: The Way of Water leading the long list of successful titles this year.
While 2021 was a dress rehearsal for the future of cinemas, 2022 has proved that cinema is back for real. This was especially evident in Saudi Arabia, when the country overtook Italy in annual box office revenue (in US$ terms), highlighting the prominence of cinema in the region.
Box office in 2022 had its first test with Scream which grossed nearly US$1M in the UAE alone and marked the successful return of the horror genre in the region since the pandemic. This was followed by the chartbuster performance of Matt Reeve's The Batman, which earned a combined US$12M in the UAE and Saudi Arabia, and Marvel's Doctor Strange in the Multiverse of Madness, which earned US$6.7M in the UAE.
Summer blockbusters highly contributed to the recovery of the global box office in 2022, with Tom Cruise's Top Gun: Maverick grossing a combined US$21.2M in the UAE and Saudi Arabia and over US$1.5 billion globally. Jurassic World: Dominion and Minions: The Rise of Gru also performed well, grossing over US$1.7M and US$1.64M in UAE and Saudi Arabia, respectively.
August to October was a challenging phase for cinemas in the region due to a weaker movie release schedule owing to pandemic-related delays. The year however ended on a high note with the release of James Cameron's Avatar: The Way of Water, which earned close to US$10M in the UAE in its opening weeks. Arabic titles such as Bahebek, 3amohom, and Men Agl Zeko also topped the 2022 charts across GCC.
Here's our 2022 wrap-up featuring the top movie releases in the eight countries we cover, the most watched genres across the region, the top 15 cinema ads booked through us that lit up the big screen, and last but not least, the new cinema locations added to our circuit and our milestones:
Top Five Movies – By Country
UAE
Top Gun: Maverick
Doctor Strange: in the Multiverse of Madness
Avatar: The Way of Water
Minions 2: The Rise of Gru
Thor: Love and Thunder
Saudi Arabia
Top Gun: Maverick
Bahebek (Egyptian)
3amohom (Egyptian)
Men Agl Zeko (Arabic)
The Batman
Egypt
Kera We El Gin (Egyptian)
Wahed Tany (Arabic)
3amohom (Egyptian)
Bahebek (Egyptian)
Al Gareema (Arabic)
Oman
Top Gun: Maverick
Bahebek (Egyptian)
Minions 2: The Rise of Gru
Avatar: The Way of Water
Jurassic World Dominion
Kuwait
Top Gun: Maverick
Minions 2: The Rise of Gru
Bahebek (Egyptian)
Sonic the Hedgehog 2
3amohom (Egyptian)
Bahrain
Top Gun: Maverick
Bahebek (Egyptian)
Minions 2: The Rise of Gru
Black Adam
The Batman
Qatar
Top Gun: Maverick
Minions 2: The Rise of Gru
Jurassic World Dominion
Bahebek (Egyptian)
Black Adam
Lebanon 
Bahebek (Egyptian)
Al Hayba (Arabic)
Taraf Talet (Lebanese)
Top Gun: Maverick
Doctor Strange: in the Multiverse of Madness
Most Watched Genres – Regional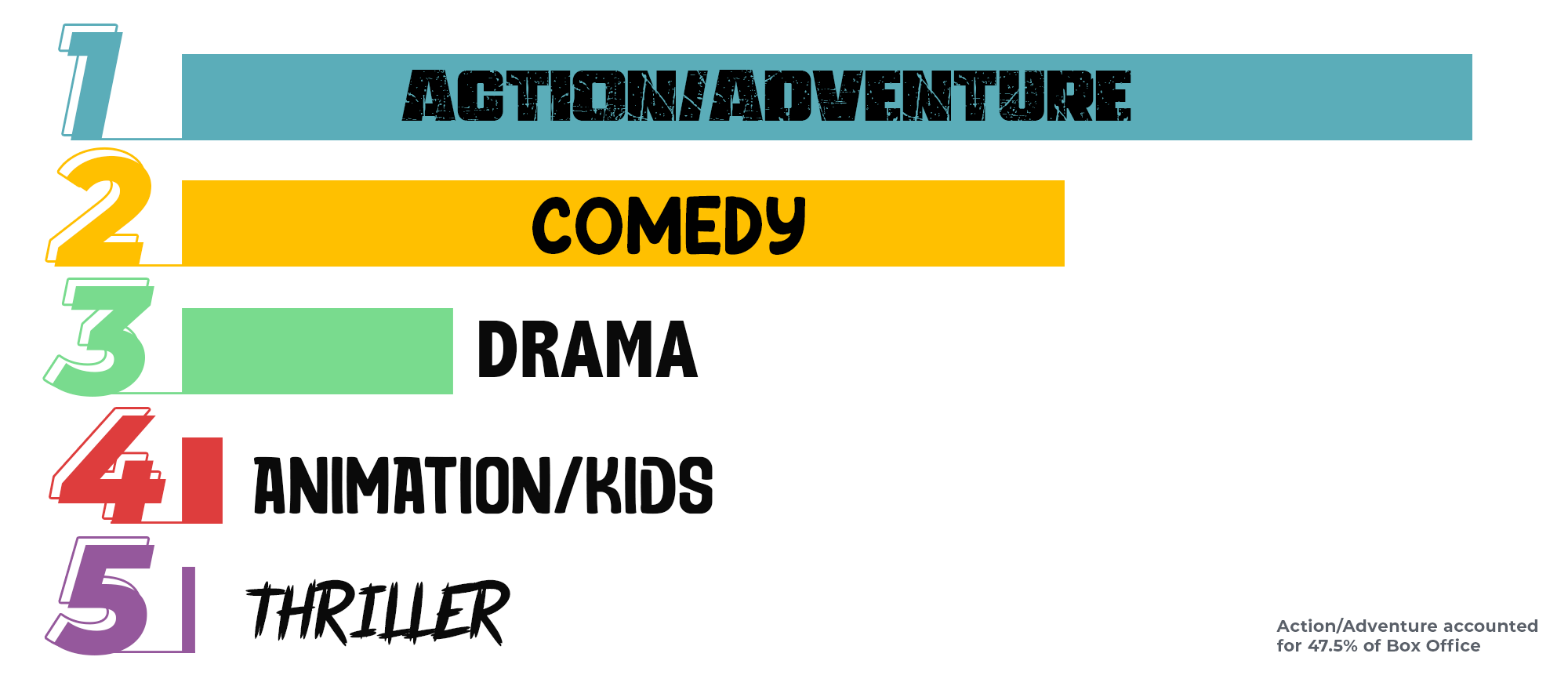 Top 15 Cinema Ads
The 15 blockbuster ads (in no particular order) – booked through Motivate Val Morgan, that lit up the big screen in 2022 (also featured in Campaign Middle East):
Brand: Mercedes-Benz Burmester
Title: Innovations by Mercedes-Benz: Dolby Atmos
Media Agency: OMD
Brand: NEOM
Title: Trojena – Journey To New Heights
Media Agency: Starcom
Brand: Emirates
Title: Gerry the Goose Flies Better
Media Agency: UM MENA
Brand: Rolex
Title: Rolex & Cinema – The Path
Media Agency: Mindshare
Brand: Sephora
Title: Amna Al Qubaisi – Emirati F3 Driver – Redefining Beauty with Sephora
Media Agency: Spark Foundry – Publicis Media
Brand: Malabar Gold
Title: Brides of India
Brand: Hermès
Title: Terre d'Hermès
Media Agency: Havas Media
Brand: Thailand Tourism
Title: Amazing Thailand
Media Agency: Media Republic
Brand: Hayatna
Title: Grow Your World With Hayatna
Media Agency: Hearts & Science
Brand: Riyadh Book Fair
Media Agency: Blue Horizon
Brand: Infiniti QX60
Title: Take the Wheel
Media Agency: OMD
Brand: Jindal Shadeed
Media Agency: United Media Services
Brand: Theeb
Brand: Yas Island
Title: Yas Yas Baby
Media Agency: Initiative Media
Brand: Al Nahdi Pharmacies
Cinema Circuit Growth
2022 saw our cinema circuit expand with several new locations: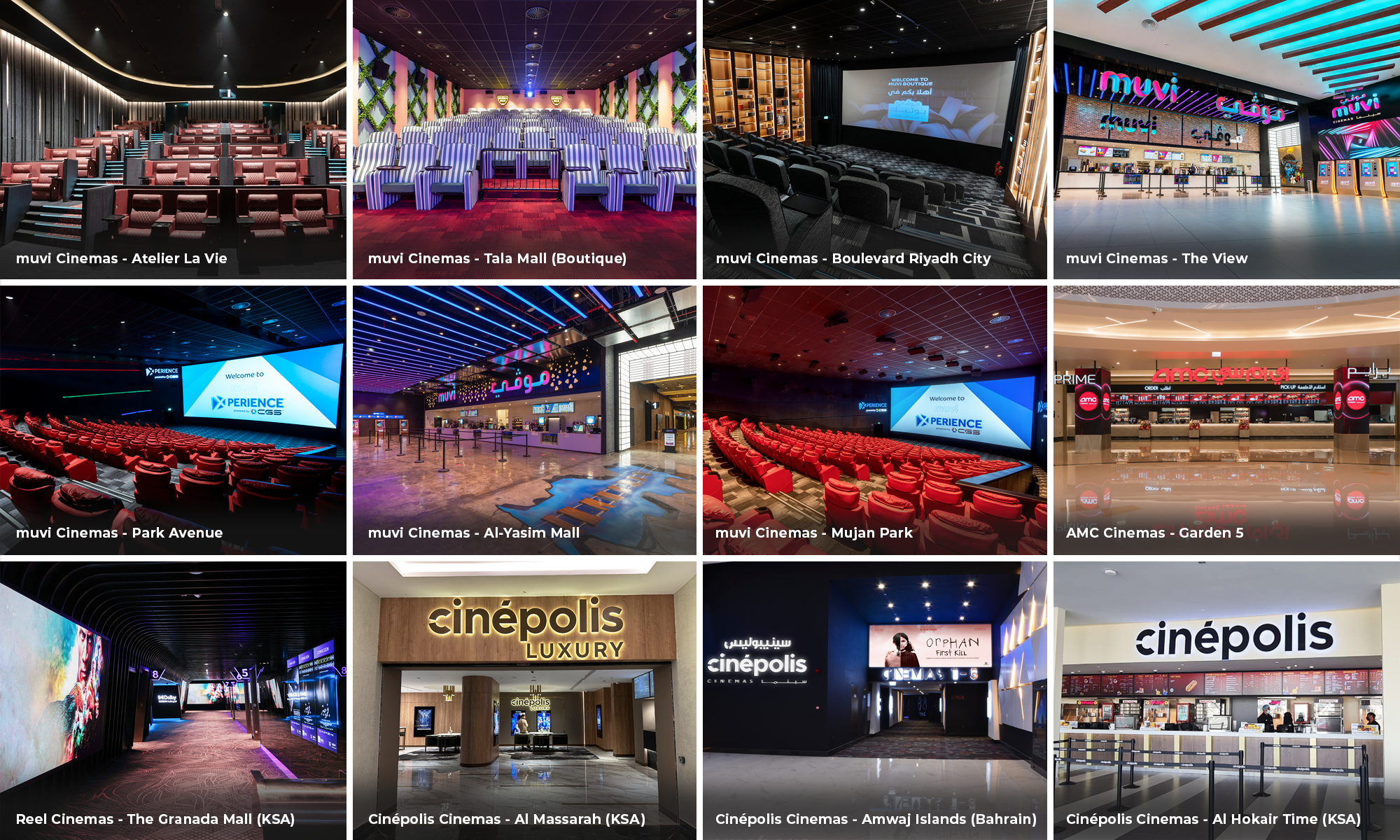 Muvi Cinemas (KSA): The View, Atelier La Vie, Mujan Park, Al-Yasmin Mall, Tala Mall (Boutique), Boulevard Riyadh and Park Avenue
AMC Cinemas (KSA) – Garden, Tabuk Boulevard and The Walk
Cinépolis Cinemas (KSA) – Al Hokair Time, Al Massarah
Cinépolis Cinemas (Bahrain) – Amwaj Islands
Reel Cinemas (KSA) – The Granada Mall
Milestone
Our dedicated cinema buying platform – CinePlan and CineMeasure, was launched, which enables data-driven, audience-based buying across our network of cinemas in the Middle East. The platform was also recognized as one of Campaign Middle East's Top 10 Media Milestones of 2022.
Blockbusters to Look Forward to in 2023
Get ready for an exciting year at the movies in 2023! Here are the top 20 movies to look forward to over the year ahead:
Ant-Man and The Wasp: Quantumania – February
Creed III – March
65 – March
Shazam! Fury of the Gods – March
John Wick: Chapter 4 – March
Dungeons & Dragons: Honor Among Thieves – March
Guardians of the Galaxy Vol. 3 – May
Fast X – May
Spider-Man: Across the Spider-Verse – June
Transformers: Rise of the Beasts – June
The Flash – June
Indiana Jones and the Dial of Destiny – June
Mission: Impossible – Dead Reckoning, Part One – July
Oppenheimer – July
The Marvels – July
Barbie – July
Dune: Part Two – November
The Hunger Games: The Ballad of Songbirds & Snakes – November
Wonka – December
Aquaman and the Lost Kingdom – December
For more on the movies coming out in 2023, be sure to check out our sizzle reel
Motivate Val Morgan Launches Audience Based Cinema Buying Platform
The newly launched platform has the capability to offer data and insight driven audience based cinema buying across Motivate Val Morgan's network of cinemas in the Middle East.
Motivate Val Morgan, the leading cinema advertising company in the Middle East has launched a dedicated platform – CinePlan and CineMeasure, through which advertisers can plan and measure their cinema campaigns with ease.
CinePlan is a tool that can be utilized to build a cinema media plan based on advertiser requirements, and offers two routes: By Admission and By Package. The By Package route presents advertisers with the option to book existing pre-designed packages sold by Motivate Val Morgan, while the By Admission route is a new extension to the existing bouquet of cinema advertising offerings, where advertisers can define their advertising reach at cinema locations of preference.
CineMeasure is a post campaign measurement tool that works seamlessly with CinePlan to analyze and report admission data for an executed campaign.
Ian Fairservice, Managing Partner, Motivate Media Group, said, "As the region's leading cinema advertising company, with over twenty-three years of regional experience, we are committed to constantly improve and innovate our offerings. The launch of CinePlan and CineMeasure marks a significant milestone for Motivate Val Morgan, as it establishes a first-to-market platform through a self-service model, a major focus for the company as we look to empower advertisers and provide autonomous cinema planning and measurement."
The platform will add exceptional value for advertisers as it has the capability to offer data and insight driven audience-based buying across Motivate Val Morgan's network of cinemas in the region, improving accountability and transparency to address concerns on cinema audience measurement, a byproduct of the pandemic.
Avinash Udeshi, Chief Operating Officer, Motivate Val Morgan commented, "While being a market leader, we have always had a consultative approach in terms of buying and delivering on campaign objectives. Through this platform, we will offer the same total flexibility and convenience to advertisers and agency planners, with admission data from the cinema box office. Thus, cinema advertising can now be further planned, bought, and measured through a simple yet comprehensive dashboard. The system has the capability to buy audience by numbers, demography, and income groups, right down to a granular level of an individual screen at a particular location."
Advertisers can leverage CinePlan and CineMeasure to connect the dots between ad exposure and a campaign's outcome.
Promo/Launch Video:
Visit: Motivate Val Morgan to start planning your cinema advertising campaign.