Dubai Lynx Announces 2022 Jury Presidents
Thirteen experts will lead the Dubai Lynx juries to award outstanding creativity in branded communications from across MENA
Dubai Lynx, MENA's premier Festival and Awards for creative excellence in branded communications, has announced the thirteen industry experts who will lead the 2022 juries.
The Jury Presidents will judge work entered across 20 different categories, including the newly launched Social & Influencer Lynx and refreshed Creative Effectiveness Lynx and PR Lynx.
About the Jury Presidents, Philip Thomas, Chairman, Dubai Lynx, said, "This is an exceptional group of global talent from across a spectrum of disciplines. We are delighted that, together with their juries, they will be responsible for setting the creative bar in the region as they view, discuss and award work from across MENA. It's a privilege to be working with them and we're already excited to see the outcome of their judging."
Ian Fairservice, Vice Chairman of Dubai Lynx, added: "Dubai Lynx, MENA's premier festival of creativity, is making an eagerly awaited comeback. In 2022, a newly designed two-day learning and development experience will replace the full festival, with a smaller programme of community-focused networking and talks taking place in a number of venues across Dubai."
The 2022 Dubai Lynx Jury Presidents have been announced as follows: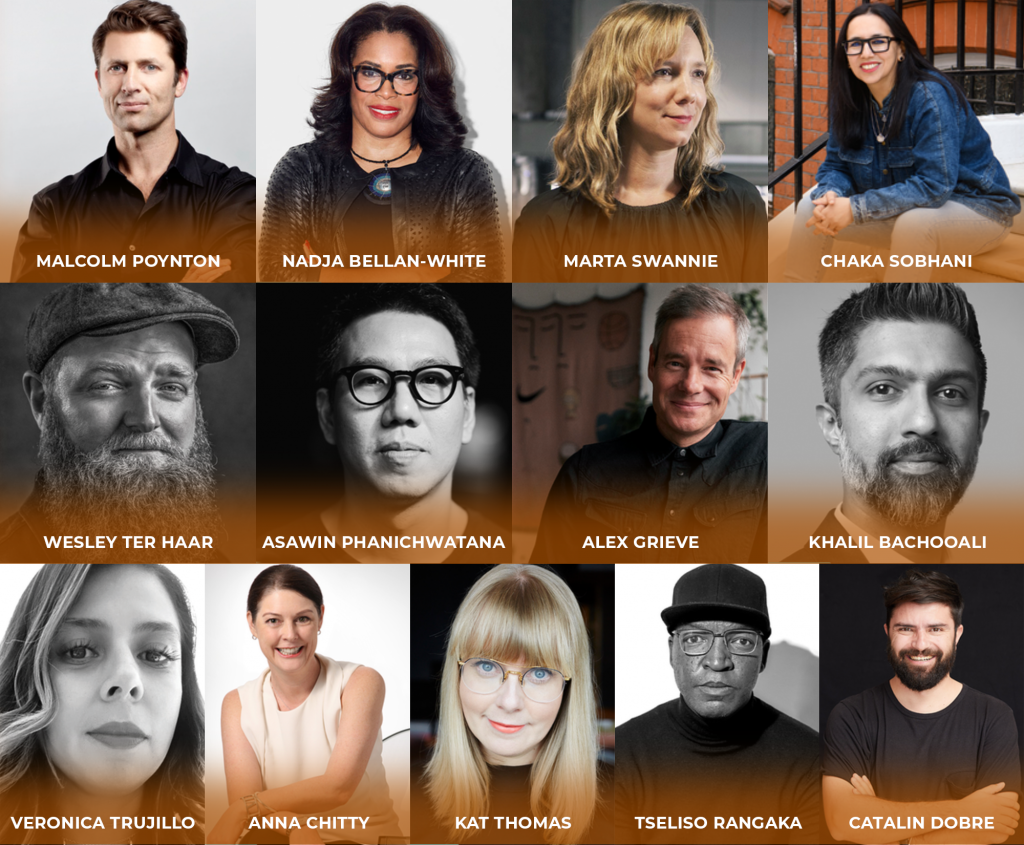 Brand Experience & Activation Jury President
Malcolm Poynton, Global Chief Creative Officer, Cheil Worldwide, Global
Creative Effectiveness and Creative Strategy Jury President
Nadja Bellan-White, Global Chief Marketing Officer, VICE Media Group, Global
Design and Industry Craft Jury President
Marta Swannie, Senior Creative Director, Superunion, United Kingdom
Direct and Outdoor Jury President
Chaka Sobhani, Global Chief Creative Officer, Leo Burnett, Global
Digital and Mobile Jury President
Wesley Ter Haar, Co-Founder, Media.Monks, Global
Entertainment Jury President
Asawin Phanichwatana, Deputy Chief Creative Officer, GREYnJ UNITED, Thailand
Film Jury President
Alex Grieve, Chief Creative Officer, AMV BBDO, United Kingdom
Film Craft Jury President
Khalil Bachooali, Founder & Managing Director, Offroad Films, India
Healthcare Jury President
Veronica Trujillo, Managing Director, TBWA\WorldHealth Mexico
Media Jury President
Anna Chitty, CEO, Starcom China
PR Jury President
Kat Thomas, Founder & Global Executive Creative Director, One Green Bean, Global
Print & Publishing and Radio & Audio Jury President
Tseliso Rangaka, Chief Creative Officer, FCB/HC Johannesburg, South Africa
Social & Influencer
Catalin Dobre, Chief Creative Officer McCann Worldgroup Romania & Creative Director McCann CEE, McCann, Romania
The winners of the 2022 awards will be revealed and celebrated at the Dubai Lynx Awards Show. Taking place at Dubai Opera House on 16 March 2022, the black-tie awards dinner is a night of celebration and networking for the whole industry.
Entries into Dubai Lynx are being accepted until 2 February 2022. For further information please visit the Dubai Lynx website
Tickets for the two-day learning and development experience will be available from 26 January 2022.
Source: Dubai Lynx
3D Mapping Cinema Campaign by Etihad in Saudi Arabia
Etihad Airways – the second-largest airline in the UAE, and the Department of Culture and Tourism Abu Dhabi booked a one-of-a-kind 3D Mapping cinema campaign – through Spark Foundry (Starcom), at VOX Cinemas Red Sea Mall (Jeddah) in Saudi Arabia.
Campaign Objective:
To promote Abu Dhabi as a destination in Saudi Arabia by using innovative and immersive means of advertising within a cinema environment.
Idea:
The idea behind the campaign was to make use of 'Projection Mapping' technology inside the cinema – creating an immersive experience for cinemagoers.
Methodology:
The projection was executed on the main cinema screen along with two side screens (both left and right) to create a screen extension.
Sides of the theatre were covered with a piece of unique fabric to make sure the resolution of the projection matched the quality, look and feel of the main screen.
Four high-grade projectors were used for this activation.
*TAKELEAP – technology agency dedicated to creating sensational experiences, was the production company for this execution.
Content:
Etihad selected four destinations in Abu Dhabi – Ferrari World, Saadiyat Island, Warner Bros and a restaurant, to show a day in Abu Dhabi from a tourist perspective.
The filming – shot in 4K quality, was done over a 2-3 week period at the above mentioned locations and was stitched together to align with the projection mapping and to fit the extended screen.
This first ever 3D mapping cinema campaign in the Middle East ran for a period of one month (between February and March 2019), during evening shows on all days of the week. No statistics were generated for this campaign, however, element of surprise lasted throughout the duration of the campaign.
Here's the end result:
Seeking to amplify exposure for your brand? Contact us for more information on similar innovative  advertising opportunities across our circuit in the Middle East.
Sources: Spark Foundry
Related Articles: 
Achieve Greater Brand Impact with 4D Cinema Advertising
Samsung | Integrated Cinema Campaign | UAE
Samsung – South Korean multinational electronics company, recently completed 10 years since the launch of its Galaxy S series, and to celebrate this joyful occasion, the brand presented their most recently launched flagship smartphone – Galaxy S10, to select people at various locations across the UAE.
As part of this celebration, an integrated cinema campaign was booked through Motivate Val Morgan, which included an exciting and engaging cinema activation (or as we like to call it – 'Cinevation') and a 30 sec. on-screen 'special position' advertisement.
Cinevation:
Booked through Cheil, the Cinevation was executed on Friday 1st March 2019 at VOX Cinemas – Yas Mall in Abu Dhabi (6:30 movie session) and Mall of the Emirates in Dubai (7:50pm movie session) – alongside 'Fighting with my family' starring Dwayne Johnson and Florence Pugh, and was one of many activations executed by Samsung across the UAE. Other touchpoints included Dubai Football Club, Gemayze, UFC Gym, Carrefour, Knowledge Park and The Dubai Mall.
On-screen advertisement: 
In addition to the Cinevation, a 'special position' on-screen ad – booked through Starcom MediaVest Group, screened for a period of 4 weeks from 14th February 2019 at VOX Cinemas – Yas Mall (Abu Dhabi), Mall of the Emirates (Dubai) and City Centre Mirdif (Dubai), and Reel Cinemas – The Dubai Mall and Dubai Marina Mall.
Contact us to book similar integrated cinema campaigns in UAE, Lebanon, Oman, Egypt, Qatar, Bahrain, Kuwait and Saudi Arabia.
Related Articles: 
Uber – Cinema On Screen Campaign and Activation
Carriage | Cinema Brand Activation | VOX Cinemas – Mall of the Emirates
RAK Tourism Development Authority's Cinema Activation
Source: Samsung