Muvi Cinemas Opens at Aziz Mall in KSA
October 19, 2020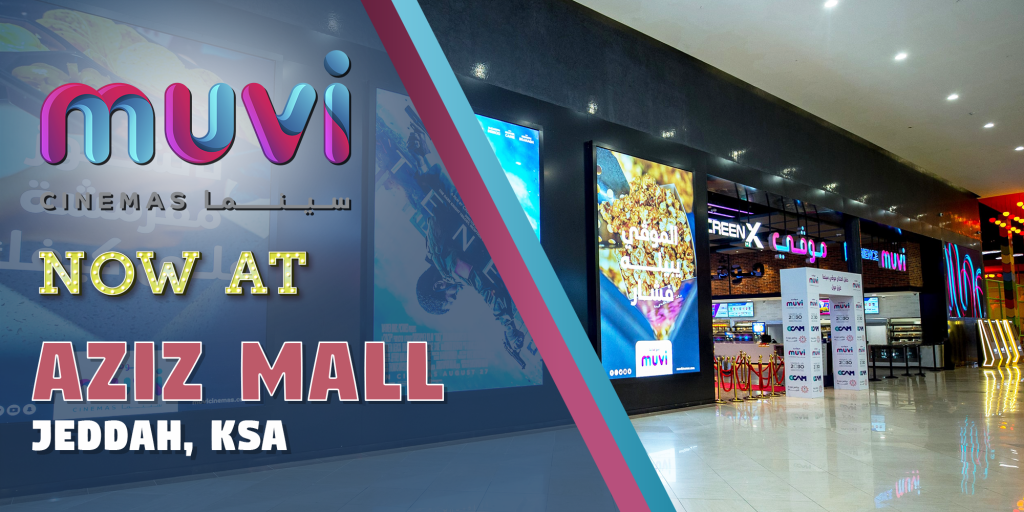 Muvi Cinemas opened its door to cinemagoers at yet another location in Jeddah – Aziz Mall, on Tuesday 15th September 2020.
Aziz Mall features 9 screens with a total of 1270 seats, and includes unique cinema experiences such as ScreenX and muvi Xperience.

The cinema exhibitor also launched two other cinemas at Nakheel Mall (Riyadh) and Mall of Dhahran (Dhahran) on 23rd September and 15th October 2020 respectively.
*More information on Nakheel Mall and Mall of Dhahran to follow in the coming weeks.
Muvi Cinemas presently operates 103 screens across 10 locations in 6 cities. Motivate Val Morgan congratulates Muvi on the launch of Aziz Mall and warmly welcomes this new location to our cinema circuit in Saudi Arabia.
Contact us for cinema advertising opportunities.
Related Articles:
Muvi Cinemas Opens at Haifa Mall in Jeddah
Muvi Cinemas Opens at Al Ahsa Mall in Saudi Arabia
Muvi Cinemas Opens at Jubail Mall in Saudi Arabia
Muvi Cinemas Opens Saudi Arabia's First Dolby Screen
Muvi Cinemas Opens at U – Walk in Riyadh
Muvi Cinemas Opens Second Location at Al Hamra Mall in Riyadh
Motivate Val Morgan Welcomes Muvi Cinemas to Our Circuit in KSA
Source: Muvi Cinemas