AMC Cinemas Opens at Karam Mall in Al Majmaah Saudi Arabia
January 11, 2021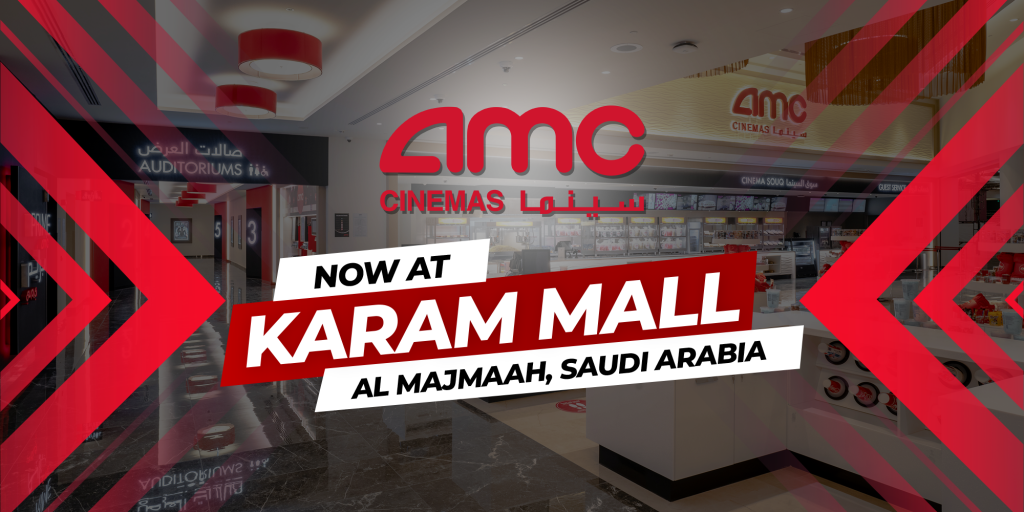 AMC Karam 5 at Karam Mall – the first cinema in the Al Majmaah governorate, offers luxury auditoriums, best-in-class projection, sound and seating, and is the latest effort by AMC in an ongoing program to provide state-of-the-art cinemas across KSA.
AMC Cinemas, in yet another milestone to develop the moviegoing experience in Saudi Arabia, opened its seventh location in the Kingdom at Karam Mall in the Al Majmaah governorate on 31st December 2020. AMC Karam 5 is the first cinema in Al Majmaah, and will offer moviegoers the high standards they have come to expect and enjoy from AMC Cinemas.
The 5-screen cinema with a total of 751 seats, which includes a Prime at AMC screen, is another impressive step in the rapid evolution of the cinema experience in Saudi Arabia. Every auditorium is fully equipped with a massive screen, 4K Barco Laser Projector, immersive surround sound, with Luxe Recliner and Plush Rocker seating throughout.

Following the launch of AMC Karam 5, the cinema exhibitor seeks to reach the largest possible number of movie lovers around Saudi Arabia, a goal which is in line with the government's plan to diversify entertainment content as well as providing new experiences to a range of audiences in several cities and governorates around the Kingdom.
Speaking on the occasion of the opening John Iozzi, CEO & Managing Director of AMC Cinemas said, "This is a big, positive step to cater to cinema audiences in the various governorates of Saudi. Our goal is to provide an innovative and creative cinematic experience for cinema lovers, by maintaining international standards as we continue to support the Kingdom's 2030 vision, which focusses heavily on improving the entertainment sector. This is a vitally important part of the components of the Quality of Life program and motivates us to continue our efforts to build and provide innovative cinema that suits the tastes of all our customers around the Kingdom of Saudi Arabia."
AMC Cinemas presently operate 45 screens across 7 locations in 3 cities of Saudi Arabia – Riyadh, Hafar Al-Batin and Al Majmaah.
Motivate Val Morgan congratulates AMC Cinemas on the opening of AMC Karam 5, and warmly welcomes this location to our cinema circuit in KSA.
Contact us for cinema advertising opportunities across AMC locations.
Source: AMC Cinemas (Press Release)
Related Articles:
AMC Opens at Azizia Plaza in Riyadh KSA
AMC Opens at Al Khair in Riyadh KSA
AMC Cinemas Opens at Riyadh Gallery in KSA
AMC Opens Third Location at Al Makan Mall in Hafr Al Batin
AMC Opens Second Location at Panorama Mall in KSA
Motivate Val Morgan Welcomes AMC Cinemas to its Circuit in KSA