Lodha Group | Sampling Activity | EID Weekend 2019
Lodha Group – India's premier real estate developer with a wide range of commercial and residential properties, booked a sampling activity at VOX Cinemas – City Centre Deira, (No. 1 cinema for targeting Asian audiences in the UAE) over one of the busiest weekends – EID weekend (5th – 7th June 2019).
The sampling activity was conducted in the concourse area and inside select cinema screens at VOX Cinemas – City Centre Deira.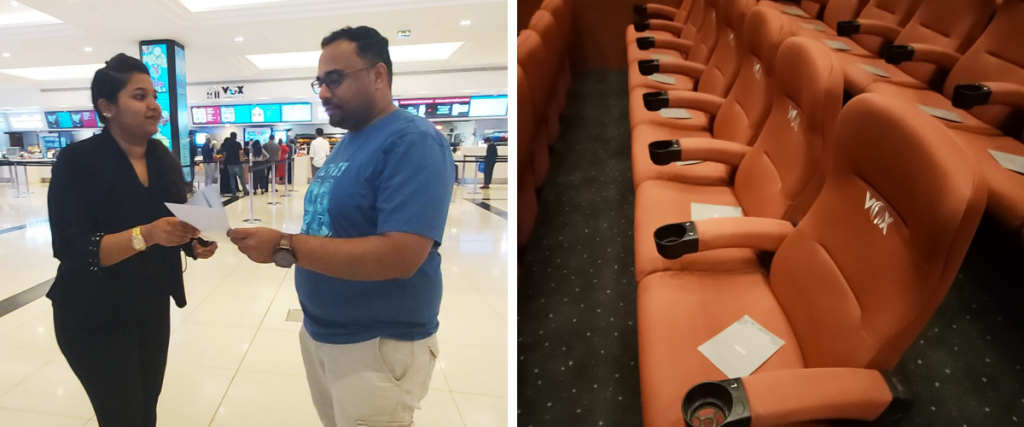 The blockbusters that released over the EID weekend included: Bharat (Hindi), John Wick: Chapter 3 – Parabellum, X-Men: Dark Phoenix, The Secret Life of Pets 2, Rashid & Rajab (Arabic), The Hustle, Virus (Malayalam) and Kolaigaran (Tamil).
A repeat client of Motivate Val Morgan, Lodha previously booked a foyer stand with promoters for one of their most prominent projects – Palava (India's fastest growing city), at the same VOX location over the EID weekend in 2017.
Contact a member of our sales team to know more on how off-screen cinema advertising could help your brand move closer to its target audience.
Related Articles:
Lodha Properties Opts for Off Screen Cinema Advertising this EID
Latest Cinema Campaigns at VOX Cinemas – City Centre Bahrain
Kibsons International Cinema Campaign 2019
Landmark Group | Pillar Branding | VOX Cinemas – Mall of Egypt
Carriage | Cinema Brand Activation | VOX Cinemas – Mall of the Emirates
NESCAFÉ 3 in 1 Ice | Cinema Activation | Reel Cinemas