AMC Launches Dawadmi 3 at Al Makan Mall in Al Dawadmi KSA
May 4, 2021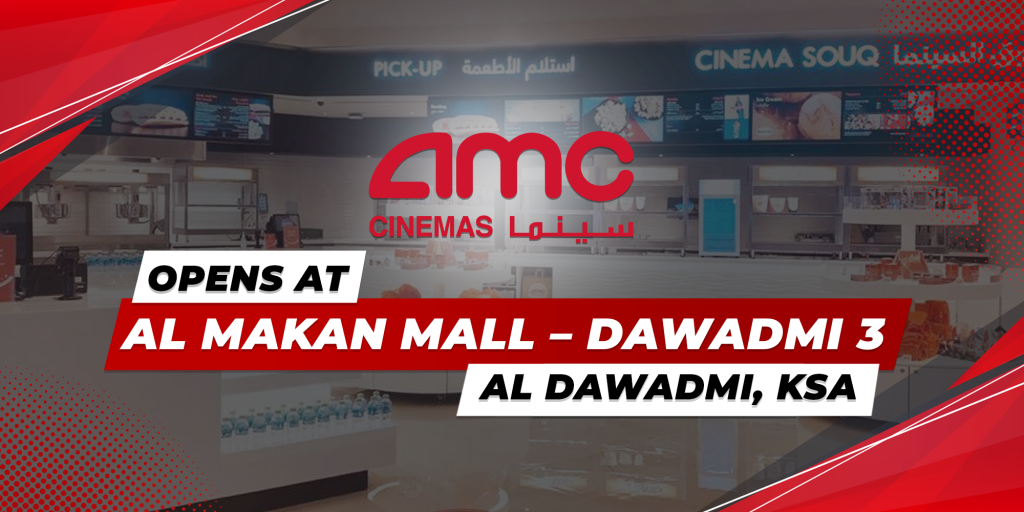 AMC Cinemas Dawadmi 3 at Al Makan Mall is the first cinema in the city of Al Dawadmi in KSA, featuring 3 screens – two regular screens and  one PRIME at AMC screen, and AMC Cinema Souq – a reimagined and fully customizable food and beverage concept.
AMC Cinemas opened its eighth location – Dawadmi 3, at Al Makan Mall in Al Dawadmi, Saudi Arabia on 20 April 2021.
The 3-screen cinema with a total of 320 seats, featuring a PRIME at AMC screen, is the first cinema to open in the city of Al Dawadmi, and is located in the central region of Saudi Arabia (200KM west of Riyadh) with a population of 53,000.
Greeting guests on arrival at the cinema is AMC Cinema Souq, a reimagined and fully customizable food & beverage concept offering restaurant quality hot foods, one-of-a-kind deserts, and creative handcrafted beverages.

Al Makan Mall  is the only shopping mall in Al Dawadmi, attracting consumers from nearby cities such as 'Sager city', thus considered the main shopping destination in and around the area.
Together with the two new locations Dawadmi 3 and Star Avenue – which opened on 12 April 2021, AMC Cinemas  presently operates 57 screens across 9 locations in 5 cities of Saudi Arabia, with a goal in line with the government's plan to diversify entertainment content as well as provide new experiences to a range of audiences in several cities across the Kingdom.
*More information on Star Avenue to follow in the coming weeks.
Motivate Val Morgan congratulates AMC Cinemas on the opening of Dawadmi 3, and warmly welcomes this location to our cinema circuit in Saudi Arabia.
Contact us for cinema advertising opportunities across AMC locations.
Source: AMC Cinemas and Swicorp Wabel Reit
Related Articles: 
AMC Cinemas Opens at Karam Mall in Al Majmaah Saudi Arabia
AMC Opens at Azizia Plaza in Riyadh KSA
AMC Opens at Al Khair in Riyadh KSA
AMC Cinemas Opens at Riyadh Gallery in KSA
AMC Opens Third Location at Al Makan Mall in Hafr Al Batin
AMC Opens Second Location at Panorama Mall in KSA
Motivate Val Morgan Welcomes AMC Cinemas to its Circuit in KSA