VOX Cinemas Opens Ninth Location at Sahara Mall in KSA
June 29, 2020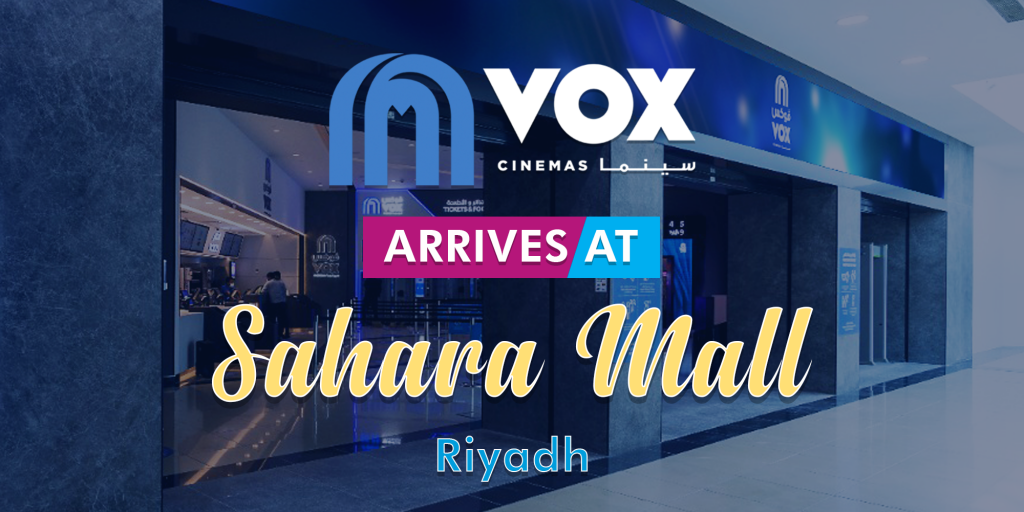 VOX Cinemas launched its ninth cinema in Saudi Arabia at Sahara Mall (Riyadh) on Wednesday 24 June 2020.
The cinema features 11 screens with a total seating capacity of 991 seats and includes VOX Kids and GOLD cinema experiences.
The launch of the cinema at Sahara Mall also marked a significant milestone for VOX, having surpassed 100 screens in Saudi Arabia in just over two years.
With the opening of Sahara Mall closely following the reopening of cinemas after a three-month closure in KSA due to the COVID-19 pandemic, VOX has undertaken extensive precautionary measures and has implemented thorough sanitization and physical distancing protocols across all cinema locations in the country.
Majid Al Futtaim also conducted extensive research to identify the top safety measures that would make guests feel comfortable about returning to its venues and used the findings to proactively reimagine the guest experience, which translated into a comprehensive site and training plan to ensure that all leisure, entertainment and cinema experiences were completely prepared for the reopening.
Mohamed Al-Hashemi, Country Head, Majid Al Futtaim Ventures, said, "We look forward to reopening VOX Cinemas, Little Explorers, Magic Planet and Yalla! Bowling in the Kingdom and welcoming our guests back through our doors. After weeks of preparation, we have introduced innovative new health and safety measures which have been successfully implemented across our entertainment experiences in Dubai.
"Since we reopened last month, 93% of guests have said they are satisfied or extremely satisfied with our enhanced measures. We will ensure a best in class experience in the Kingdom across our experiences with health, safety and customer satisfaction at the core of our reopening plans."
"Having established VOX Cinemas in Riyadh, Jeddah and Dammam, we are excited to expand our footprint in Tabuk, Hail and Jubail later this year. We remain greatly appreciative of the ongoing support and guidance given to us by the Ministry of Media, GCAM and the Quality of Life Program."
VOX Cinemas presently operates 101 screens across 9 locations in KSA.
Motivate Val Morgan congratulates VOX Cinemas on the opening of Sahara Mall and warmly welcomes this new location to our regional cinema circuit.
Contact us for cinema advertising opportunities at this new VOX location.
Related Articles:
VOX Cinemas Opens Eighth Location at Atyaf Mall in KSA
VOX Cinemas Opens Sixth Location in KSA at West Avenue Mall Dammam
VOX Cinemas Opens Fifth Location in KSA at Kingdom Centre
VOX Cinemas Opens Fourth Location in KSA – The Roof
VOX Cinemas Opens at Al Qasr Mall in Riyadh
VOX Cinemas Opens at Red Sea Mall in Jeddah
VOX Cinemas Opens in Saudi Arabia at Riyadh Park Mall
Sources: VOX Cinemas and Zawya