Landmark Group | Pillar Branding | VOX Cinemas – Mall of Egypt
Landmark Group recently booked an off screen digital pillar campaign through Motivate Val Morgan for brands Splash – the largest fast fashion retailer in the Middle East, and Babyshop – the very first brand launched by the Group, at VOX Cinemas – Mall of Egypt.
The campaign was booked from 20th January 2019 to 23rd February 2019 to screen across the 4 digital pillars in the foyer area of the cinema – displaying a discount offer of up to 70% at both Splash and Babyshop.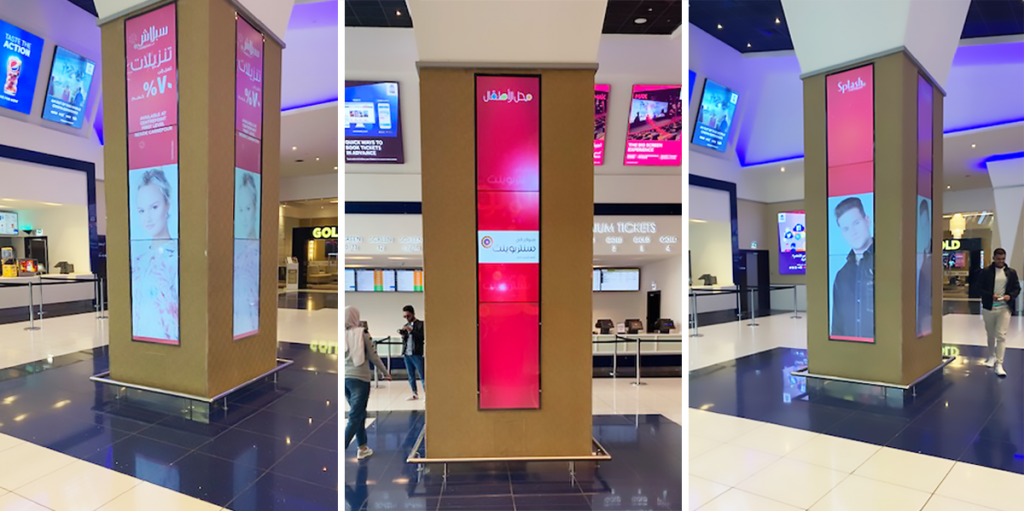 Other off screen advertising opportunities available at VOX Cinemas – Mall of Egypt include:
Popcorn Branding
Digital Screen in Foyer Area
Foyer Display
Sampling Inside Cinema (Regular and Gold Class)
Sampling in Concourse Area
Download the off screen advertising rate card for Egypt, and contact us for more information on similar advertising opportunities across the Middle East.
Related Articles:
Careem | Integrated Cinema Campaign | VOX – City Centre Alexandria
Careem, leading transportation network company based in Dubai with operations in over 100 cities in 14 countries in the Middle East, Africa and South Asia, recently booked an exclusive integrated cinema campaign with Motivate Val Morgan – through Wizzora Advertising Agency, at VOX Cinemas – City Centre Alexandria in Egypt. The cinema campaign included a 60 sec. on-screen ad and an off-screen foyer display.
On-screen Ad
With Egypt's streets barely being pedestrian-friendly for the average Egyptian at the best of times, it's safe to assume that for those with a disability, it's a nightmare.
It is only recently, that numerous Egyptian organisations and groups have begun to do their part by giving back to the community – starting several initiatives that work towards including people with special needs into the community.
2018 was dubbed the year of those challenged with a disability and has seen efforts and decisions being made in order to facilitate the lives of those with a disability.
Aiming to make themselves more accessible to all Egyptians without exception, Careem launched its newest feature yet, 'Careem Assist', which eases commute and transportation for passengers with motor disability in Alexandria. 'Careem Assist' offers 'wheelchair accessible' vehicles which can be accessed through the Careem app.
Additionally, Careem is also in the process of creating ramps around Alexandria to enable Egyptians with motor disabilities to move around freely. Having already built ramps on main streets and next to pedestrian crossing signs, they've also set up a track in Alexandria's Mandara beach.
With approximately 290,612 Alexandrians living with special needs, Careem hopes to not only facilitate their transportation around the seaside city but to also encourage the community to recognise the importance of including all segments of society.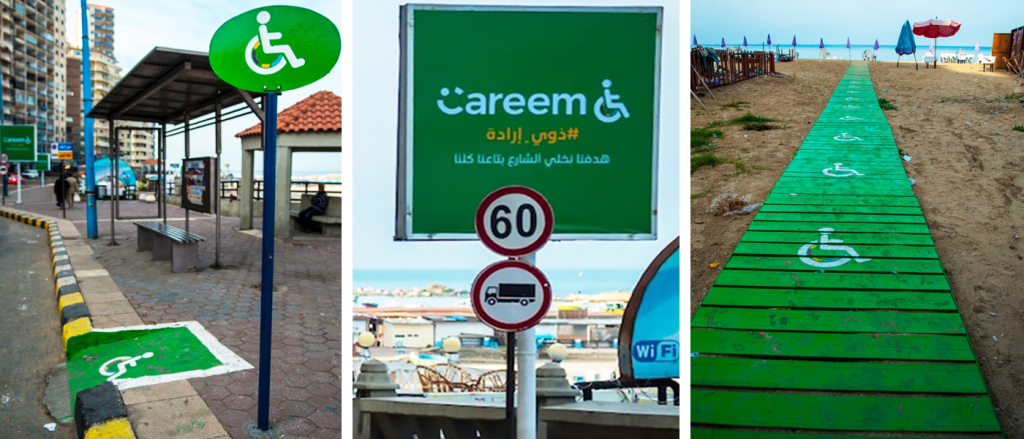 To promote 'Careem Assist' in Alexandria, Egypt, Careem booked a 60 sec. on-screen advertisement at VOX Cinemas – City Centre Alexandria for a period of 5 weeks (14th December 2018 – 17th January 2019).
Off-screen Foyer Display
Careem also booked a display which was set up in the foyer area of VOX Cinemas – City Centre Alexandria for a period of 2 weeks (13th December 2018 – 29th December 2018).
The foyer display advertised an offer to save 40% when booking a ride with Careem – using promotion code SAWA.

Here are some other recent integrated cinema campaigns booked through Motivate Val Morgan:
Interested in booking similar integrated campaigns?
Contact a member of our sales team for more information on cinema advertising opportunities.
Source: Cairo Scene