VOX Cinemas Announces Collaboration with Celebrity Saudi Chef Mona Mosly
A specially curated menu by Saudi chef Mona Mosly was launched by VOX cinemas on Saudi National Day.
VOX Cinemas has announced a culinary collaboration with Chef Mona Mosly which will see the female Saudi Chef elevate the in-cinema dining experience with a specially curated menu.
Moviegoers in Saudi Arabia can now enjoy more than 20 signature dishes at GOLD, VOX Cinemas' luxury cinema concept, and Candy Bar.
Chef Mona Mosly is one of the region's most recognisable celebrity chefs due to her role as host and judge on five series of the TV phenomenon Top Chef Middle East. She has extensive experience in culinary art, having trained professionally in Switzerland before attending the world-renowned Le Cordon Bleu in London and subsequently honing her craft at esteemed restaurants across the Middle East.
Known for her catchphrase, 'From My Heart to Yours', Chef Mona injects passion into every dish and her exclusive menu for VOX Cinemas aims to evoke memories through flavour while featuring her creative take on classic dishes. Highlights on the menu, which has been specially tailored for the cinematic experience, include Saudi Fish & Chips, Mona Shawarma, Khubz Mhalla and Rose Kakadeh.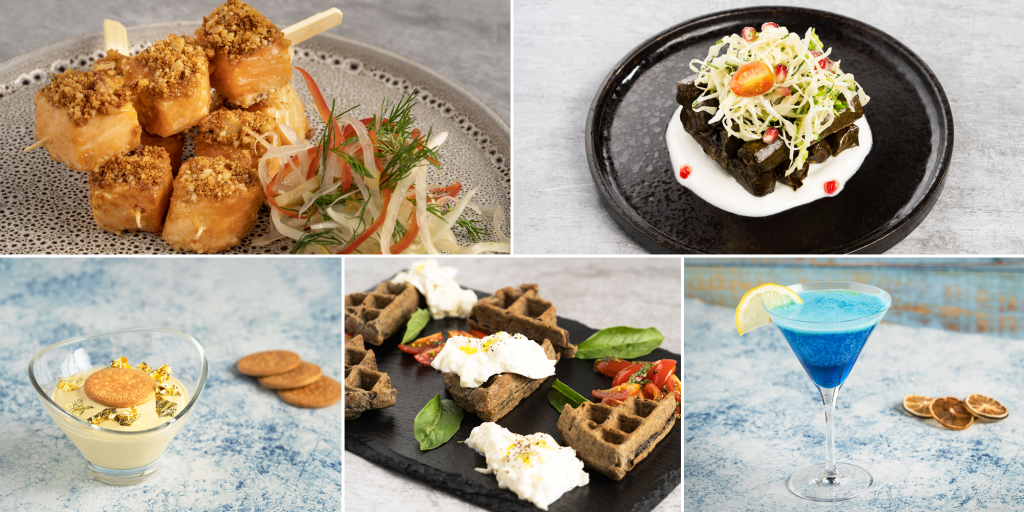 Mohamed Al Hashemi, Country Head at Majid Al Futtaim Leisure, Entertainment, Cinemas and Lifestyle in Saudi Arabia said: "The Saudi labour market has made unprecedented progress in recent years, with more Saudi women entering the workforce and establishing a strong footprint across various industries. In line with Vision 2030 and the Kingdom's National Transformation Programme, Majid Al Futtaim is committed to hiring inclusively to ensure exceptional employment opportunities."
"Given her culinary prowess and unique talent, VOX Cinemas is excited to collaborate with Chef Mona Mosly and unveil her as the new face of our in-cinema dining experience. We believe that F&B is an integral part of going to the movies and this collaboration demonstrates our customer-centricity and dedication to providing an unrivalled cinematic experience. This is just the first step in what we believe will be a long and successful partnership and our ultimate goal is to expand this offering to our cinemas across the region" he added.
Chef Mona Mosly said, "VOX Cinemas has set the standard in cinema dining in the GCC and I'm extremely proud to partner with them given our shared dedication to innovation and excellence as well as the outreach to the Arab world that VOX has to offer. I am confident that this collaboration is a recipe for success and look forward to bringing dishes from my heart to yours at VOX Cinemas in Saudi."
VOX Cinemas' signature concept GOLD caters to movie lovers who want to indulge in gourmet food. Guests have the option of dining in an exclusive private lounge area or having their food delivered straight to their seats through the in-theatre waiter service. Redefining the luxury cinema experience, the GOLD auditorium features reclining leather seats, plush blankets, and pillows as well as cutting-edge audiovisual technology in a stylish and intimate setting.
Chef Mona is the latest high-profile chef to collaborate with VOX Cinemas. Most recently Michelin-starred chef Akira Back curated a menu for VOX Cinemas' THEATRE across UAE, Kuwait, and Qatar.
Chef Mona Mosly's menu will be available exclusively at VOX Cinemas The Kingdom Centre, and The Esplanade in Riyadh before being rolled out to additional locations including Sahara Mall, Riyadh, and Red Sea Mall, Jeddah.
For more information visit VOX Cinemas
Source: VOX Cinemas (Press Release)
Mobily | Integrated Cinema Campaign | Saudi Arabia
Mobily – Saudi Arabian telecommunications company, recently booked an integrated cinema campaign with Motivate Val Morgan for its 5G connection services in Saudi Arabia.
The on-screen component of the campaign included two 15 sec. commercials booked for a period of 3 weeks: Mobily 5G Family – which screened from 22nd October to 2nd November 2020 and Mobily 5G Prepaid – which screened from 3rd to 11th November 2020.
The commercial was booked at the following Motivate Val Morgan serviced locations in KSA:
VOX Cinemas: Red Sea Mall, West Avenue Mall, Atyaf Mall, Sahara Mall and Riyadh Front
Muvi Cinemas: Nakheel Mall (Riyadh), Nakheel Mall (Dammam), Haifa Mall and Mall of Arabia
AMC Cinemas: KAFD, Panorama Mall and Al Khair
The off-screen component included the distribution of leaflets containing information on Mobily Air Fiber 5G at VOX Cinemas – Sahara Mall over the weekend of 5th – 7th November 2020.
Promoters were hired by the brand to oversee and assist with handing out leaflets to cinemagoers walking out of the auditoriums.

Click here to access the Mobily flyer distributed at VOX Cinemas – Sahara Mall.
An integrated campaign is an effective strategy to implement when promoting or launching a new service offering, for it engages cinema audiences – both within the auditorium and outside in the foyer area of the cinema, and provides higher ad recall.
Contact a member of our sales team to know more on how integrated campaigns can help move your brand closer to its target audience.
VOX Cinemas Opens Ninth Location at Sahara Mall in KSA
VOX Cinemas launched its ninth cinema in Saudi Arabia at Sahara Mall (Riyadh) on Wednesday 24 June 2020.
The cinema features 11 screens with a total seating capacity of 991 seats and includes VOX Kids and GOLD cinema experiences.
The launch of the cinema at Sahara Mall also marked a significant milestone for VOX, having surpassed 100 screens in Saudi Arabia in just over two years.
With the opening of Sahara Mall closely following the reopening of cinemas after a three-month closure in KSA due to the COVID-19 pandemic, VOX has undertaken extensive precautionary measures and has implemented thorough sanitization and physical distancing protocols across all cinema locations in the country.
Majid Al Futtaim also conducted extensive research to identify the top safety measures that would make guests feel comfortable about returning to its venues and used the findings to proactively reimagine the guest experience, which translated into a comprehensive site and training plan to ensure that all leisure, entertainment and cinema experiences were completely prepared for the reopening.
Mohamed Al-Hashemi, Country Head, Majid Al Futtaim Ventures, said, "We look forward to reopening VOX Cinemas, Little Explorers, Magic Planet and Yalla! Bowling in the Kingdom and welcoming our guests back through our doors. After weeks of preparation, we have introduced innovative new health and safety measures which have been successfully implemented across our entertainment experiences in Dubai.
"Since we reopened last month, 93% of guests have said they are satisfied or extremely satisfied with our enhanced measures. We will ensure a best in class experience in the Kingdom across our experiences with health, safety and customer satisfaction at the core of our reopening plans."
"Having established VOX Cinemas in Riyadh, Jeddah and Dammam, we are excited to expand our footprint in Tabuk, Hail and Jubail later this year. We remain greatly appreciative of the ongoing support and guidance given to us by the Ministry of Media, GCAM and the Quality of Life Program."
VOX Cinemas presently operates 101 screens across 9 locations in KSA.
Motivate Val Morgan congratulates VOX Cinemas on the opening of Sahara Mall and warmly welcomes this new location to our regional cinema circuit.
Contact us for cinema advertising opportunities at this new VOX location.
Related Articles:
VOX Cinemas Opens Eighth Location at Atyaf Mall in KSA
VOX Cinemas Opens Sixth Location in KSA at West Avenue Mall Dammam
VOX Cinemas Opens Fifth Location in KSA at Kingdom Centre
VOX Cinemas Opens Fourth Location in KSA – The Roof
VOX Cinemas Opens at Al Qasr Mall in Riyadh
VOX Cinemas Opens at Red Sea Mall in Jeddah
VOX Cinemas Opens in Saudi Arabia at Riyadh Park Mall
Sources: VOX Cinemas and Zawya